Regular price
Rs. 2,800.00
Regular price
Rs. 3,500.00
Sale price
Rs. 2,800.00
Unit price
per
On Sale
Sold out
Share with a Friend
Beautifully hand crafted, full grain leather case to give your sunglasses the protection they need.
This sophisticated and minimal sunglasses case is made with vegetable tanned full grain leather. Designed such that metal button does not come in contact with the sunglasses. The case uses a solid brass snap button to keep it closed. The case is large enough to fit most sunglasses.
The case is made using a time honoured saddlery technique called saddle stitching
Designed to fit most sunglasses, form factor is on the larger side.
100% Handcrafted
Detailed Info on Materials Used

This product has been made from select hides from the best grade of leather.

Leather

Type: Full Grain, Vegetable Tanned

Feel: Firm and supple

Patina: Becomes glossier and smoother over time. High patina potential

Leather Thickness: 1.2 mm

Flesh (back) side: Smooth. Finished with gum tragacanth

Animal: Buffalo Calf

Source: India

Thread

Type: Braided Waxed Polyester 0.6 mm, Rated Strength 20 kg

Source: Julius Koch, Germany.

Sealants

Gum tragacanth, Beeswax. Source: India
Product Size

- 7.5 in wide x 3.375 in tall x 2 in depth; (closed position)
Care information

Nourish with a leather care conditioner or creme. Never use harsh chemicals or detergents. Do not leave out in high heat environments (over 45C) for prolonged periods of time.
Each product is unique because the full grain leather has natural markings that have not been sanded or buffed. The minimal processing gives you the most durable leather, unlike other heavily processed leathers. Light and dark areas, tiny marks or scruffs on the leather are a mark of authentic full grain leather. We believe these add beauty, originality and uniqueness to every creation!
View full details
What is Full Grain Leather?
Full grain leather means the top most part of the grain has not been sanded off. This makes the leather strong and resilient. It takes whatever life throws at it and ages beautifully with a unique patina over time - giving each wallet a unique character.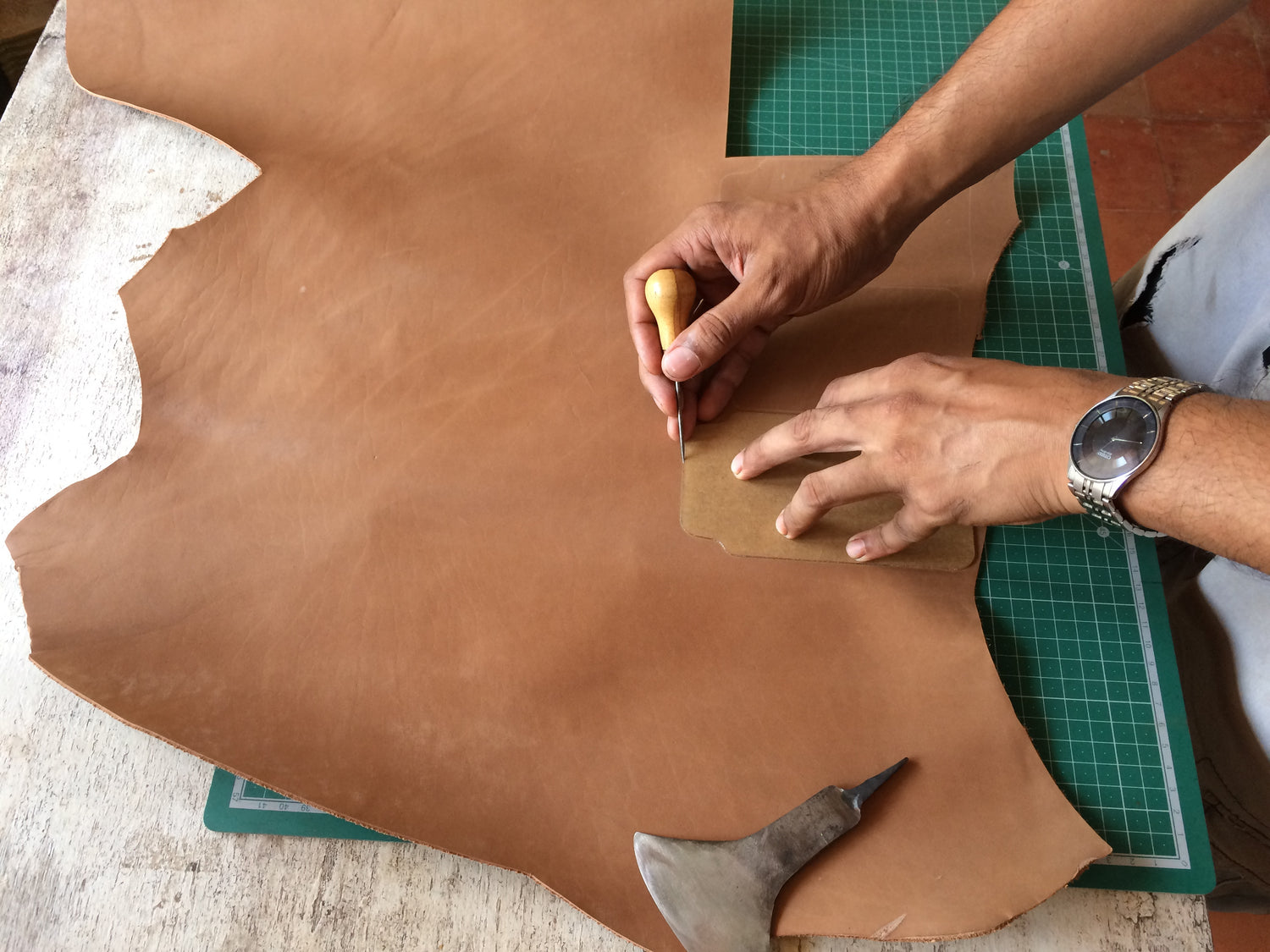 Vegetable Tanned Leather
Tanning is a complex art + science of converting a raw hide into a beautiful finished product we call leather. Our leather is made with a slow tanning process using natural tannins like tree bark, that takes several weeks to to convert from raw hide to finished leather. This is a non-toxic and biodegradable leather, unlike chrome tanned leather.
What is Saddle Stitching?
This is a time honored saddlery stitching technique that makes a very durable seam. The leather is hand stitched using a single thread and two needles. A tiny knot is made between each stich, making it virtually impossible for the stitches to come off or unravel. Sewing machines cannot compete with this form of hand stitching.