🚚 Ships in 2 business days🚚
Regular price
Rs. 1,200.00
Regular price
Sale price
Rs. 1,200.00
Unit price
per
On Sale
Sold out
NOURISHES, PROTECTS AND HEALS LEATHER
This Leather Balm is a beeswax-based leather conditioner designed specifically to treat and protect your full-grain leather goods. Its all-natural formula helps to restore leather's natural oils and prevent drying and cracking, making it softer and more supple.
Ingredients: Unbleached Beeswax, Almond Oil, Nothing Else.
Color: Neutral. Some leathers will darken when applied, but will normalize over time (24-48 hours).
Weight: 100 grams
Applications: 
- When to use? Once in 3-6 months, depending on the type of leather. You will know if your leather feels dry, rigid, or has lost its lustre. The purpose of the Leather Balm is to provide supple-ness to the leather, and make sure it does not develop fine cracks over time. 
- Works well for all types of full grain leather shoes, bags, jackets, wallets, belts, watch straps and furniture; basically any object made with full grain leather.
- Also works well for top grain and genuine leather articles.
- Do not use on suede or nubuck leather - these are leathers that have a velvety soft surface, with really short nap of fibres on the surface. 
Reveal Preferential Price

Members get preferential pricing on purchase of Leather Balm and/or Saddle Soap.

Use code GLC10 at checkout to get 10% off.

Eligibility - Members, login to apply this offer
Ships Direct From Our Workshop

Shipping Timeline: Allow us 2 business days to ship your order. Transit Time: 2-5 business days within India.

Tin Size: 100 grams.

Tracking information will be shared by email before shipment leaves our workshop.
Handmade in Small Batches

We make our Leather Balm in small batches every month. Rest assured that you will be using the same professional grade, all-natural product that we proudly use in our own specialty leather-crafting workshop.
100% Safe on Skin. Made with All-Natural, Non-Toxic Ingredients

We use all-natural pure beeswax and 100% pure sweet almond oil to formulate our leather balm. No other chemicals, solvents or additives involved. This makes our balom non-toxic unlike other products you may buy off the shelf.
Share
View full details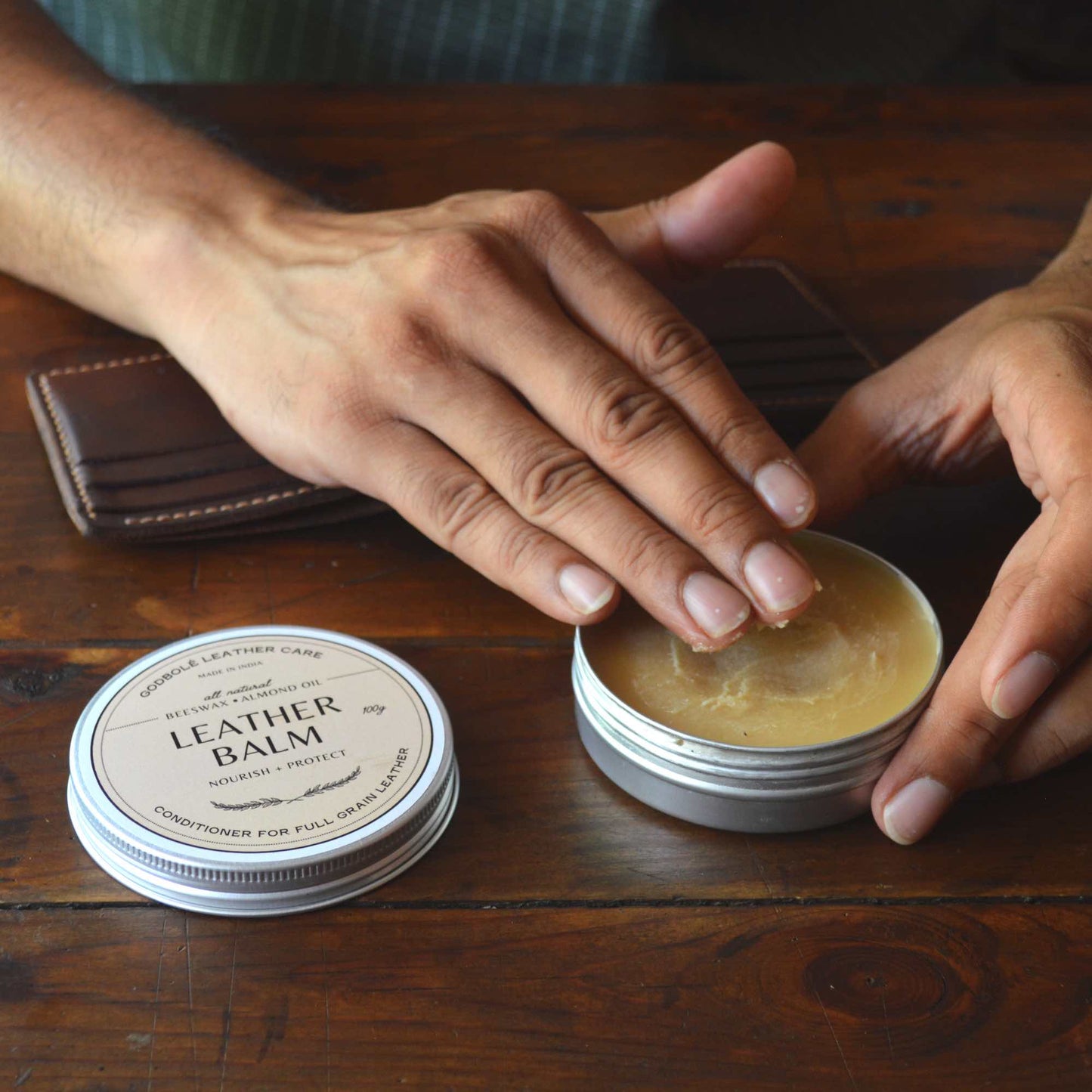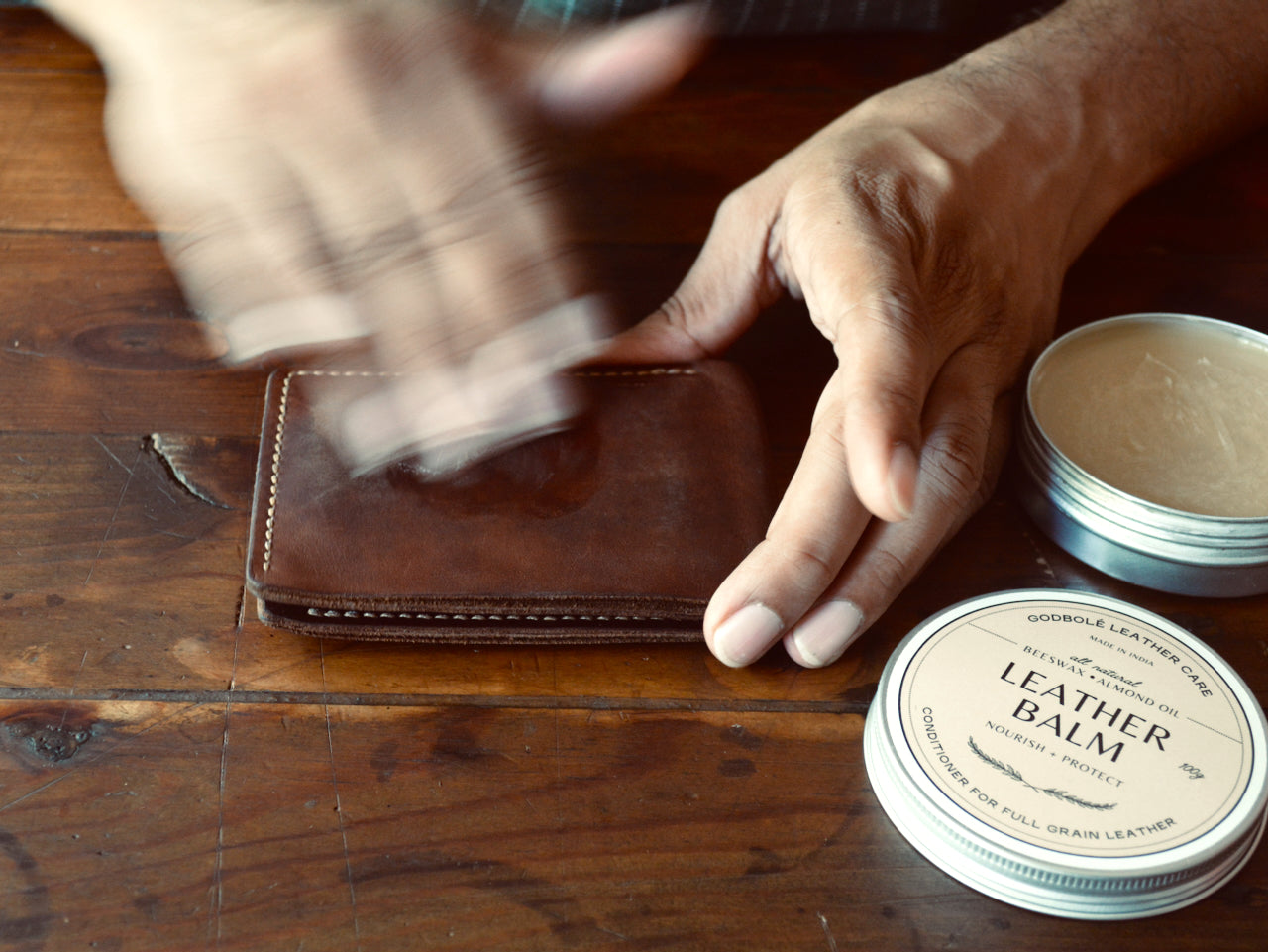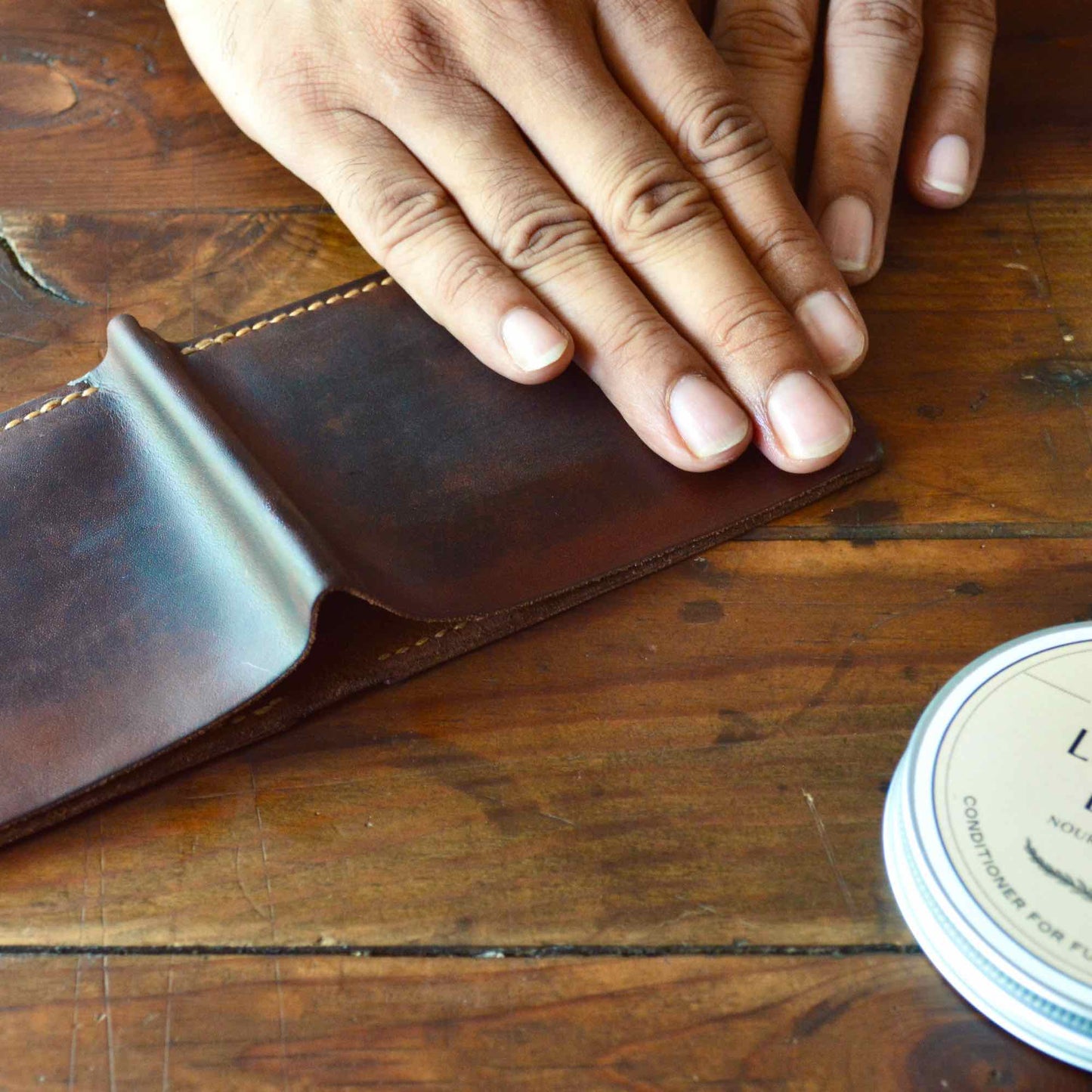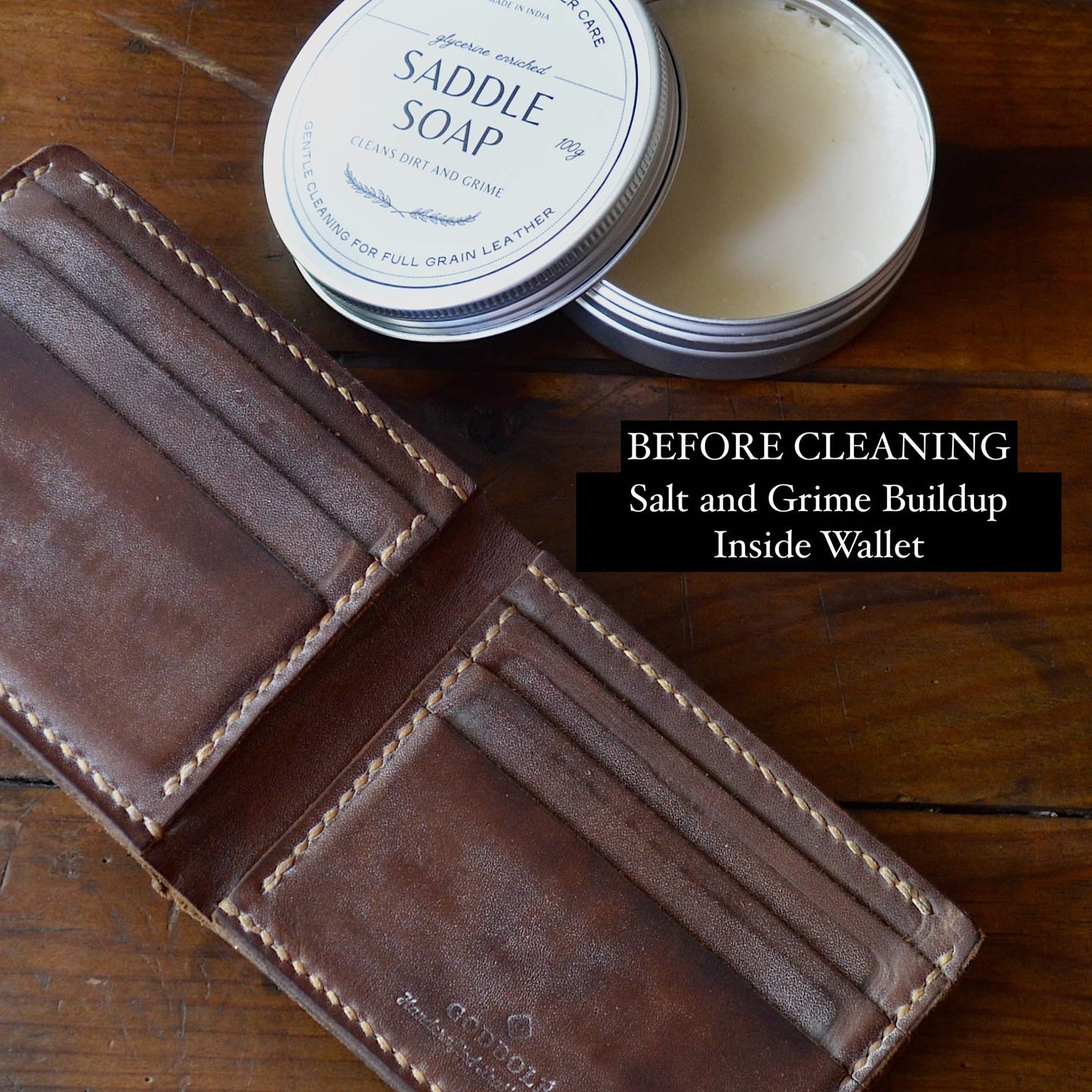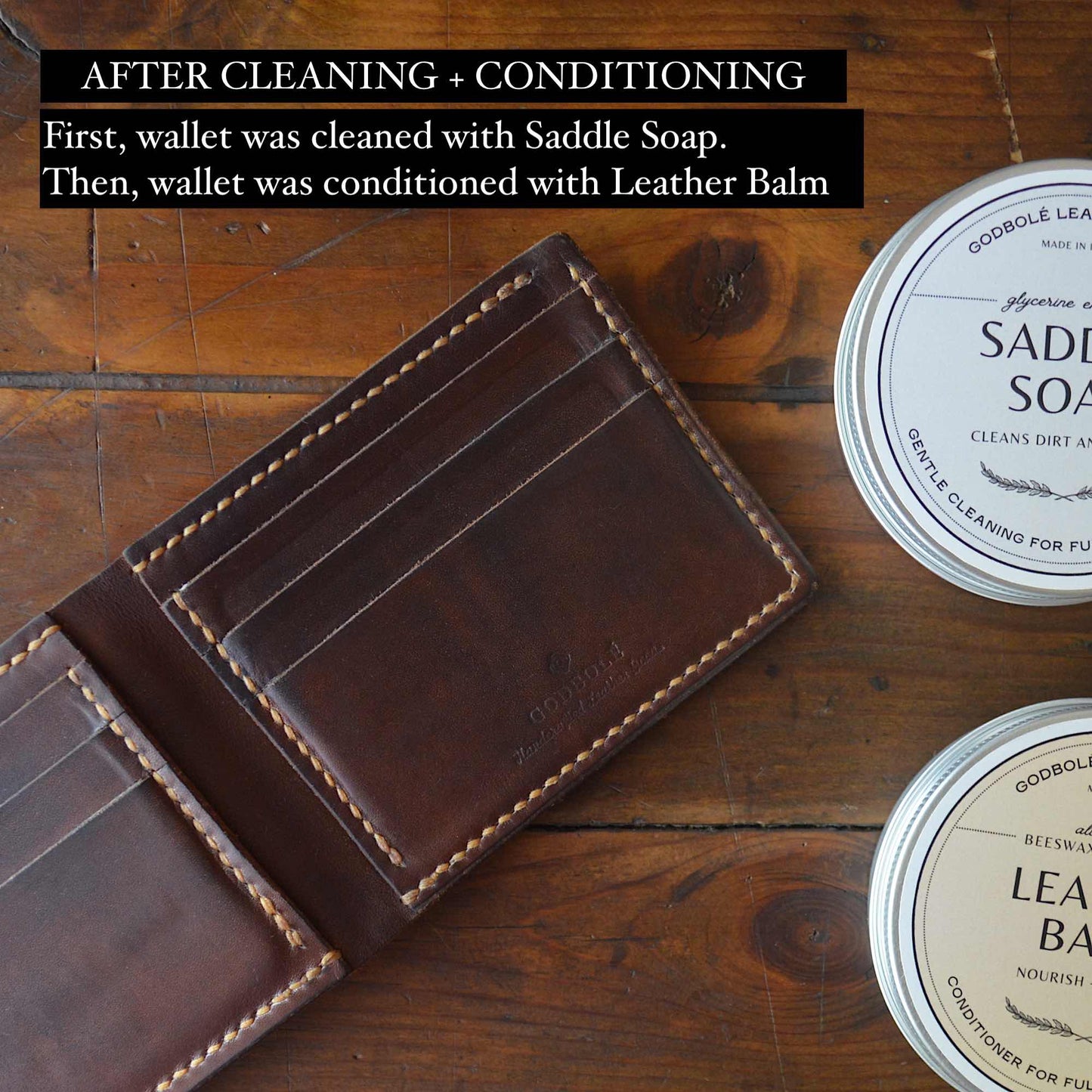 Watch Simple Step-By-Step Video
Using the Leather Balm can be therapeutic not just for your leather aricle, but also for you. There's just a few simple things you need to get right for the Balm to work well.
HOW TO APPLY LEATHER BALM
Applying Leather Balm

Apply a very small quantity of the balm with your fingers in circular motions. You can also use a soft cotton cloth. The balm warms up as you massage it into the leather and gets soaked into the surface.

Start with a little bit at a time, working it into the leather. Finish applying on entire leather article. If required, repeat after first round. Make sure not to dab a lot into one area as it can significantly darken lighter leathers.

The leather will darken after applying the balm. The more you apply, the darker the leather will get. Give it a few days and it will get much lighter. The darkening isn't a good or bad thing - it is a personal preference, and an indicator of how saturated the leather is getting with the Balm.

The leather will become very supple when you finish applying the Balm to it.

Conditioning is always a good idea as it prolongs the life of the leather. Point of note: All grain leathers are not the same. Leathers such as oil-pull up leathers have a higher oil content in them, and need less conditioning, while other leathers may have a lower oil content and need more conditioning. 
Clean with Saddle Soap Before Applying Balm
Cleaning your leather article before conditioning is always a best practice that will remove dirt and help the Balm absorb deeper into the leather thus conditioning it much better. Use Saddle Soap to remove oily residue, dirt and grime.  Otherwise, you are driving the dirt deeper into the leather. This is especially important if you have never cleaning your leather article. Wait at least 5-10 minutes and then apply the Leather Balm. 
Buy Saddle Soap
Got Questions? We're here to help.
Nice All Natural Leather Balm
Have used some international brands before. But this leather balm is better compared to them. I am using it on vegetable tanned leather bags. It makes the leather subtle.
One of the best
The all natural leather balm is one of the best I have used, I even tried on some of my shoes and see a lot of difference from other products I tried. Along with leather soap it is going give a total treatment for all your smooth leather products.
Thank you SM for your support. It will abosultely work for shoes and any smooth leather goods as you rightly said.
Thank you for patiently waiting and supporting the pre-order campaig of our first batch of Leather Balm.
Great product
Absolutely stunning...give new life to my full grain leather products...