Lifetime Belts
Apr 1 - May 1. pre-orders have now closed.
70 backers pledged ~ Rs. 630k to bring these belts into being.
Lifetime Belt
THE NAME SAYS IT ALL
Imagine having something in your possession that will stand by your side your entire life. Something that's dependable and brings you joy everyday. The lifetime belt will fit into your life for exactly this reason.
How does Pre-ordering Work?

We will run the Lifetime Belts campaign for one month (April 2nd to May 1st). At the end of one month, based on the number of pre-orders, we will be procuring the required quantity of vegetable-tanned full grain leather from America. Once the leather arrives, the lifetime belts will be handmade in our workshop near Mumbai, and finally shipped out. So, yes there will be around 3 months time to get your hands on the belt after you place an order.
The lifetime belt is made with a serious piece of 5 mm thick leather. The leather comes from Wickett & Craig - the oldest continuously functioning tannery in America.
What makes this full grain leather so special?
Slowly vegetable tanned with tree bark over a period of 1.5 months. Drum dyed, hot stuffed with the best oils and waxes the Harness leather starts coming to life and is finished with a Glazing Jack to give it its distinctive smooth finish.
The belt is hand-cut, hand-stitched and the edges are burnished to a near glassy finish. 
PREORDER SPECIAL PRICE: For Early Backers Only!
10% off 1 Belt - Rs. 8500 Rs. 7650
15% off 2 Belts - Rs. 8500 Rs. 7225 per belt
20% off 3 Belts - Rs. 8500 Rs. 6800 per belt
25% off 4 Belts - Rs. 8500 Rs. 6375 per belt
Discount applied automatically to Cart.
Have an email code? Enter it during checkout
WhatsApp Message +91-841-285-7703 for Help
Regular price
Rs. 8,500.00
Regular price
Sale price
Rs. 8,500.00
Unit price
per
On Sale
Sold out
View full details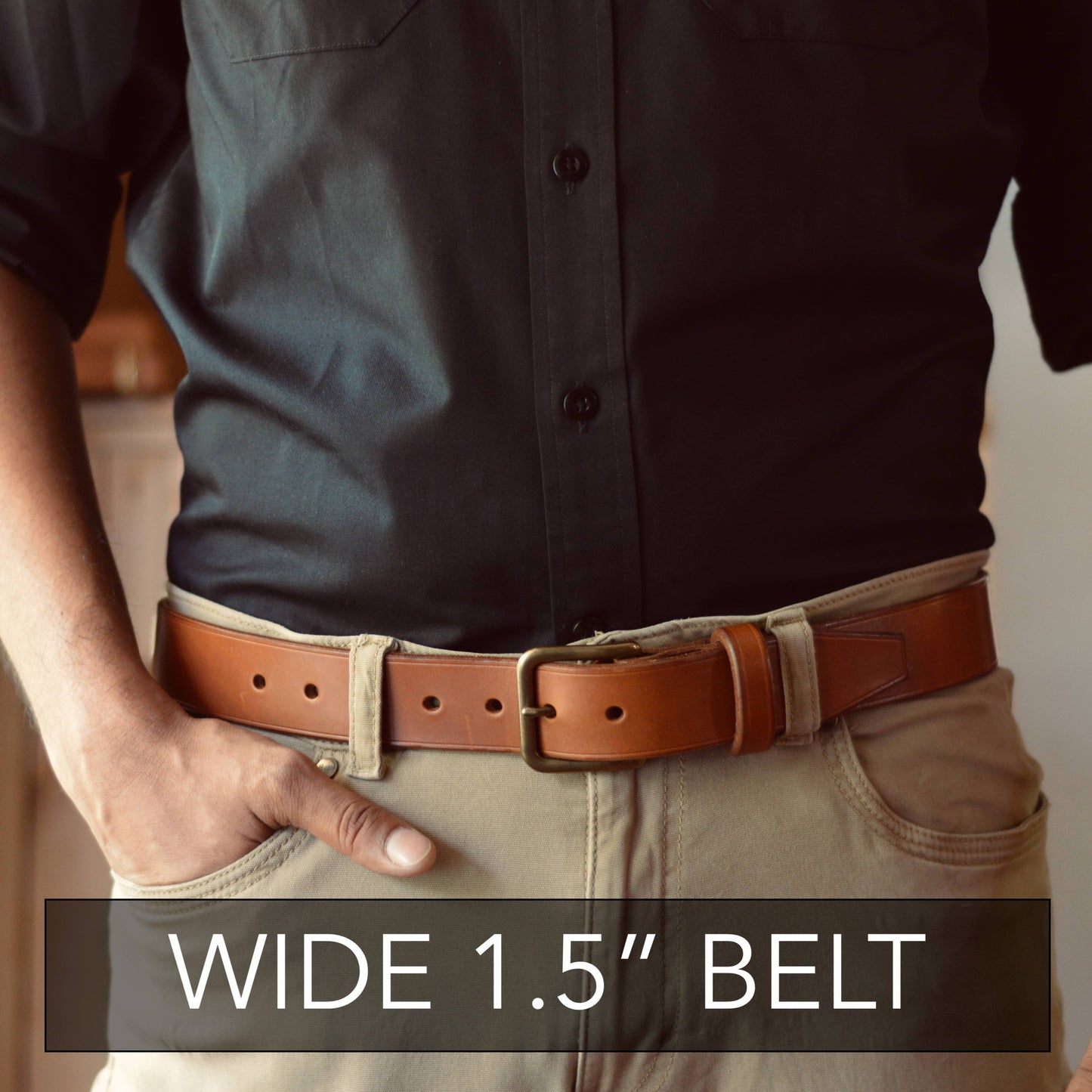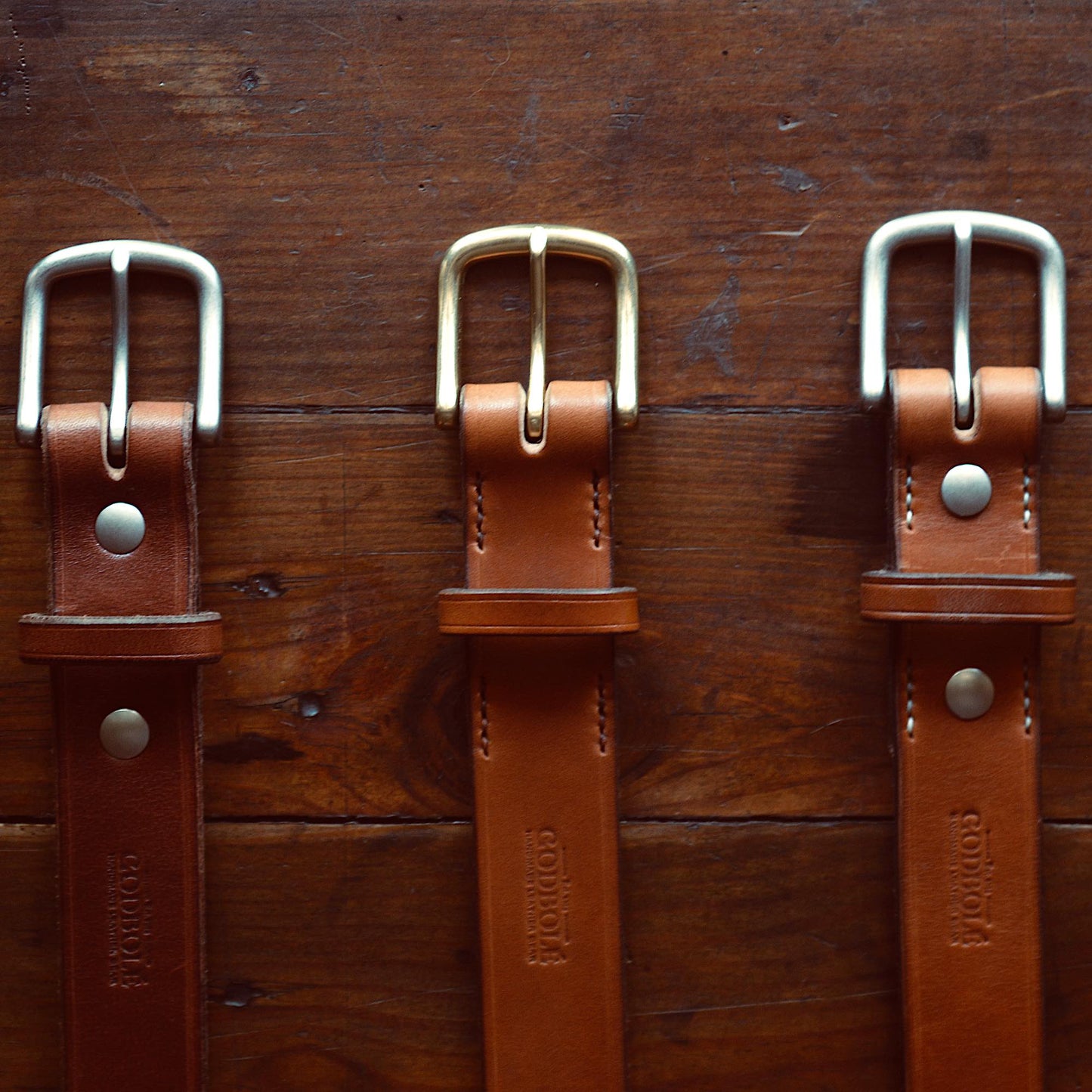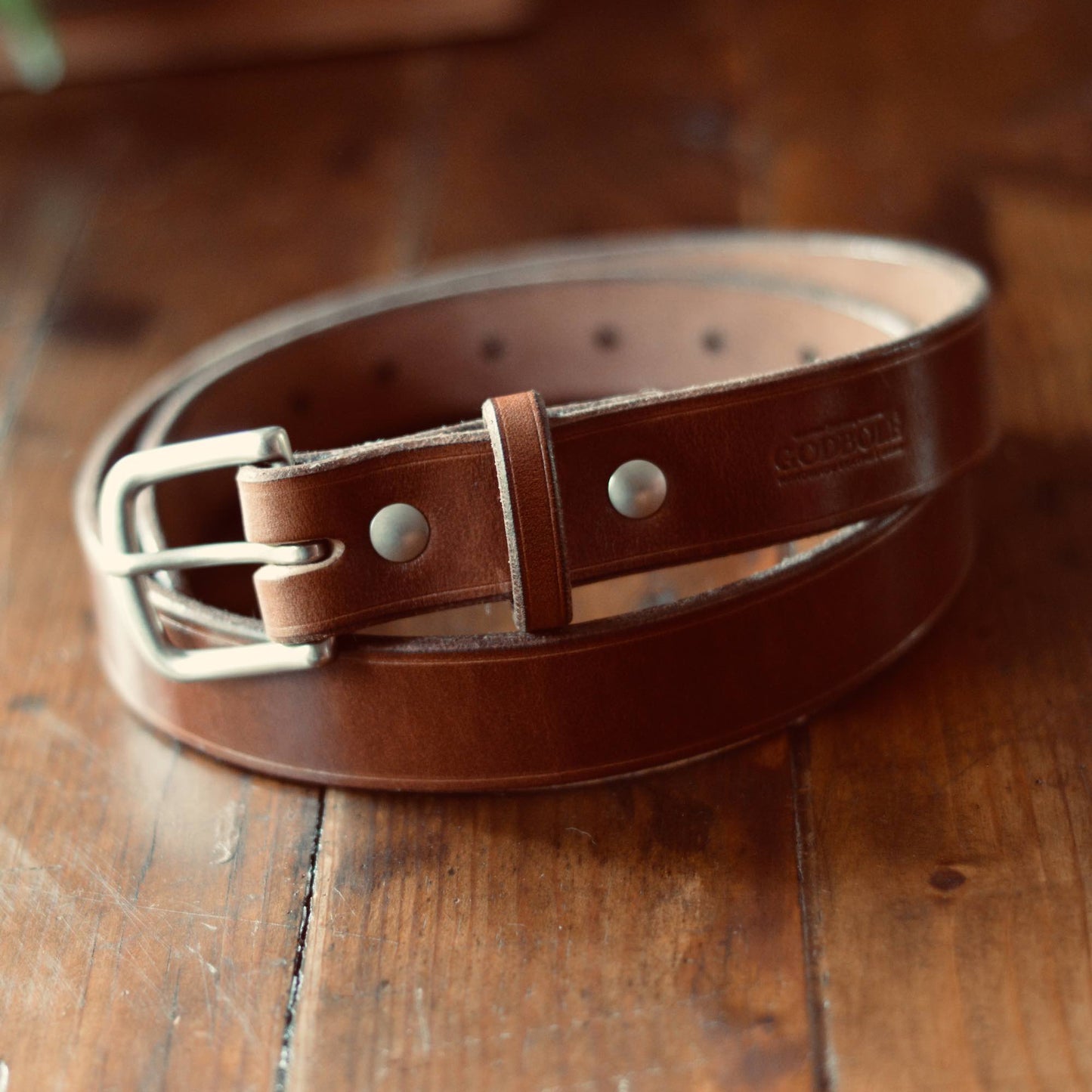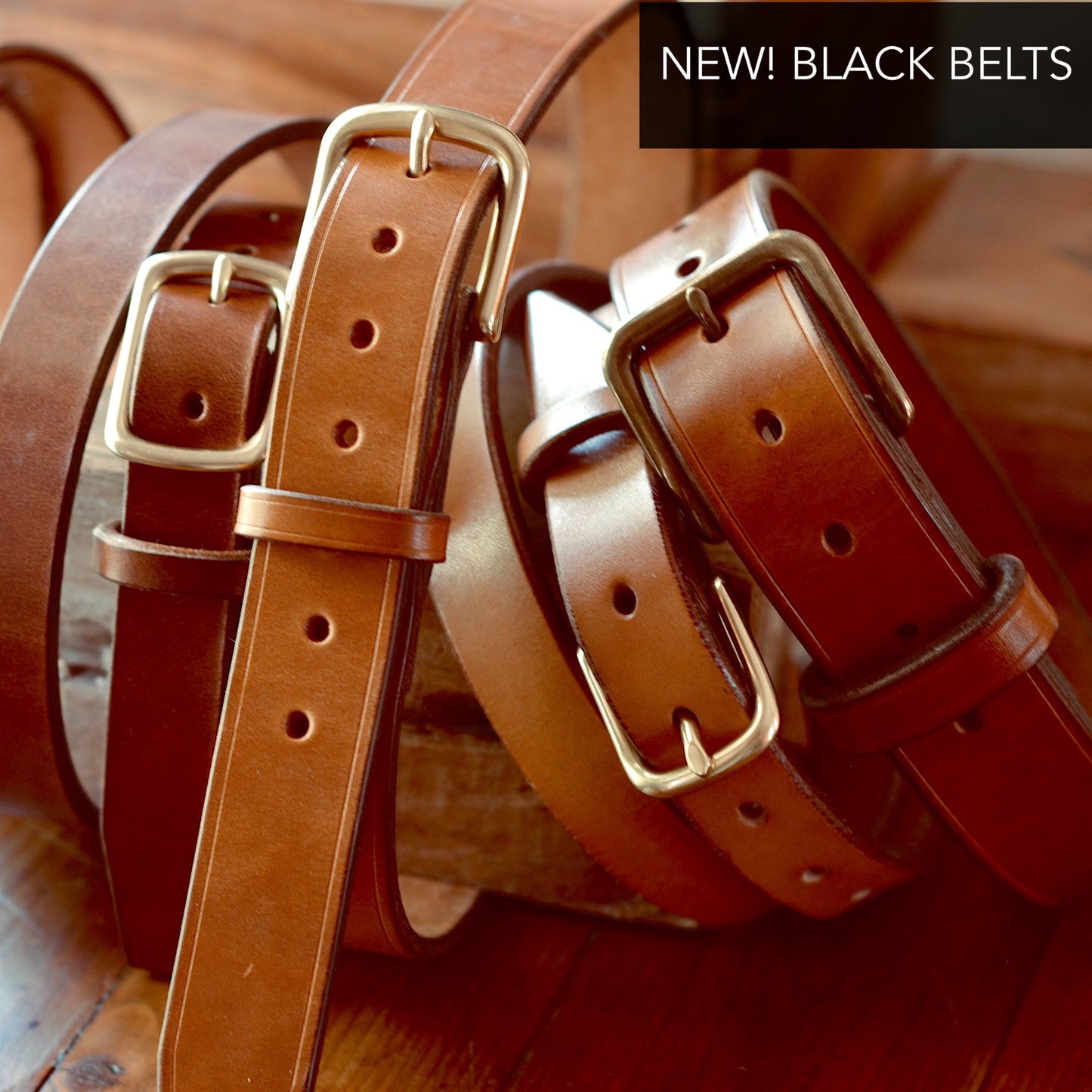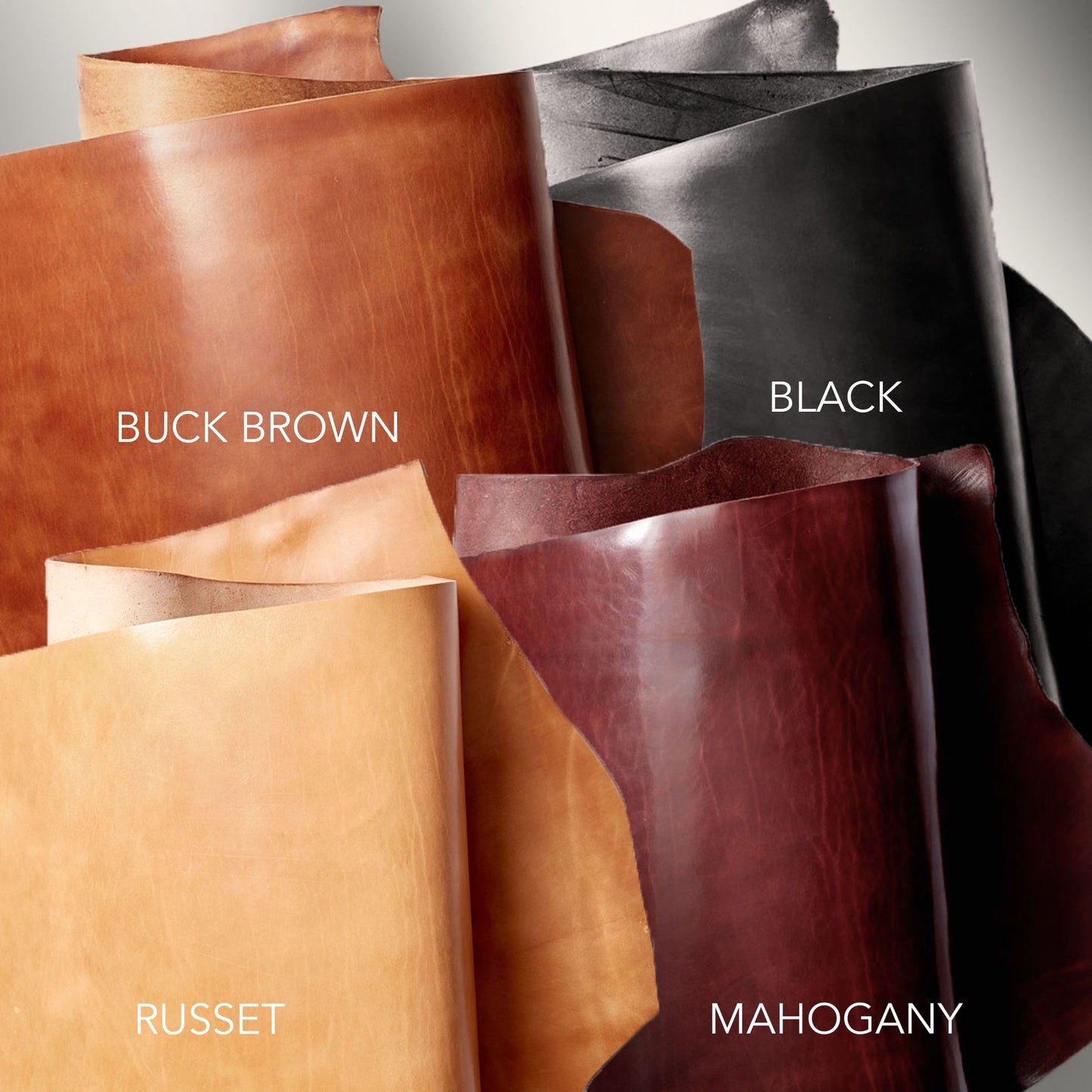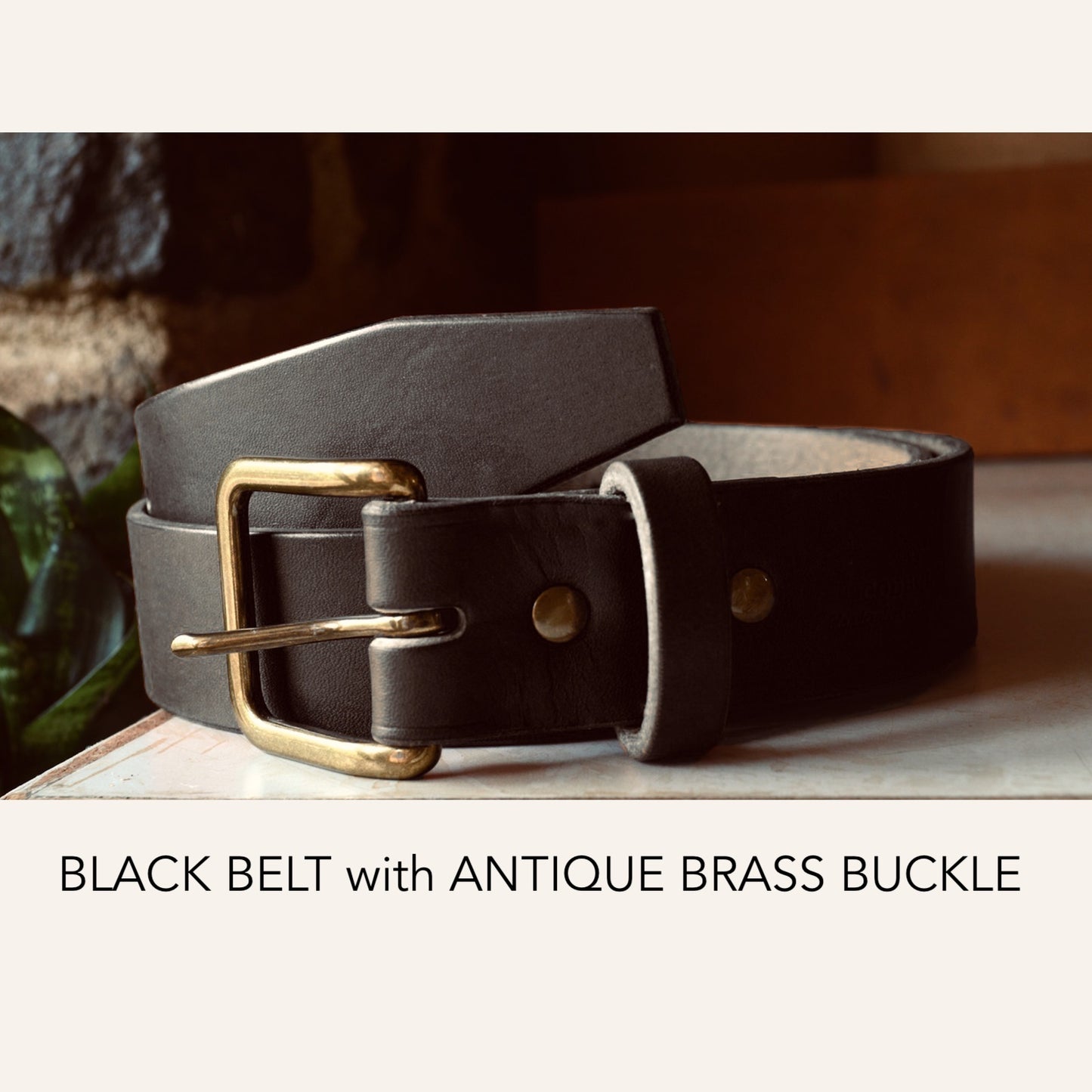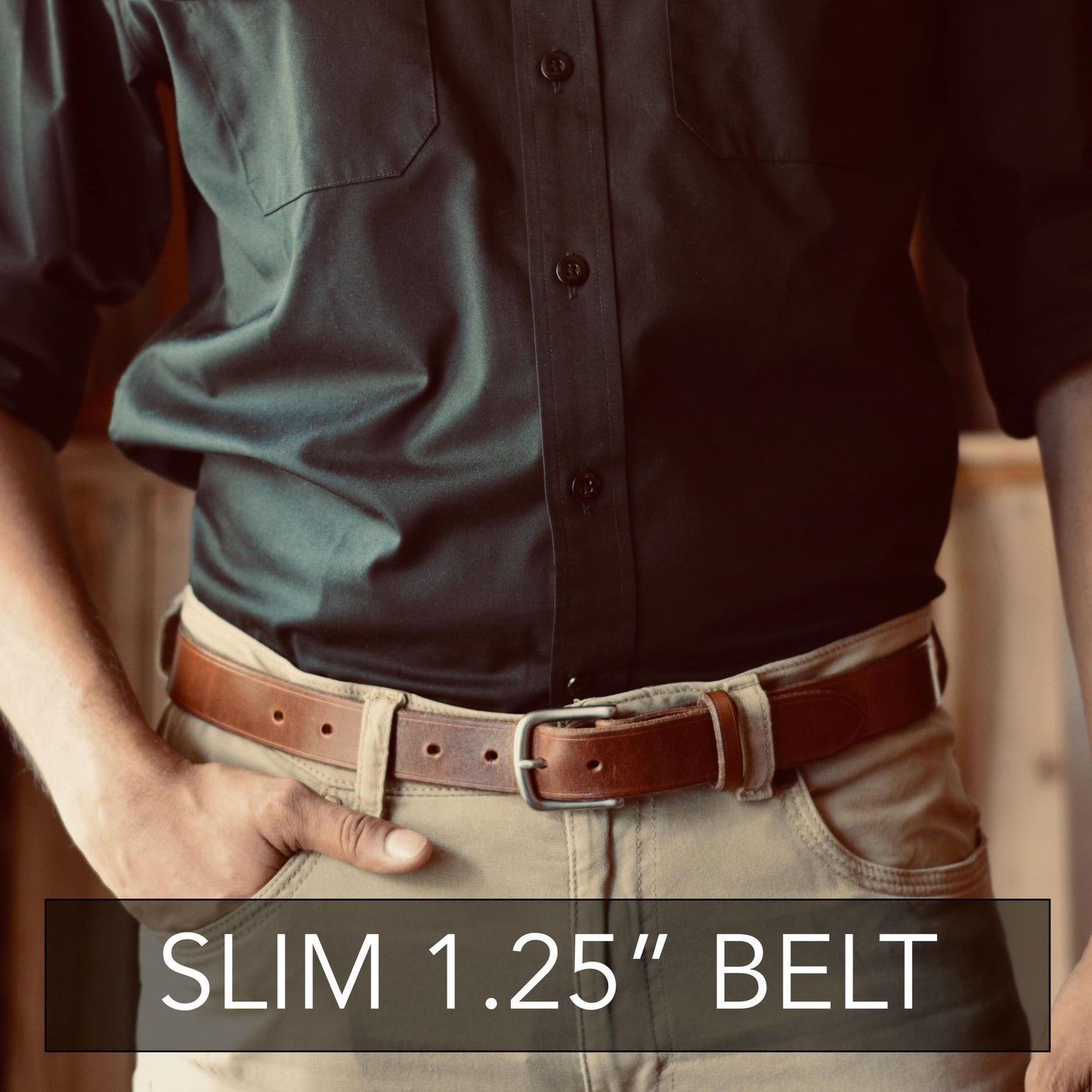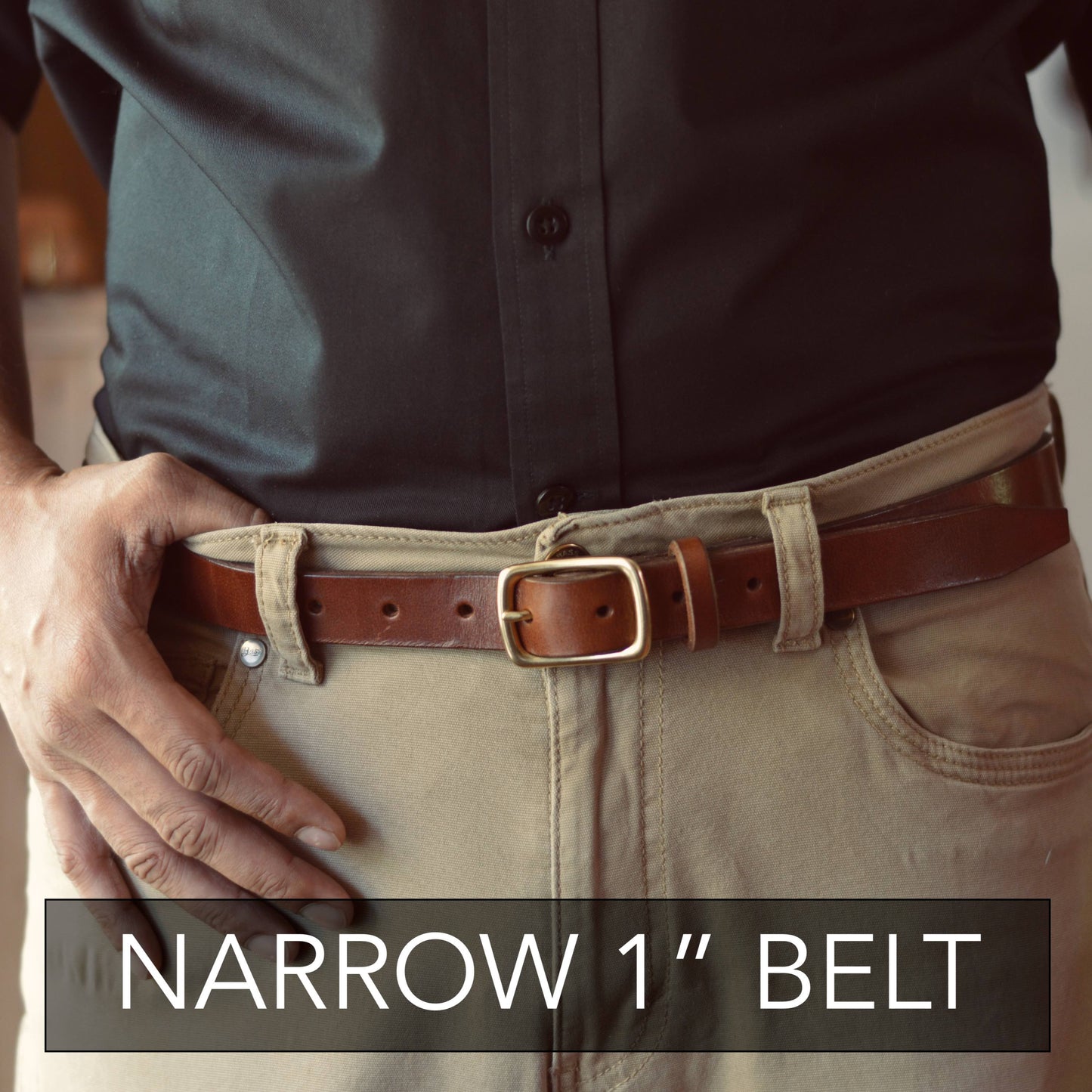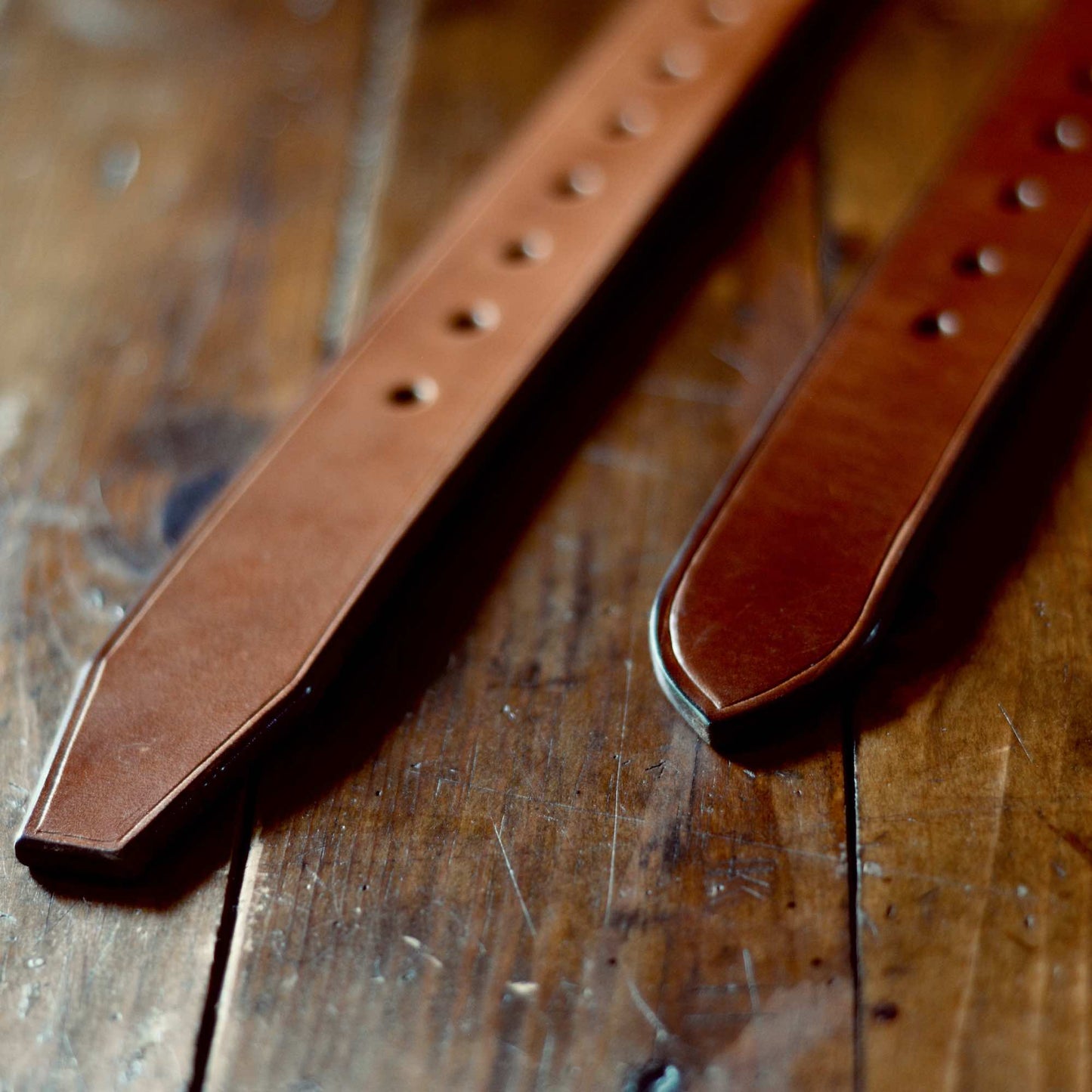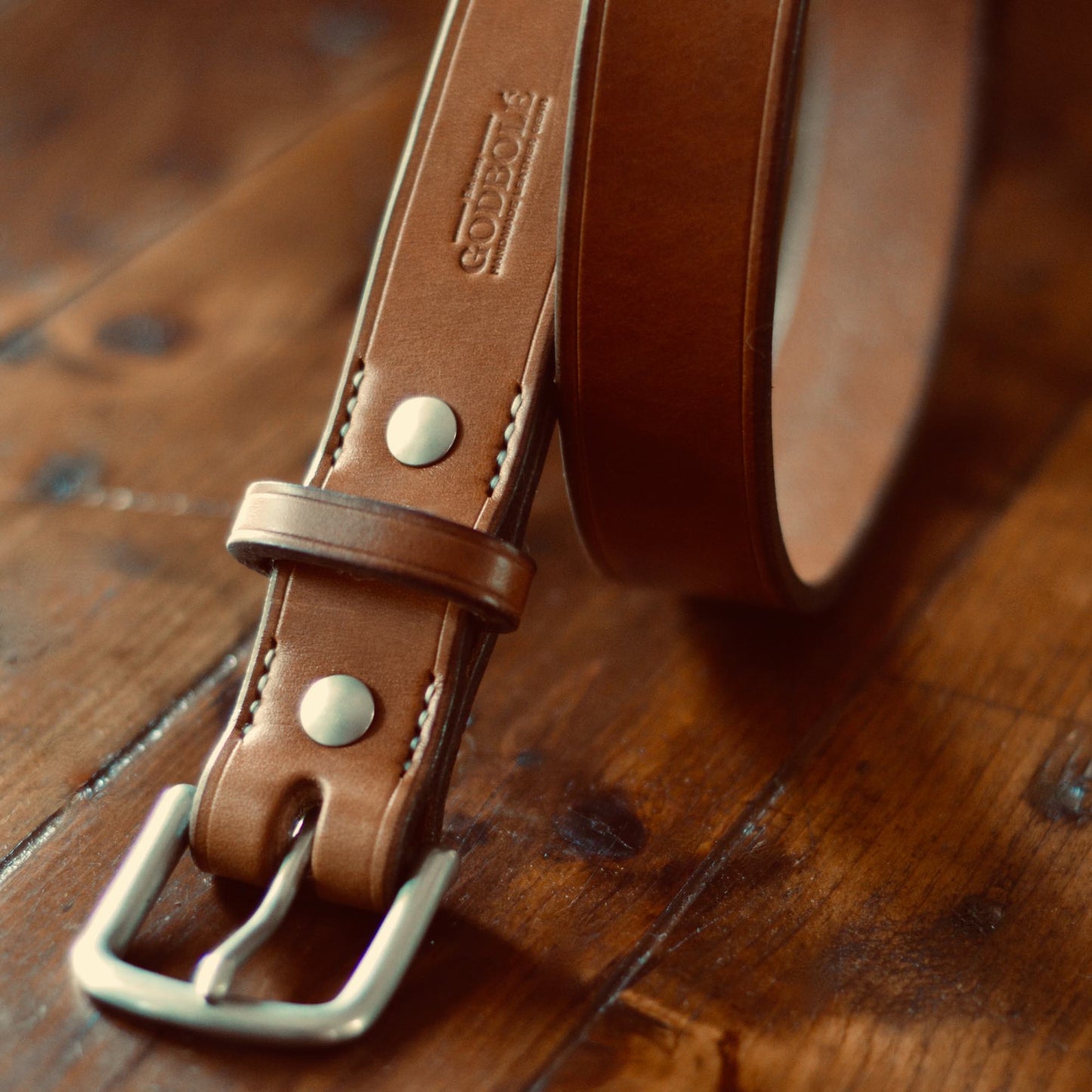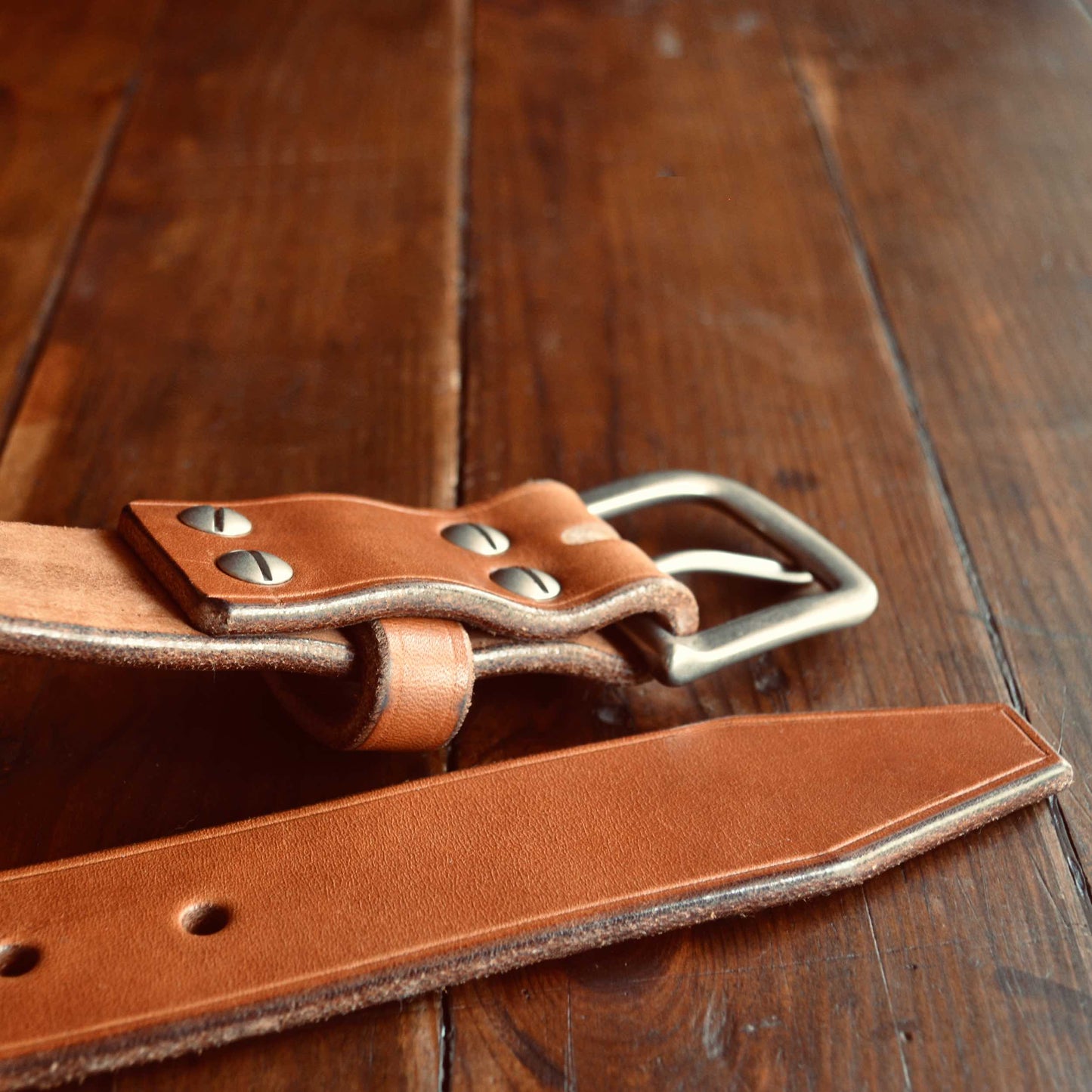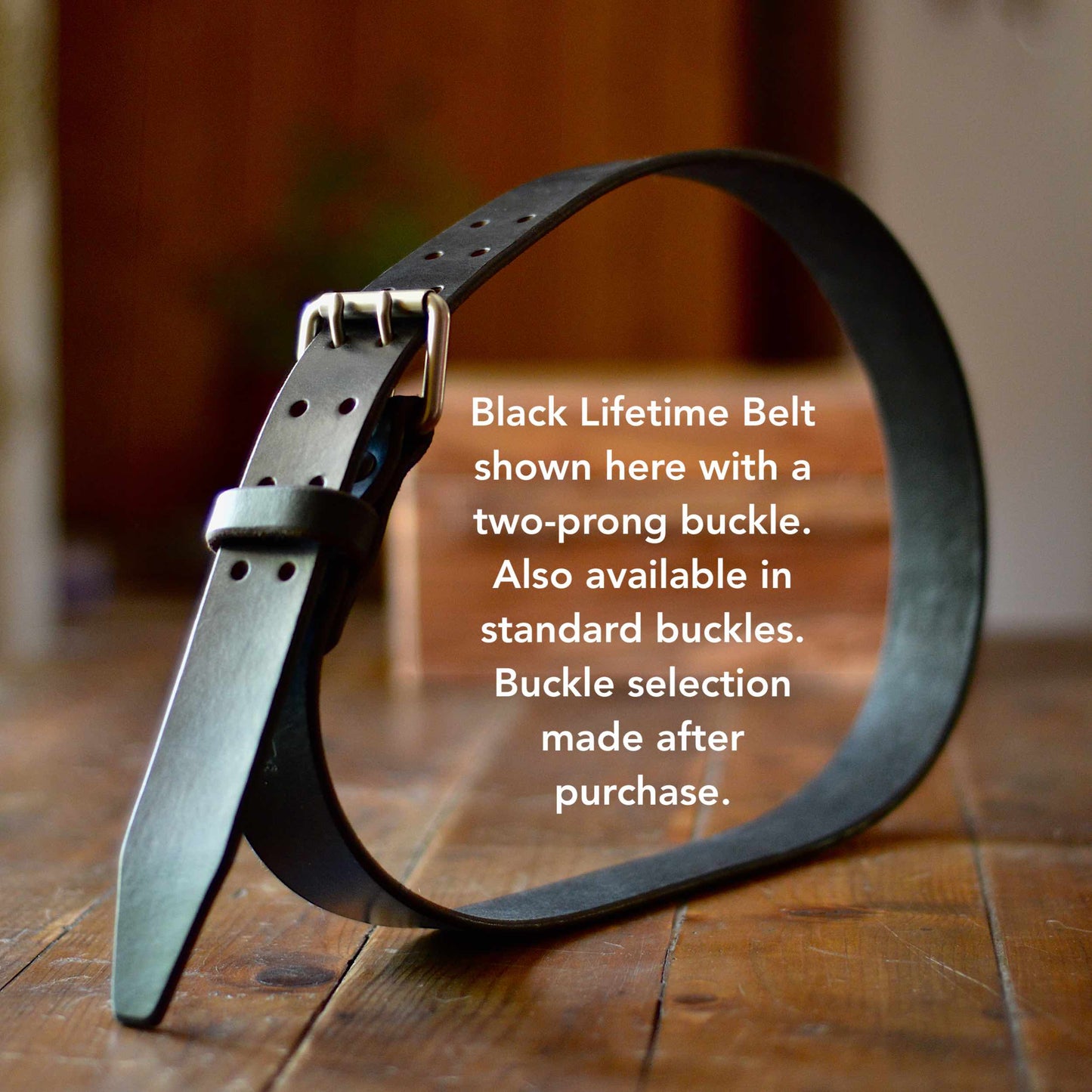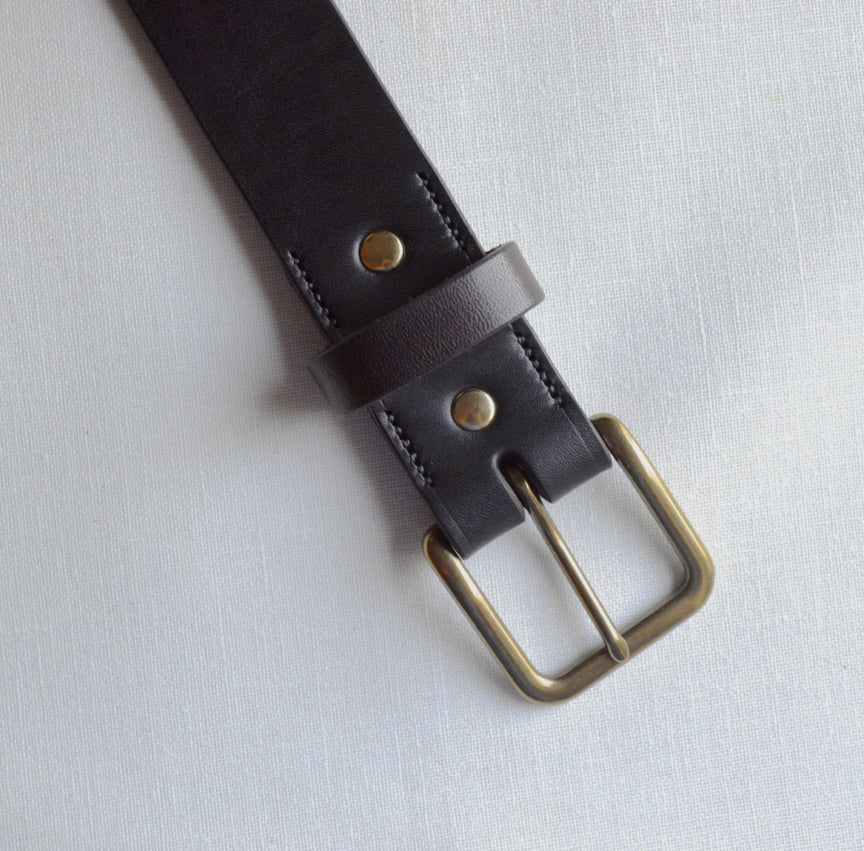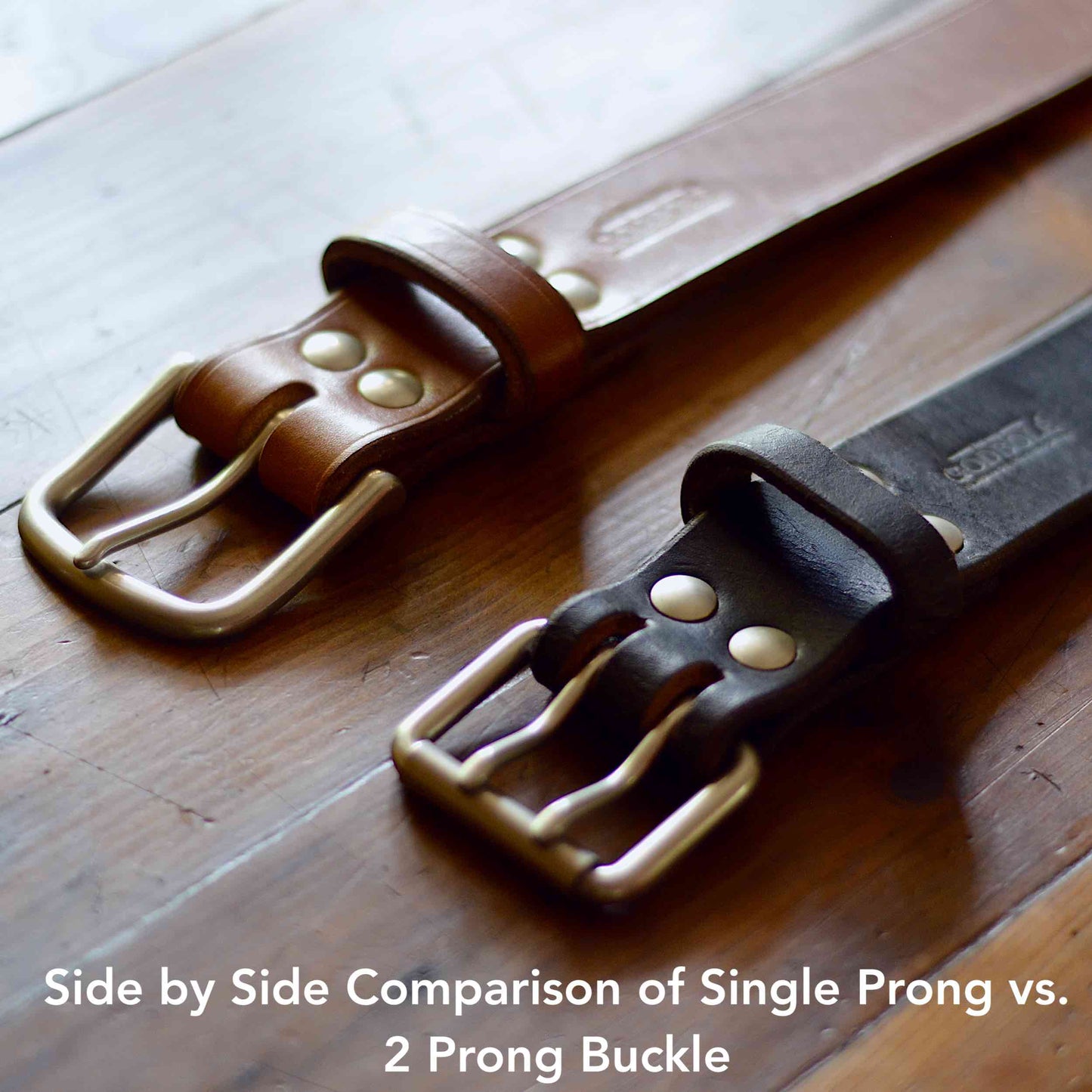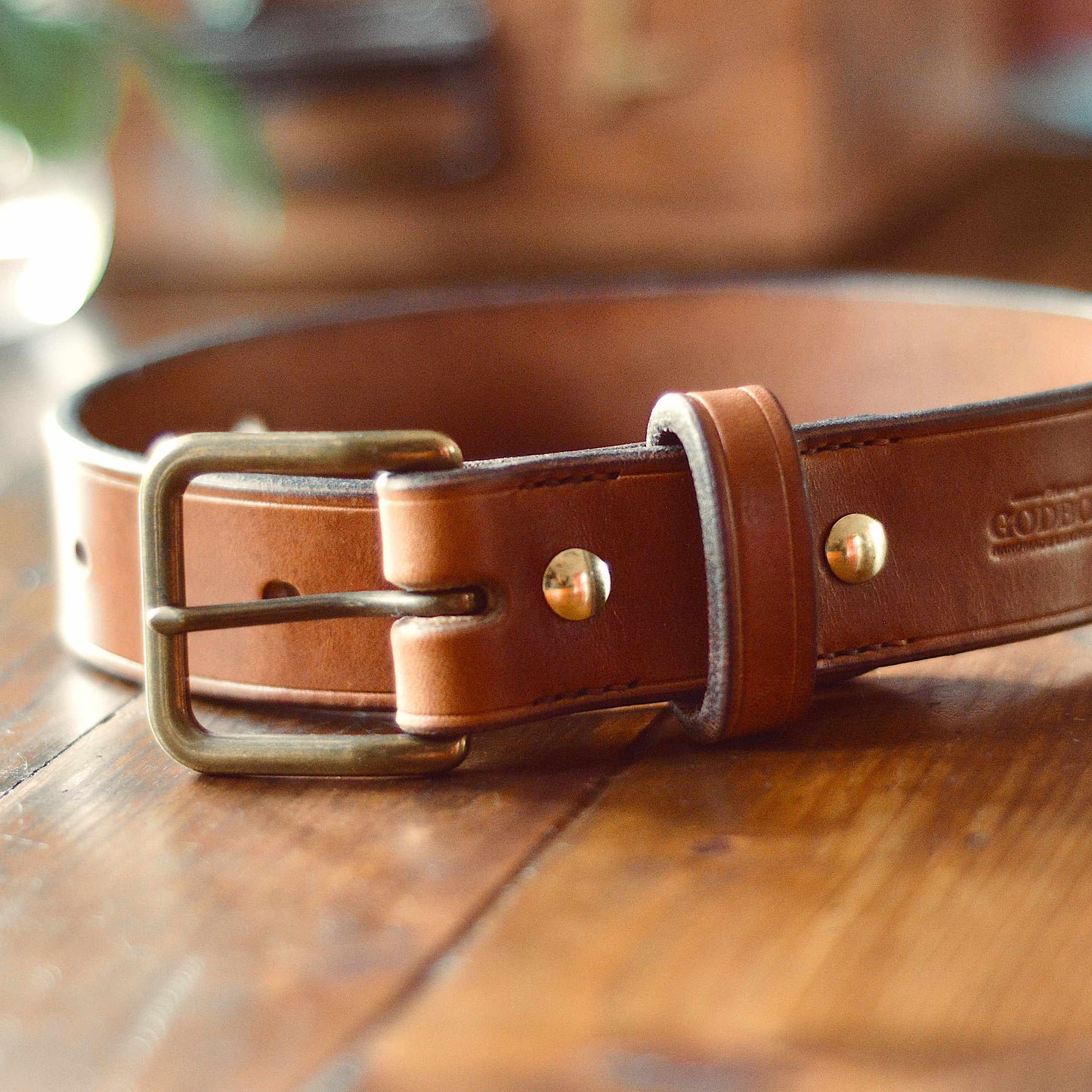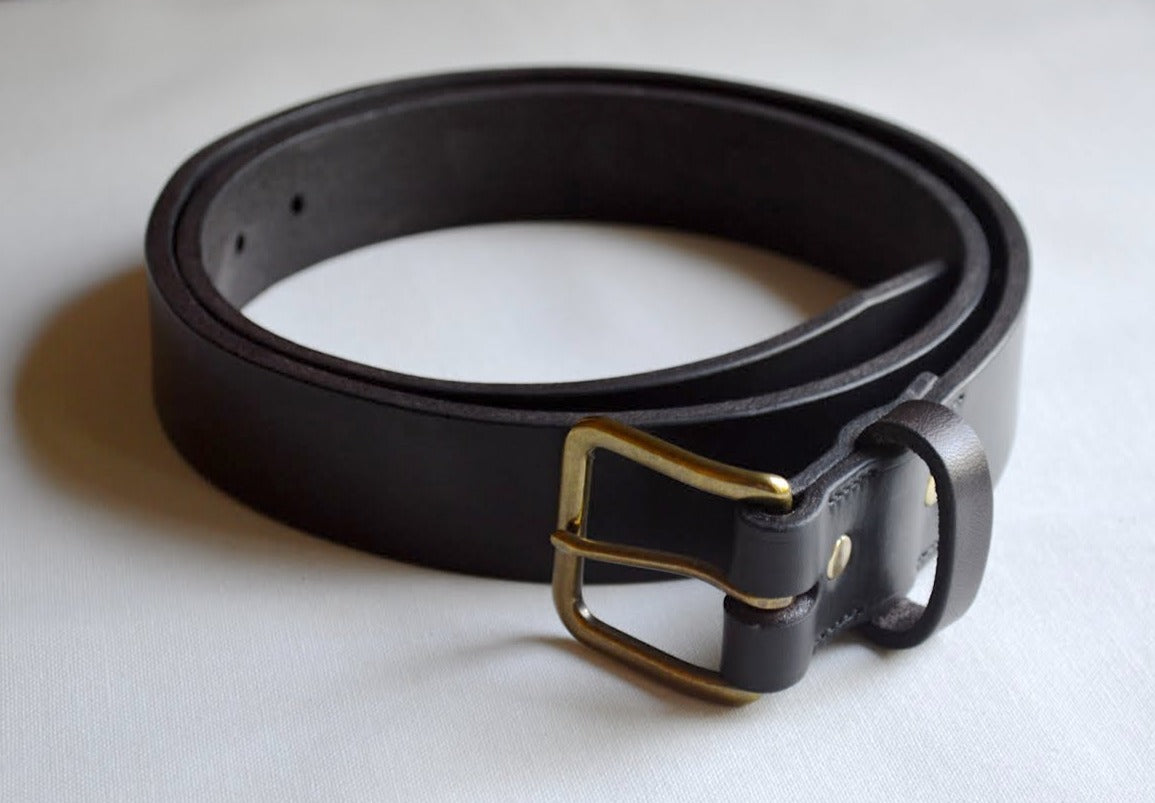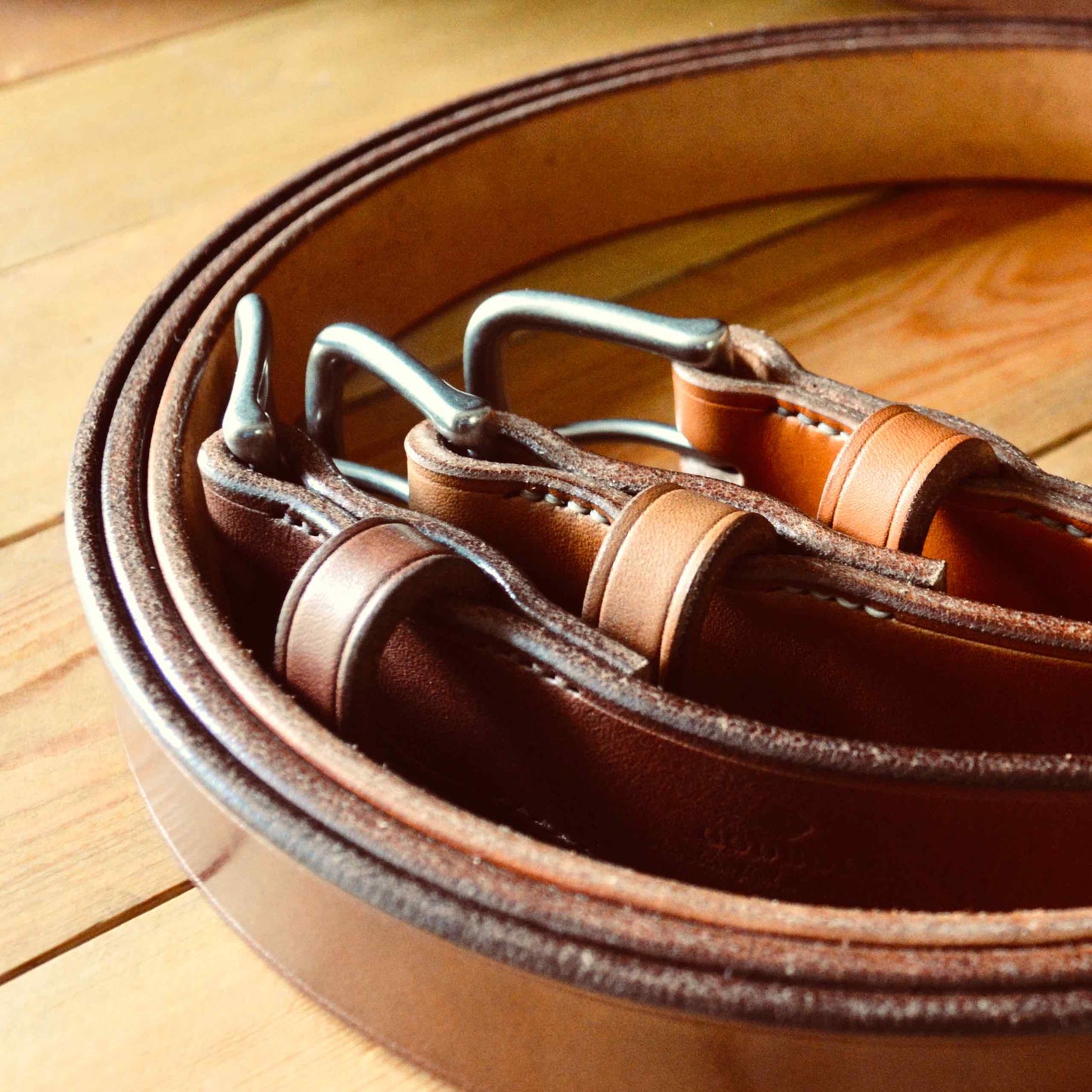 After Your Order is Placed...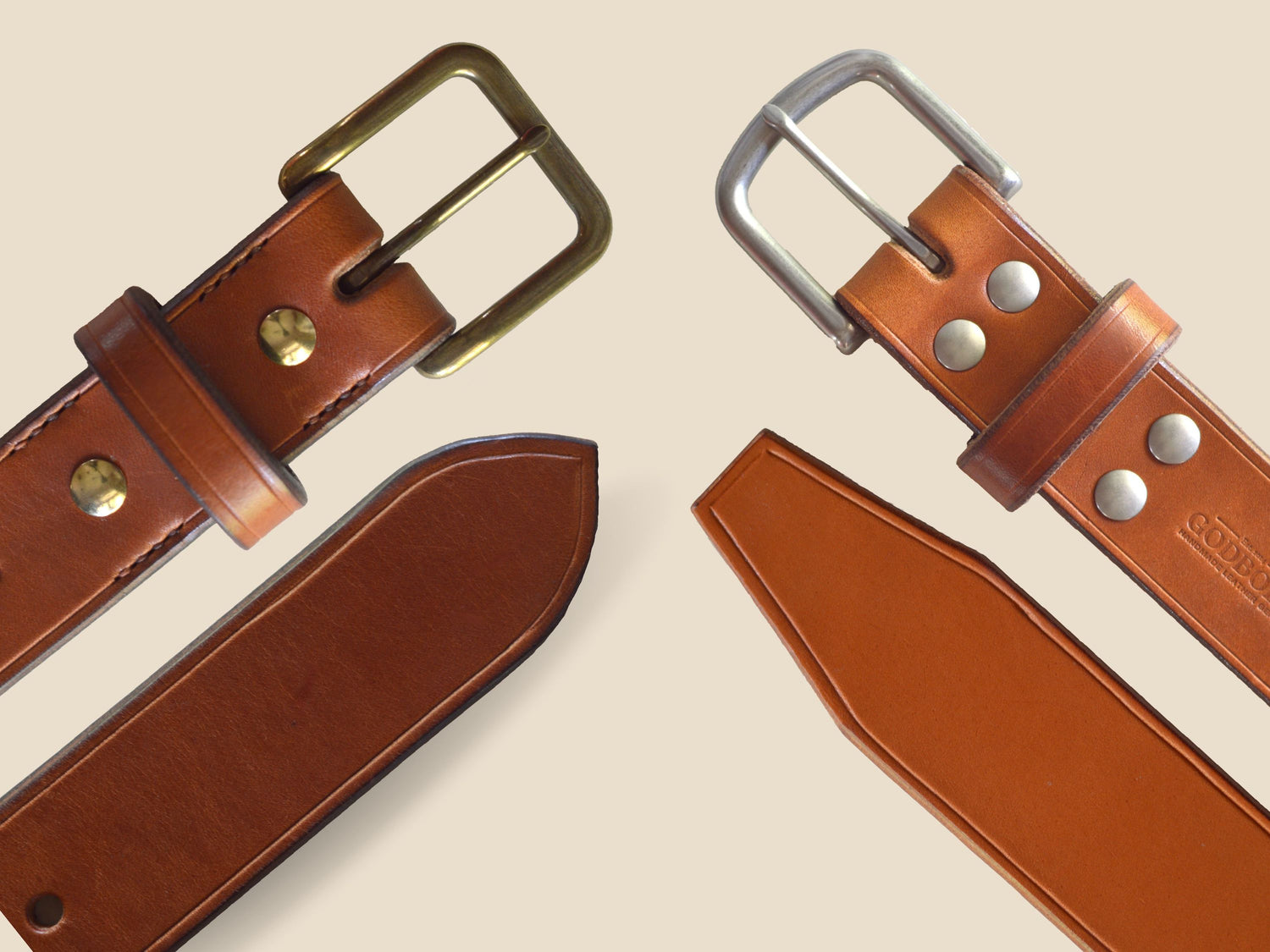 Customise Your Design

By APRIL 30TH, we will get in touch with you via email/phone with options to help you finalize options for your belt.

Select from 4-6 styles of buckles, 3 styles for belt tip design, and more belt detailing. We will also help you get accurate sizing for your belt.
Buckle Styles

There will be 4-6 options for buckles.

When can I select my buckle option? Our post-campaign email will include a list of buckle options to choose from.

We'll have 4 finishes - Solid Brass Natural, Solid Brass Matte Silver, Solid Brass Antique and Solid Brass Polished Silver

These options will apply to both the buckle as well as the Chicago screws.
Belt Tail Design

We will primarily offer two styles of belt tails, an angular tip and a curved tip. We will note your favourite design after you place your order, in our post-order email.
Belt Head Design

Screws, Stitching, or Both?

Option 1. Only Stitching, No Screws: For a clean and minimal looking belt. The buckle will be attached to the belt with a durable saddle-stitch. Each knot is made with our standard military-grade Julius Koch thread. I don't see any potential issues in longevity by not using screws or rivets. Also, the stiching is done in one direction, and then comes back - so it is double stitching.

Option 2: Only Screws, no stitching detail (recommended): As rivets, we will be using long-lasting brass Chicago screws that are screwed on to secure the buckle to the belt. This will not compromise the attachment in anyway. At the same time, it will make it easy to swap out the buckle with any other buckle in the future.

Option 3: Rivets and Stitching: A combination of options 1 and 2 above. Well, since we are offering options, why not?

Again, this is a design choice we will help you make after you have placed your order, in our post-campaign email.
Waist Size

We'll make a perfect fitting belt for you. And to prevent any size or fit issues, we'll reach out to you with a belt sizing guide after you have placed your order.

Belt sizes up to 70 inches. Enquire about bigger sizes.
Customization Options
This is a unique opportunity to customize your belt as per your preferences. We are offering multiple options for belt head and tail design. Besides, you can also get your belt monogrammed. The position of the monogram is customizable. We'll get in touch with you after you place an order, in the last week of the pre-order campaign (around Apr 25th) to help create the perfect belt for you.
BUCKLE OPTIONS
SOLID BRASS BUCKLES, AVAILABLE IN 4 FINISHES
BUCKLES WILL BE SELECTED AFTER YOU PLACE YOUR ORDER, IN A POST PURCHASE FORM
BELT HEAD DESIGN OPTIONS
Three different design options for belt heads, each providing a different aesthetic.- (1) Stitching Only (2) Stitching + Screws (3) Screws. We can vouch that whatever style you choose, it will not compromise the strength of your Lifetime Belt. EASY BUCKLE REPLACEMENT WITH NO STITCH OPTION
BELT TAIL DESIGN OPTIONS
Examples show 3 types of Belt Tail options
BUCKLE OPTIONS
EXAMPLE OF A NARROW BELT OPTION
CLOSEUP OF A NARROW (1 INCH) BELT shown in one possible design option. The solid brass buckle has a natural finish. More buckle designs available.
EXAMPLE OF A SLIM BELT OPTION
CLOSEUP OF A SLIM (1.25 INCH) BELT in Mahogany shown with an Enghligh tip tail - one possible design option. The solid brass buckle has a matte silver finish. This is one of the few different buckle options.
EXAMPLE OF A WIDE BELT OPTION
A WIDE (1.5 INCH) BELT shown in one possible design option. The solid brass buckle has an Antique Brass finish, one of the buckle options.
The story behind this belt
Many moons ago, On a cold dark morning in New York City...
I decided to make a leather belt. A belt to end all future belts. A belt that was going to last me till I was in the ground, dead and buried. Good thick leather, solid hardware. Not much to muck up here unless you want to. At this point, I had been a hobbyist leather crafter for close to 6 months. Godbolé Gear had not been born yet.
The first belt I made in 2013. Picture taken in 2019, long before the belt went missing earlier this year.
I did make that belt. It endured harsh winters and cold rains of New York. Later, when I moved to India in 2014, it went through the heat and the incessant one foot a day rains in Mumbai. It did right by me for a long time, 2013-2023, until I went and lost it. Now it'll be buried with someone else. Sucks.
It's now time to make a new belt - A tough belt that'll handle a lifetime of abuse. A belt that will develop a rich and unique patina. All the tiny dents, scratches and coffee spills over the years will make a belt that will be unmistakably yours.
The older it gets, the better it will look. This is decidedly going to be a casual/semi-formal belt. Let's not pretend it's a dress belt. However, I am a little weird and would most definitely use it with a suit. You do you.
There's really just three things you need to make a good belt - get the right leather, get the right hardware, and make it right.
Alright now, let's take a look at how the finer details will play out, shall we?
Crafting for Longevity
making sure the lifetime belt is designed to 'not fail'
"Regular" belts fail in all sorts of ways. To address that, the first and most important thing we have done, is that we've selected the right kind of leather. Let's look at what else I have planned for your Lifetime Belt. I have incorporated simple yet powerful techniques - not often used in 99.9% belts out there, sometimes to cut costs, or at other times because of plain lack of know-how.
Over the years I have made close to 500 belts. Might not seem like much. But when you spend 4 hours making a single belt and then do it 500 times, you really get time to think about the function, design, why things are made a certain way, why things might break, what could be done better.
Maintaining Full Thickness

Most belt makers thin down (skive) the part of the belt that goes under the buckle. This section, where the leather is made thinner gets very weak over the years because it holds the buckle in place, seeing most stresses and it is thinner than the rest of the belt. It is one of the major sources of failure. It is not rocket science to loop a thick piece of leather over the buckle if you use the right techniques. But no one usually does it (a) because it takes longer, and (b) requires different techniques. Usually the skiving of leather is done in the name of comfort, however I did not suffer a single minute when I made mine without thinning the leather down. Lifetime belt will be full thickness.

Stitching - never across buckle, Always along the length

Some belt makers will stitch the buckle to hold it in place. Others will use rivets in addition to stitching, in case either one of those gives way. Redundancy is good. Except for one tiny problem that can break the belt. That stitching seam just below the buckle along the width is the single biggest point of failure. We will NOT be doing that. We always stitch along the length of the belt, in the direction of the pull. The thread is Tiger Ritza from Julius Koch, Germany, the gold standard in stitching. We hand stitch (saddle stitch) along one direction and then back stitch along it too, for good measure, This makes the rated strength of the thread 160 kg. There is no question of our thread breaking or a stitch coming loose.

Chicago Screws for Strength and Easy Swaps

Compared to rivets, Chicago Screws are much stronger. We will be offering the option of deploying Solid Brass Chicago Screws to hold the buckle in place on your belt. This will make the construction super strong.

Chicago Screws or Stitching? You choose. Durability-wise, either will work well on the Lifetime Belt. The advantage of only Screws, no stitching is that you can change buckles if you like! You get more flexibility for styling your belt, and the care and maintenance of the belt will become a breeze as you can screw and unscrew them with a screwdriver!
Locating Good Leather
Thick full grain leather that will brave the elements
The leather needs to be full grain, thick, strong, supple and should not stretch. Let's get leather made from one of the oldest tanneries in America - Wickett & Craig. Wickett & Craig has focused, since 1887, on making some of the best full grain, vegetable tanned leather worldwide. That is quite literally all they do. The fact that most of their leather is used for making saddles and saddlery is a testament to its strength and durability.
We are bringing leather directly from Wickett & Craig, world-renowned makers of exceptional vegetable tanned leather since 1887. Pic Courtesy: Wickett&Craig Tannery, Pennsylvania
I chose Wickett & Craig, because I really like how their leather feels. Located in in the little town of Curwensville, Pennsylvania, they have a deep knowledge and understanding of their leather. Their master tanners and curriers have passed on their knowledge for generations since 1887. Their leather smells good, just how leather should smell - a woody and earthy smell that's not pungent.
And most importantly, they have the right type of leather that will make fantastic belts. 5 mm thick, vegetable tanned leather tanned just right to last a lifetime. Well cared for, this belt will last……an eternity.
In all seriousness though, the fact is that there was absolutely nothing wrong with my belt after ten years of use.
Watch Video
Our belts will be made with leather from one of the best tanneries in the world. This vegetable tanned leather takes six(6) weeks to make, vs chrome tanned leather that can be made in one day. Video Courtesy: Wickett&Craig Tannery
It will be an understatement to say that these belts are special. The leather is from Wickett & Craig, one of the most renowned tanneries based in America. These folks have been making vegetable tanned leather since 1887. Many specialty leather goods brands from America and Europe turn to them for leather. Tanner Goods, Florsheim, Filsons and Nicks Boots - to name a few.
What is Harness Leather?
traditionally used for saddlery, makes excellent belts
The Harness leather is very special. It's got all the oils and waxes that the leather would need for at least a few years of getting drenched in the rain. It's also more supple which means the belt "breaks-in" to your waist quicker. Easier to wear. Harness patina's well too.
Due to the high oil and wax content in the leather, Harness leather also takes on dings and dents more readily than other leathers, developing a very striking character over time.
Selecting Good Hardware
solid brass, made right
We are going to go with good-old, field tested, solid brass hardware. The kind that is exceedingly rare to find in most name-brand belts these days. The hardware we use feels heavy. It is heavy for a good reason. The reason is Solid Brass.
These buckles are masterfully cast with zero pitting. Each buckle is hand polished and laquered to prevent corrosion.
Solid Brass Buckles from our Newburyport, MA supplier in Antique, Gold, and Silver Finishes. Each buckle is perfection personified.
Most hardware these days is made from Zinc alloys. Looks fine, works well, until it doesn't. One fine day zinc hardware will just break with no notice. A brittle failure.
We source our hardware from a 4th generation, family owned and operated business based in Newburyport Massachusetts. They have been consistently delivering quality for over 78 years! We have sourced all our hardware from them for the last 9 years. They have 100% reliably delivered excellent hardware. They are good.
A word about Chicago Screws - In all pictures, you can see what looks like brass rivets on the belts. These are actually Chicago screws. They are also made of high grade brass. These are as strong, if not stronger than rivets. While being very secure they can be unscrewed with a screwdriver! So if you want some variety and want to swap out your buckle with a new one, it's super quick and easy.
Common Questions
Can you ship to my country?

Yes, most likely we can. The cost of shipping goes down with multiple items ordered. So, for international shipping, email us ( contact@godbolegear.com ) your pin code/zip code for the most accurate quote on shipping rates.
Can I order after the Campaign Ends?

No, it doesn't work like that! The earlier you place an order, the higher the chance of a successful campaign. This enables us to import leather in larger quantities, making it viable for shipping. No new orders will be accepted after May 1st. On May 2nd, we will place an order with the tannery in USA based on number of orders received.
Can I change my choice of colour or belt after I place my order?

Yes, as long as you do so before April 30th. If you have an additional colour request you'd like to make, email us at contact@godbolegear.com
Can I get the higher discount even if I order belts separately?

Yes, absolutely! Spread the word, get together with friends to place a bigger order, and get a larger discount as long as one person places an order for all, and before the May 1st deadline. If you have already placed an order for one belt, and want to add in another one, reach out to us and we will create an order for you with the correct discount.
Important! Please Read
ESTIMATED ORDER COMPLETION TIMELINES
This is a pre-order event. Which means that we will be delivering your order after procuring leather, hardware and making your belt, all of which will take between 70-100 days (~3 months) from the date of the campaign launch.
Please Note - These timelines are fair estimates based on our past experience of working with this tannery, importing leather via customs, and handcrafting time. In the event of unforseen occurences, it is possible that there may be delays. But we are always here to provide you with updates. Plan B: Given the recent events in the world (pandemic, wars, earthquakes and floods), and that we are going to import the leather from USA, we have a contingency plan. We have a couple of alternate sources for the same leather, possibly 4 mm thick (not 5mm, as would be from the tannery). Rest assured, we will be able to complete your order with this leather that will be sourced from a distributor, not the tannery. It's good to have a Plan B, we will most likely not need to use it. And in case we use plan B, we will let you know before we make your order.
Keeping track of your order - We will be posting regular updates on: Email, our Blog and on Instagram (@godbolegear).
REFUNDS & CANCELLATIONS POLICY
We will not be able to provide any refunds or cancellations once you have placed an order. Replacements will of course be made in case of manufacturing defects or sizing issues. If we go with Plan B (see paragraph above), and you are not interested in participating in Plan B, you are eligible to apply for a refund. Store credit will be offered in case you wish to return your belt for reasons other than the above. The store credit will be applied to your Godbolé Gear account or converted in the form of a Gift Card, after the campaign has ended. In case none of the above works for you, we will take up your concern on a case by case basis. Don't worry, we are here to hear your concerns!
INTERNATIONAL SHIPPING
Please email us at contact@godbolegear.com with your country and zip code if you'd like a belt shipped outside India. We will let you know the shipping fee.
Got Questions? We're here to help.