Regular price
Rs. 5,200.00
Regular price
Rs. 5,200.00
Sale price
Rs. 5,200.00
Unit price
per
Special Price!
Sold out
CURRENT DELIVERY TIMELINES

Please allow us upto 2 weeks to carefully handcraft your wallet.

Transit Time within India - 2-7 days, depending on your location

Tracking Information: Sent to your email when shipped. Orders ship from Thane District (Mumbai Metropolitan Region).
SHIPPING RATES FROM INDIA TO REST OF THE WORLD

Processing Time: Please allow upto 3 weeks to handcraft+process international orders (time before dispatch).

Transit time: 5-10 business days after we ship your package by FedeX. Tracking information will be sent to your email id when shipped.

Shipping Rates calculated at checkout

Regions Served: North America, South America, Europe, Australia, parts of Middle East, most of Asia.

*Order Value (in INR) = Cart Total - Discounts (if any) + Taxes

Realtime Currency Conversion INR to USD on Google

Customs duty may be charged by your country and is usually collected from you by FedeX at or before time of delivery.

If you cannot see your country listed on the checkout page, please get in touch with us to check serviceability.
A classic leather wallet with a coin pocket. This leather wallet is handmade with authentic vegetable tanned full grain leather. Holds 6-8 cards and a whole lot of cash. The coin compartment can alternatively be used for holding a key, a SIM card or a small photo. We can make this wallet for you with one or two cash pockets. 
The divider between two cash compartments is also made with the same leather as rest of the wallet.
A note on the design: The coin pocket does not feature a closure. This is deliberate to avoid any bulging snap buttons and retain the shape of the wallet better. The leather flap has 'muscle memory'. It appears very firm in the beginning, but will close on itself with regular daily use.
WHAT SETS IT APART
Completely handmade with carefully selected full grain leather. Hand stitched using the saddle stitching technique and edges are burnished beautifully.
Our wallets are designed and built to last a lifetime. The only material used in each wallet is 1.2 mm thick full grain vegetable tanned leather. No fillers, no fabric, no compromises.
View full details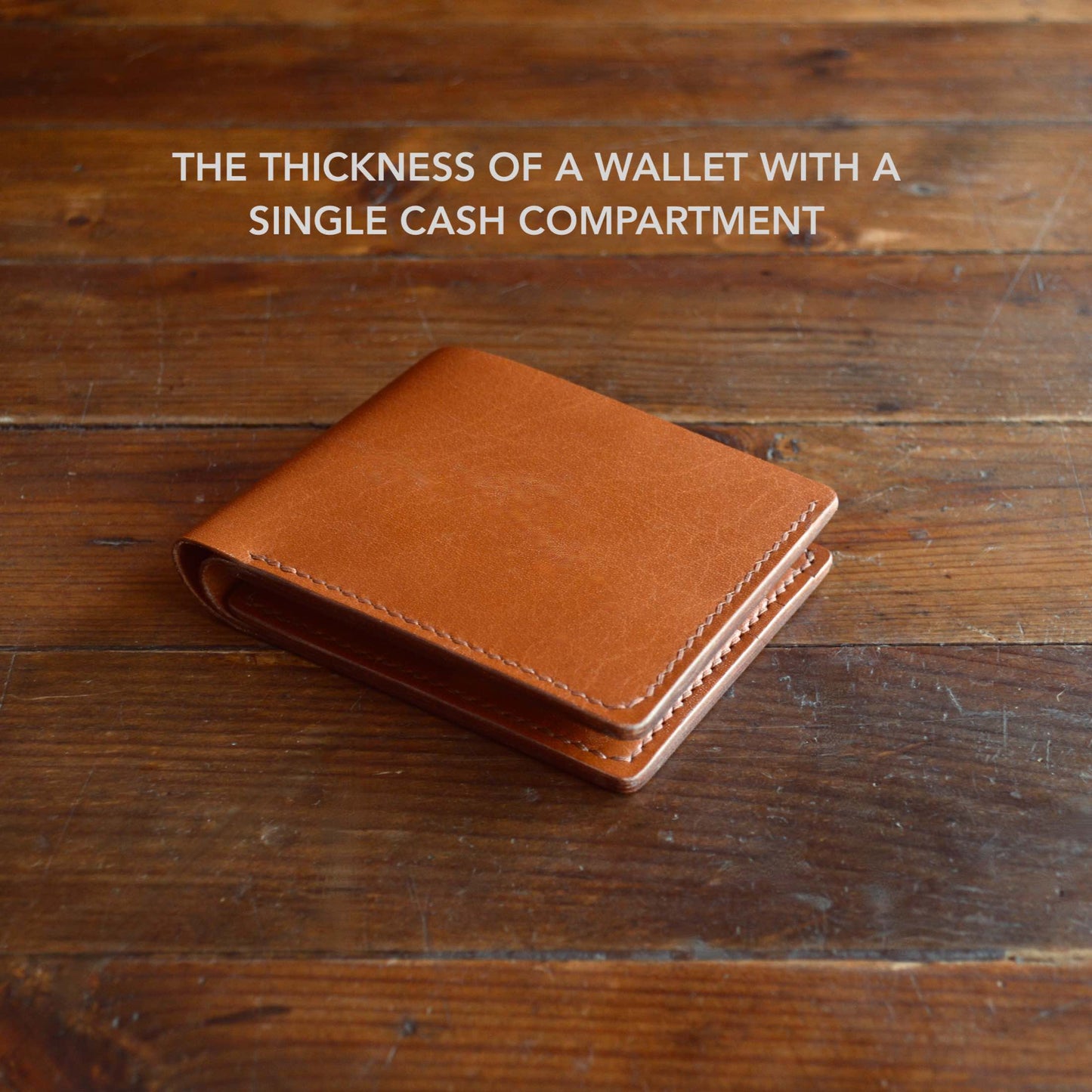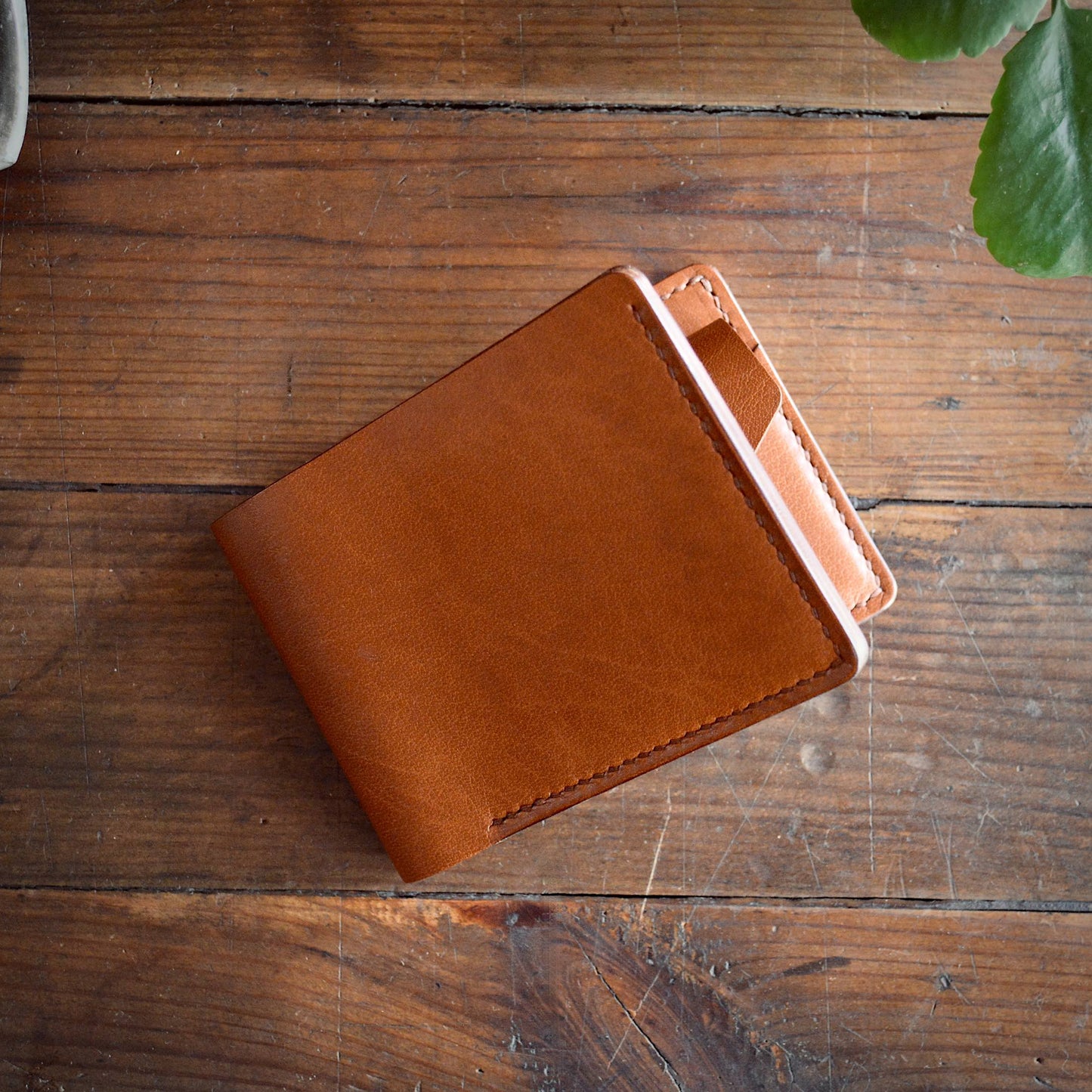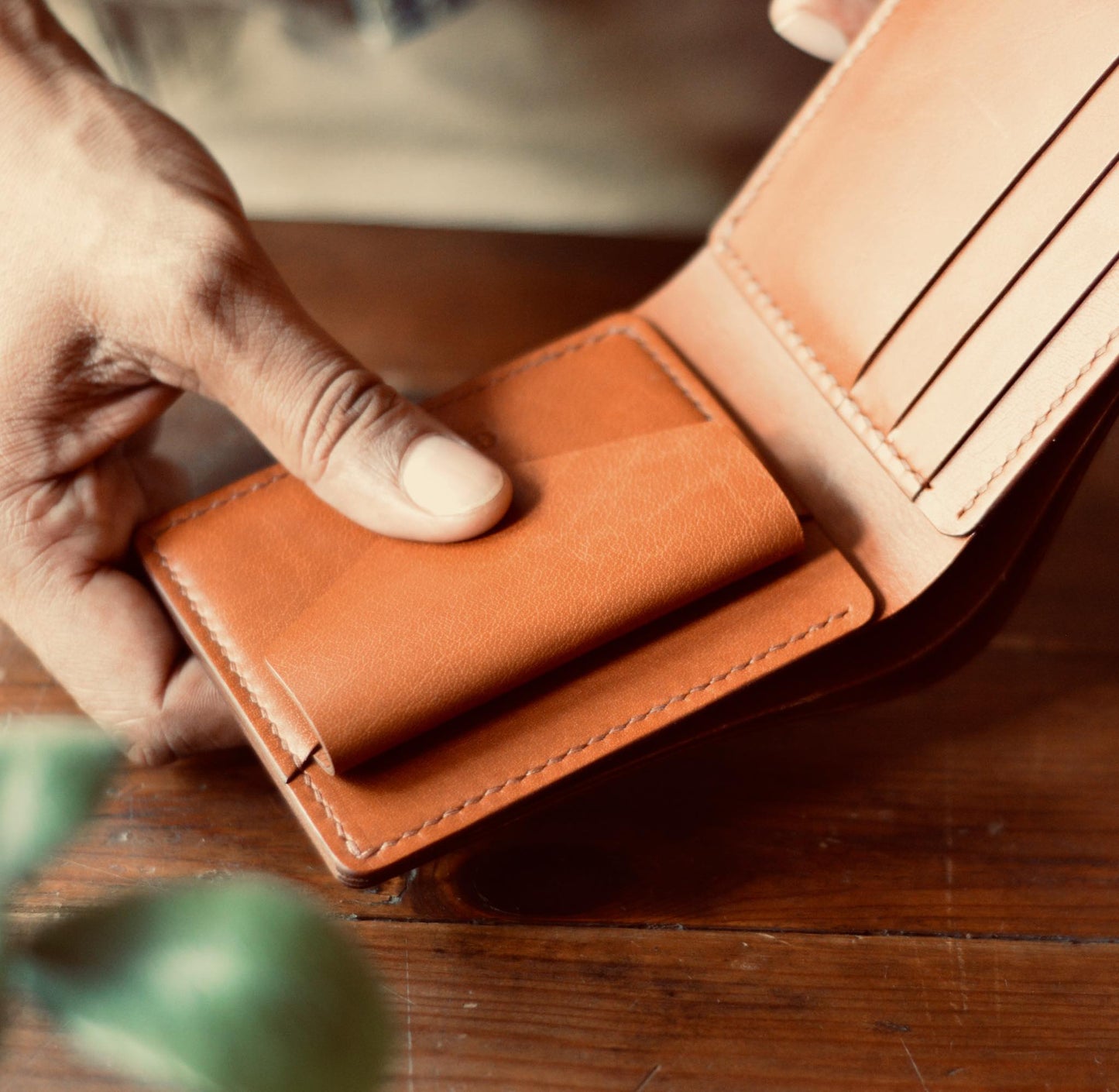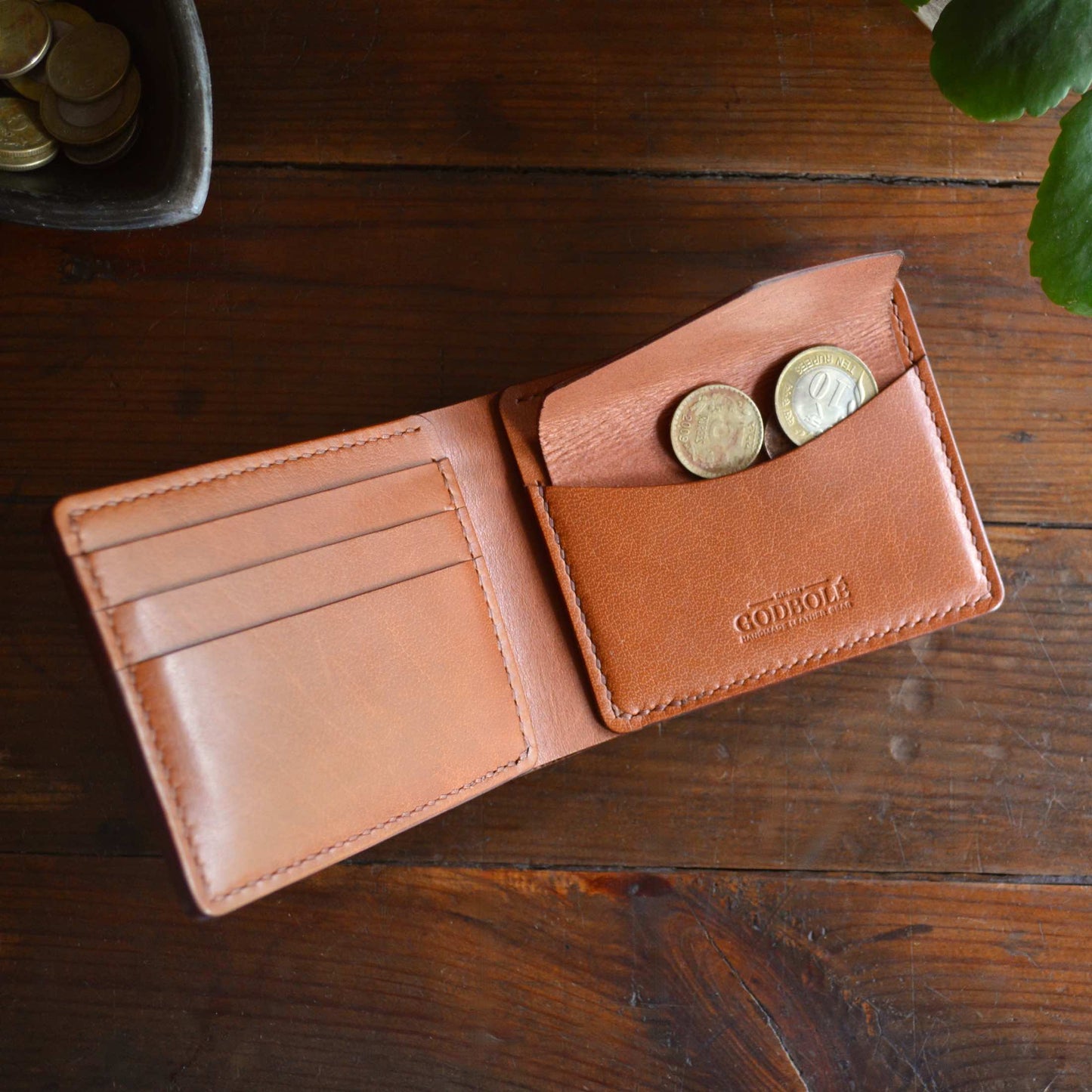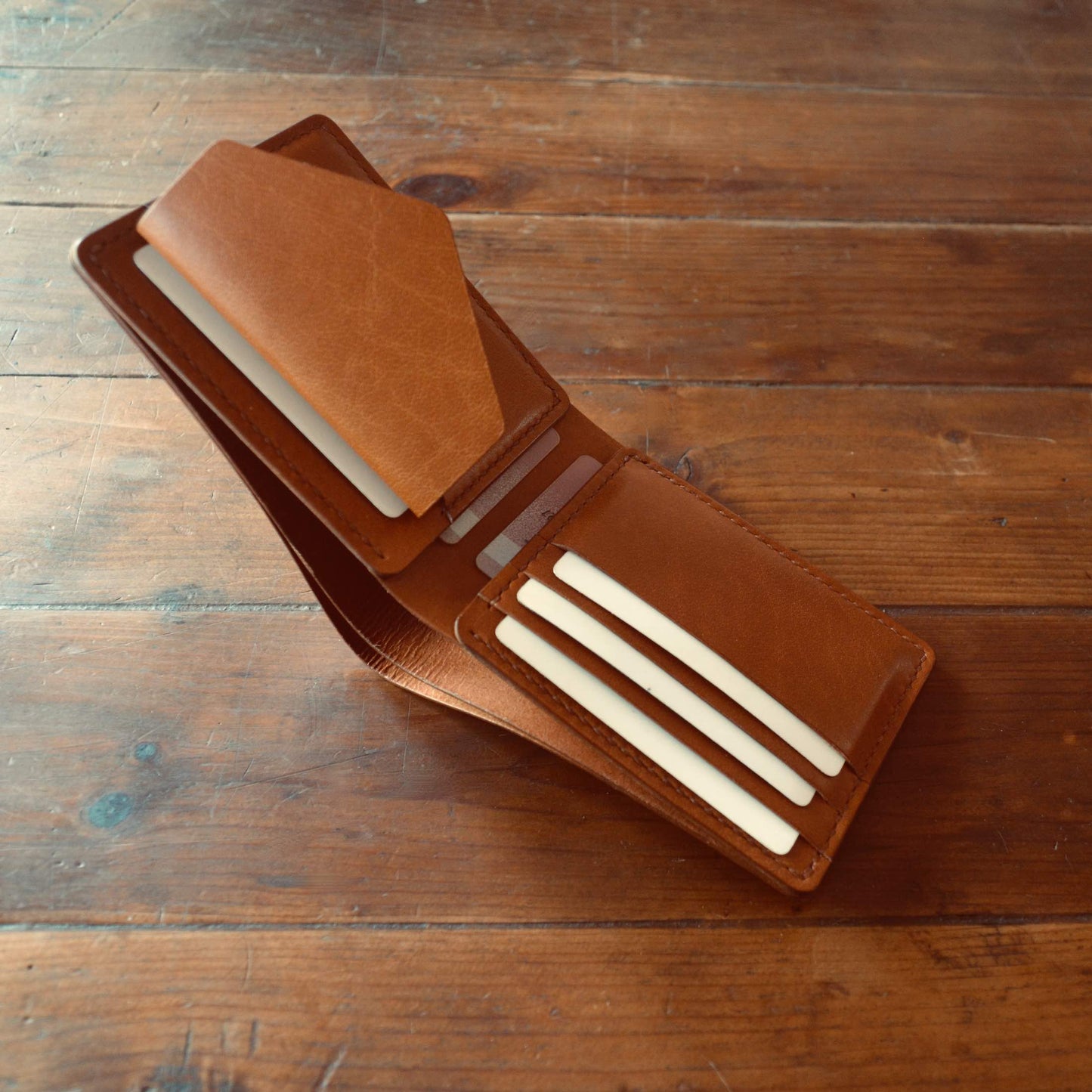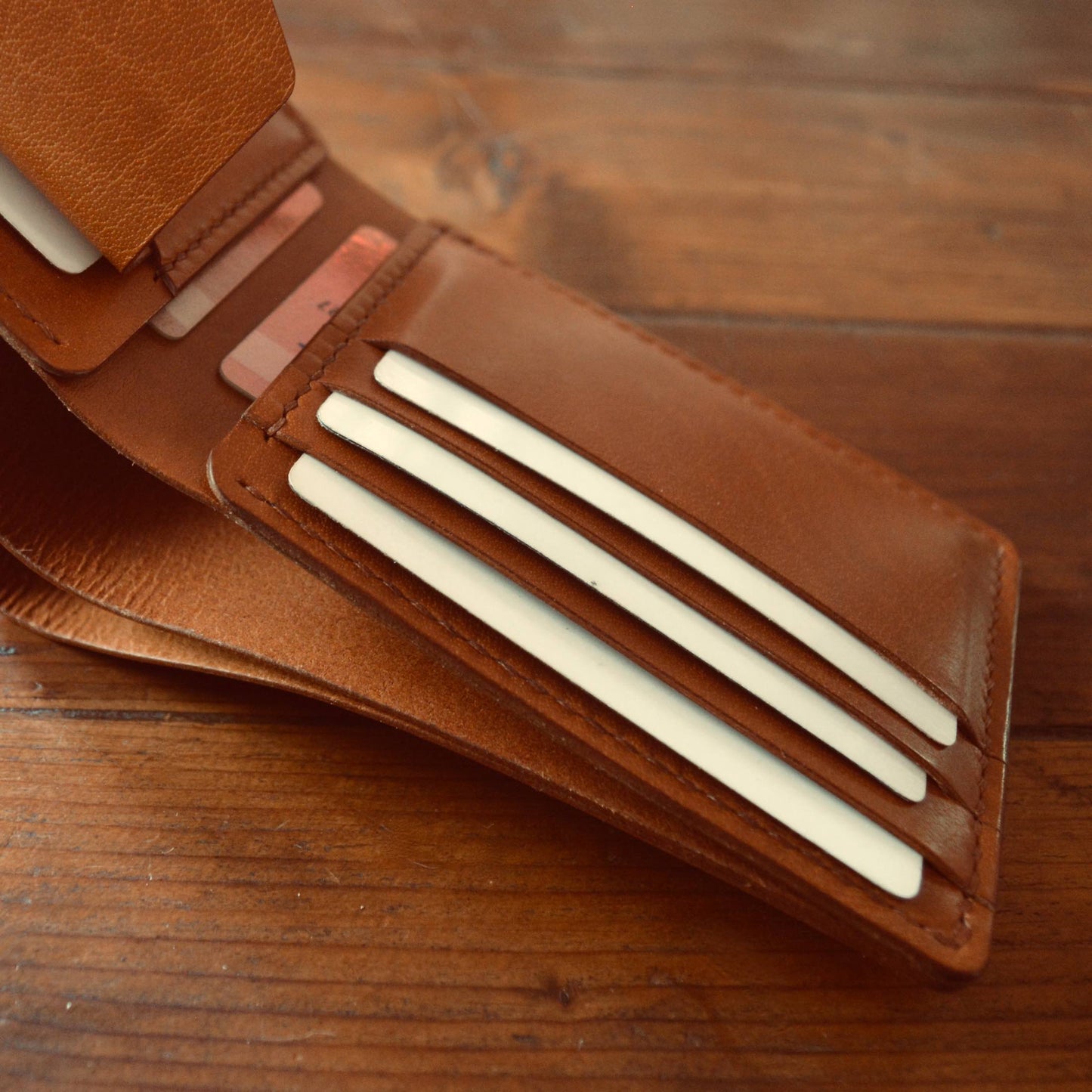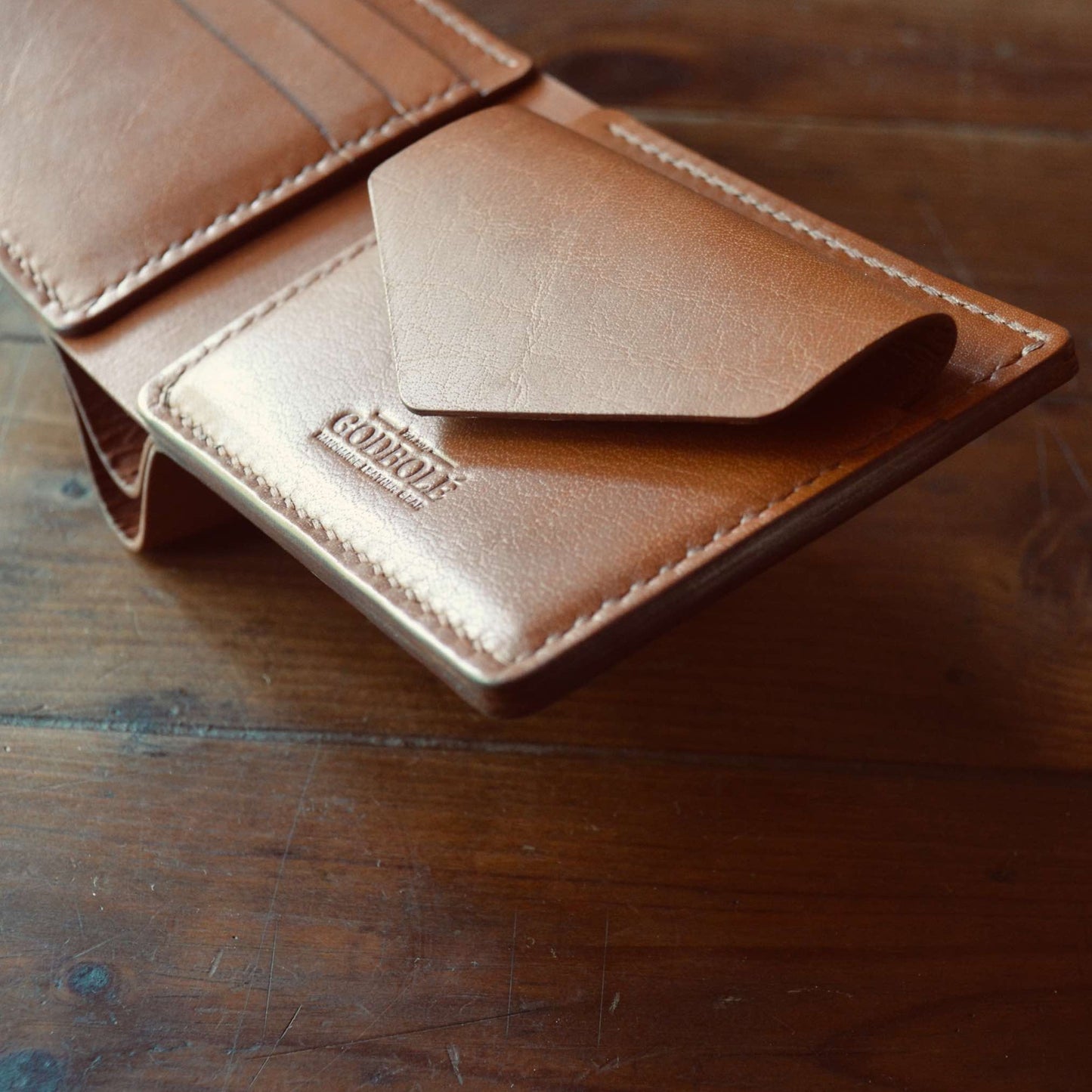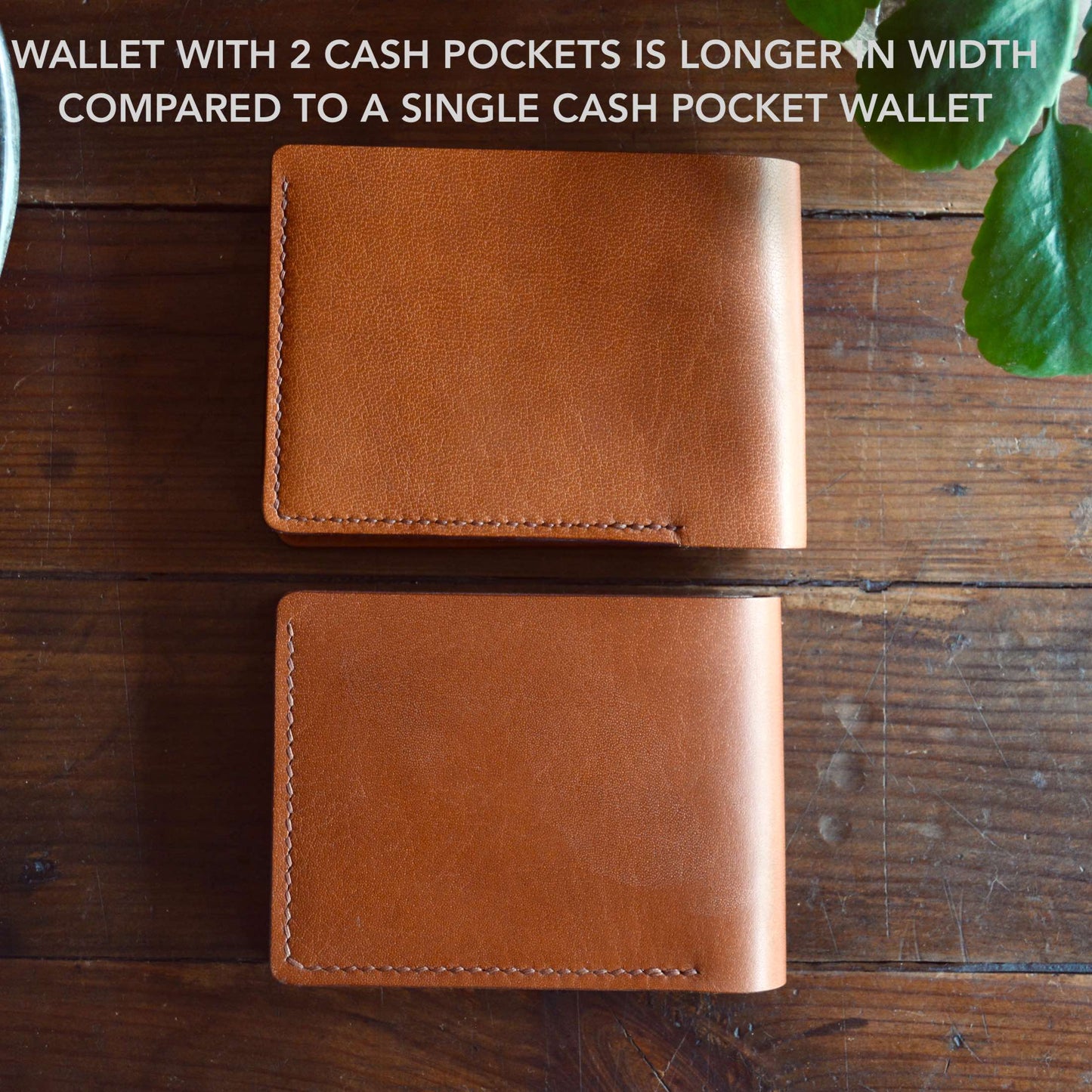 Wallet Specifications
Dimensions & Sizing

Wallet Dimensions Are:

For single cash pocket wallet:
- 4.5 in wide x 3.5 in tall (closed position)
- Thickness: 8-10 mm at edge, 12-14 mm towards center
For double cash pocket wallet:
- 4.75 in wide x 3.5 in tall (closed position)
- 10-12 mm at edge, 14-16 mm towards center
Detailed Information on Leather, Thread and other Materials

This product has been made from select hides from the best grade of leather.

Leather

Type: Full Grain, Vegetable Tanned

Feel: Firm and supple

Patina: Becomes glossier and smoother over time. High patina potential

Leather Thickness: 1.2 mm

Flesh (back) side: Smooth. Finished with gum tragacanth

Animal: Buffalo Calf

Source: India

Thread

Type: Braided Waxed Polyester 0.6 mm, Rated Strength 20 kg

Source: Julius Koch, Germany.

Sealants

Gum tragacanth, Beeswax. Source: India
How Your Wallet is Made

As soon as we receive your order, we start work on it based on our order queue. We carefully select leather to make your wallet. Unlike mass produced products, each wallet is made from start to finish by a single craftsperson. This instills a sense of pride as well as accountability, and shows through in the quality of the creation.

Total hours spent making this wallet ~ It takes 8-10 hours to carefully cut, hand stitch and edge burnish the coin pocket wallet.
Packaging

Ships in eco-friendly packaging. We can add a blank or hand written note to your order upon request, if it is a gift.
Get Your Wallet Monogrammed Like These
What is Monogramming?

Using a brass stamp, we create an impression of your initials, name, or anything really, that holds significance for you.

To opt for monogramming, enter your text exactly as you would like in the options box above. We monogram in the Times New Roman font. For other options, send us a message and we will let you know what's possible.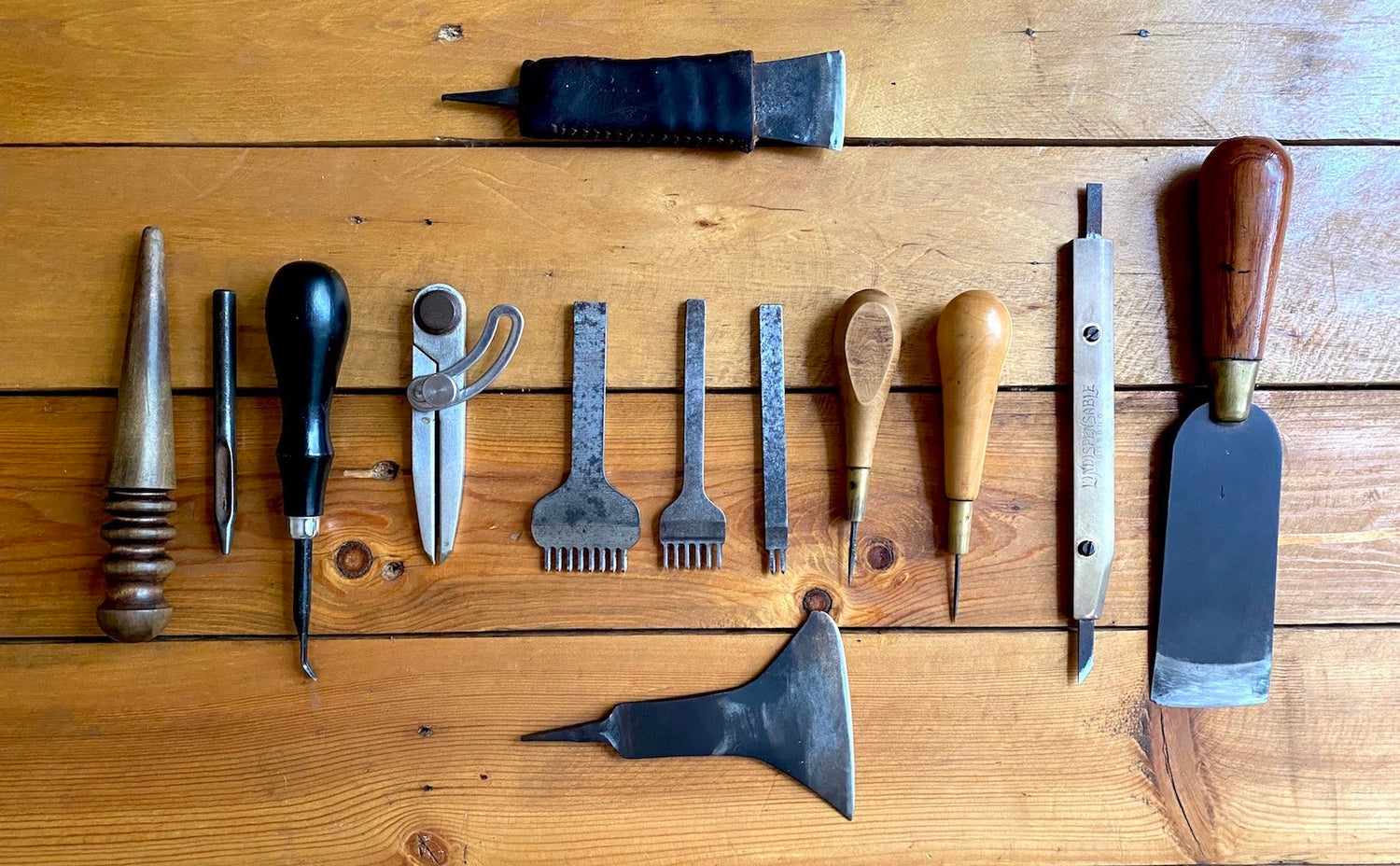 Built to Last
This leather wallet has been designed and built to last a lifetime. It has been meticulously handcrafted with 1.2 mm thick full grain leather and traditional saddlery techniques.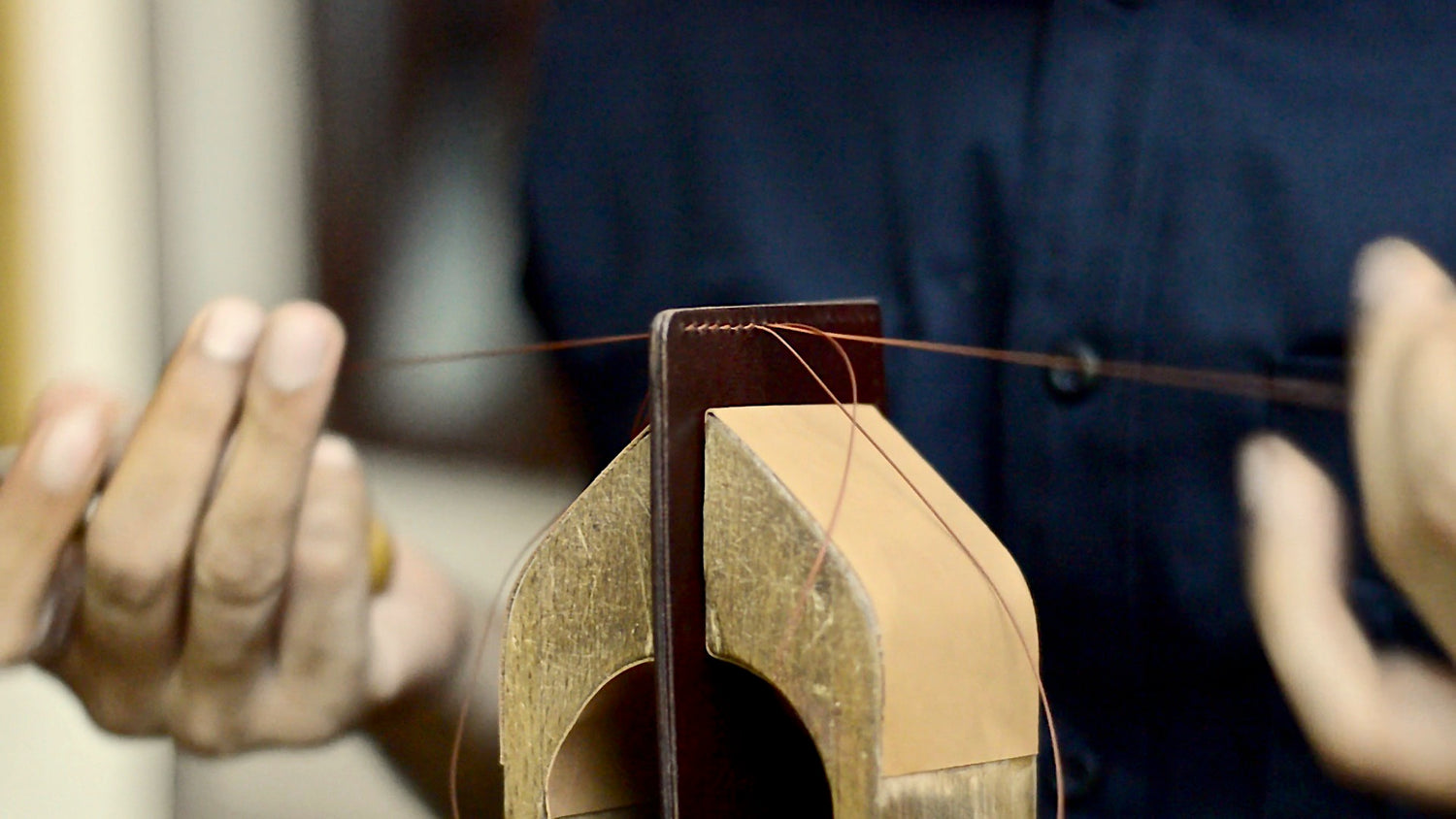 What is Saddle Stitching?
We hand stitch our wallets with a single thread and two needles - This technique is called saddle stitching. Hermés is one of the very few luxury brands that stitches their bags using the saddle stitching technique. Basically, a tiny knot is made between each stitch, making it virtually impossible for the stitches to come off or unravel. While sewing machines can stitch much more faster, they cannot compete with the saddle stitch when it comes to durability of seams.
Caring for Your Godbolé Leather Goods
We recommend that you clean and condition your leather goods every 6 months, or sooner if necessary. Never use harsh chemicals or detergents. Do not leave out in high heat environments (over 45C) for prolonged periods of time.
Buy Leather Care Kit
class apart
This is my second wallet from Godbole.. it is of A grade.. like seriously.. been searchin for a whole year to find this !! oly men wpuld understand the essense of pure leather.. thanks Gaurav for ur initiative.. wish you agreT heights
The wallet I always wanted,imagined for!
The most important part I would like to share is,when I discussed my issues with wallets of many brands I purchased in the past especially the improper approximation of ends of wallets when loaded with cash the folds all due to specific fabrication issues with brands .MR Gaurav godbole assured me to further modify his perfect wallets further to meet my expectations (since it was pre booking event) the leather quality is exceptionally superior in one word Gaurav godbole is master perfectionist of his field and will never let u down with your expectations
Perfect
I wonder why there is no bad common in this website before I purchase. Now the product I received is the best leather wallet I've ever owned . Everything is simple but so perfect . The quality is better than some famous top brands. They also answer all my question with patient. Really good company.
Product that gets better in time
I remember the first time i happened to see the brand on instagram.
The whole branding, the kind of feeds just made me know more about the product, understand what goes behind making of each of those handcrafted products.
but the fact that it was leather sort of held me back. But understanding where the leather is sourced and how its treated made me consider it.
Very informative and transparent in term of every single aspect that goes into the product.
Service is much appreciated.
The product delivery and packaging was just simple and commendable. no usage of plastic wraps/covers.
And of course the product is just amazing. Truly a piece of art.
Highly Recommended
Thank you Gaurav and Juhi for the wallet - this is easily the best wallet I've carried. I am now really tempted to order the bag as well!
The whole process of ordering to post-ordering communication to delivery of the product was smooth and hassle-free. I will highly recommend Godbole Gears to all.
Kind regards,
L
Thank you, Lohitash! You made our day!