Regular price
Rs. 3,400.00
Regular price
Rs. 3,400.00
Sale price
Rs. 3,400.00
Unit price
per
Launch Offer!
Sold out
CURRENT DELIVERY TIMELINE is up to 4 Weeks. Click to Read More

Current wait time after placing an order is up to 4 weeks. 

Transit Time within India - 2-7 days, depending on your location

Tracking Information: Sent to your email when shipped. Orders ship from Thane District (Mumbai Metropolitan Region).

Transit time for International Orders is 4-7 business days. DHL Tracking.

Customs duty may be charged by your country and is usually collected from you by the courier company.
Designed to bridge the gap between a card holder and a regular wallet, this luxurious leather wallet can carry 6 cards and has two deep pockets to carry cash (folded over).  
Symmetrically arranged card slots offer an evenly balanced, slim profile.
Features
- Fits in your front pocket, or shirt pocket
- Use it to carry only cards, or cards+cash
- 6 card slots
- A central cut out that provides two deep pockets for Cash folded - can easily hold 15-20  bills in taller currencies as well
WHAT SETS IT APART
Completely handmade with carefully selected full grain leather. Hand stitched using the saddle stitching technique and edges are burnished beautifully.
Our wallets are designed and built to last a lifetime. The only material used in each wallet is 1.2 mm thick full grain vegetable tanned leather. No fillers, no fabric, no compromises.
Making Process

From start to finish, it takes 4-5 hours to carefully cut, hand stitch and edge burnish the card wallet.

Unlike mass produced products, each wallet is made from start to finish by a single craftsperson. This instills a sense of pride as well as accountability, and shows through in the quality of the creation.
Dimensions

3.5 in x 4.25 in (closed position)
Overall thickness of wallet: 8 mm (closed position)
Care information

Nourish with a leather care conditioner or creme. Never use harsh chemicals or detergents. Do not leave out in high heat environments (over 45C) for prolonged periods of time.
More About the Leather & Materials

This product has been made from select hides from the best grade of leather.

Leather

Type: Full Grain, Vegetable Tanned

Feel: Firm and supple

Patina: Becomes glossier and smoother over time. High patina potential

Leather Thickness: 1.2 mm

Flesh (back) side: Smooth. Finished with gum tragacanth

Animal: Buffalo Calf

Source: India

Thread

Type: Braided Waxed Polyester 0.6 mm, Rated Strength 20 kg

Source: Julius Koch, Germany.

Sealants

Gum tragacanth, Beeswax. Source: India
View full details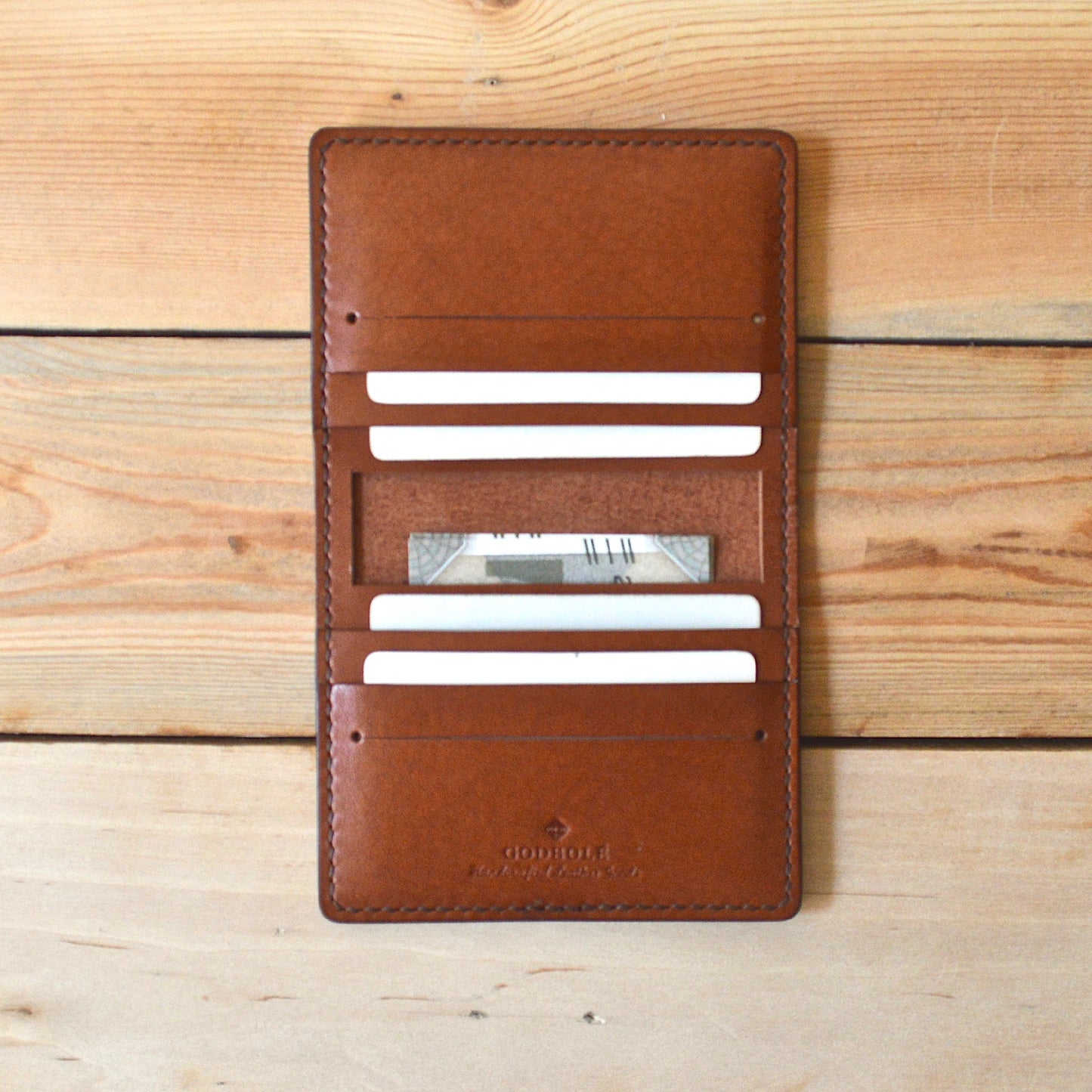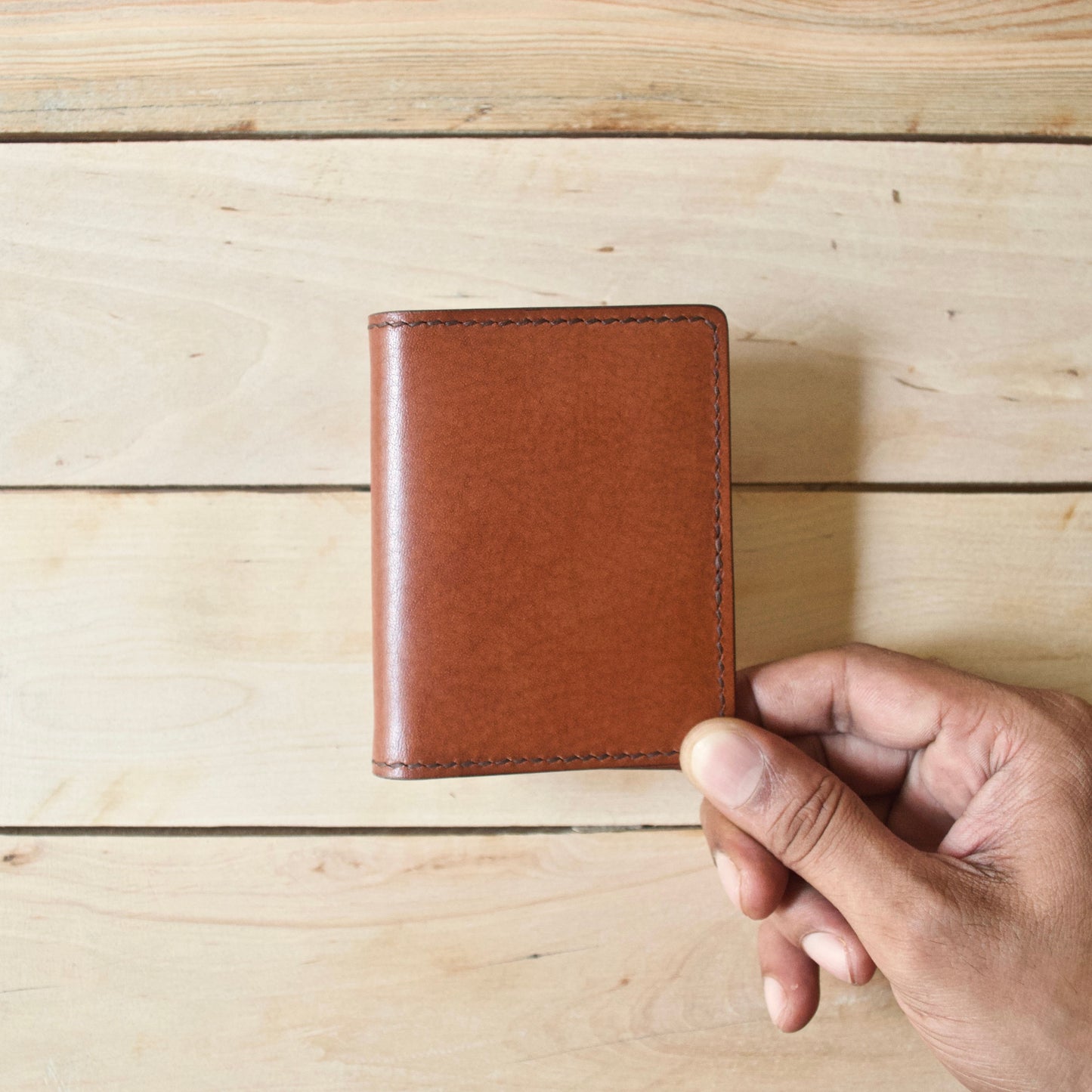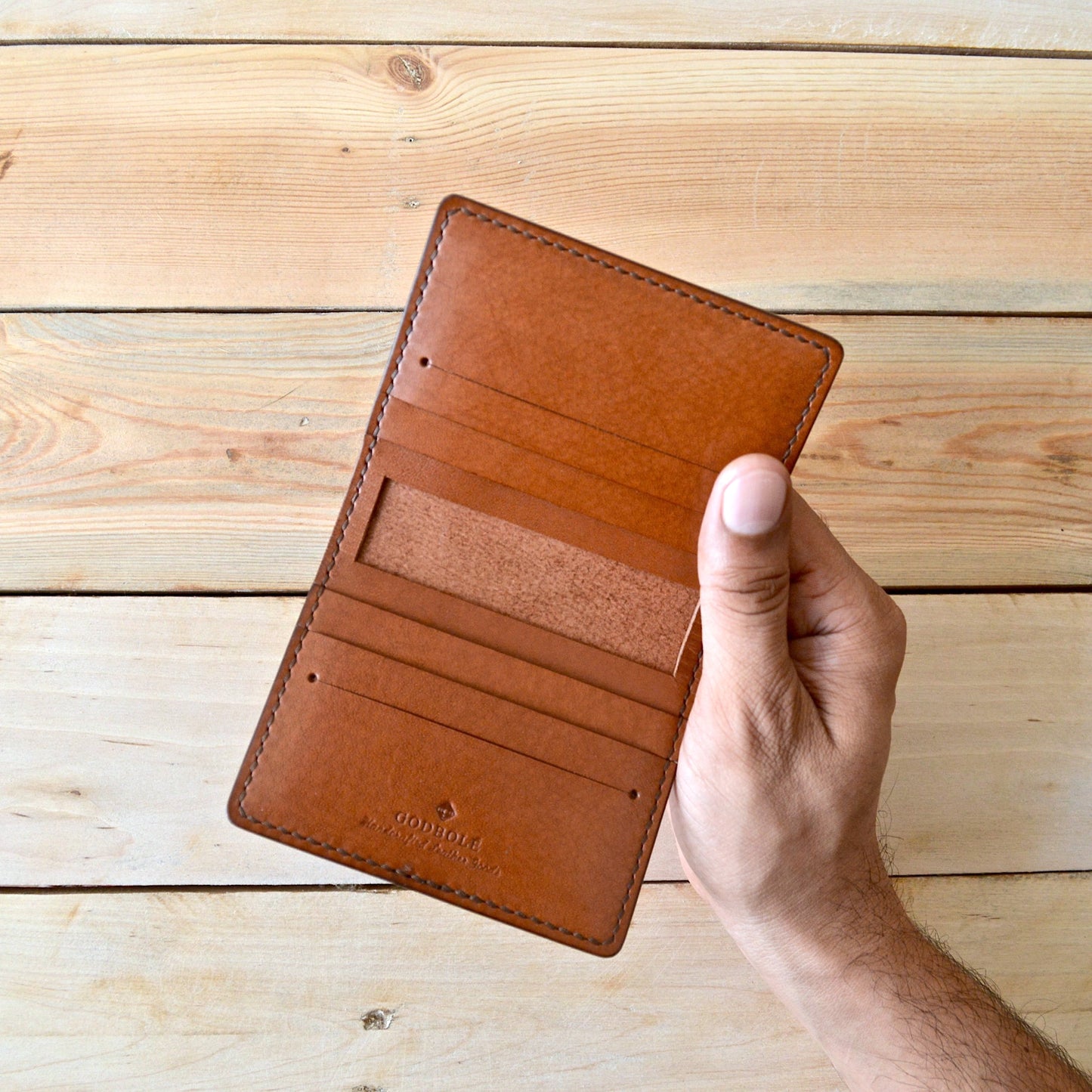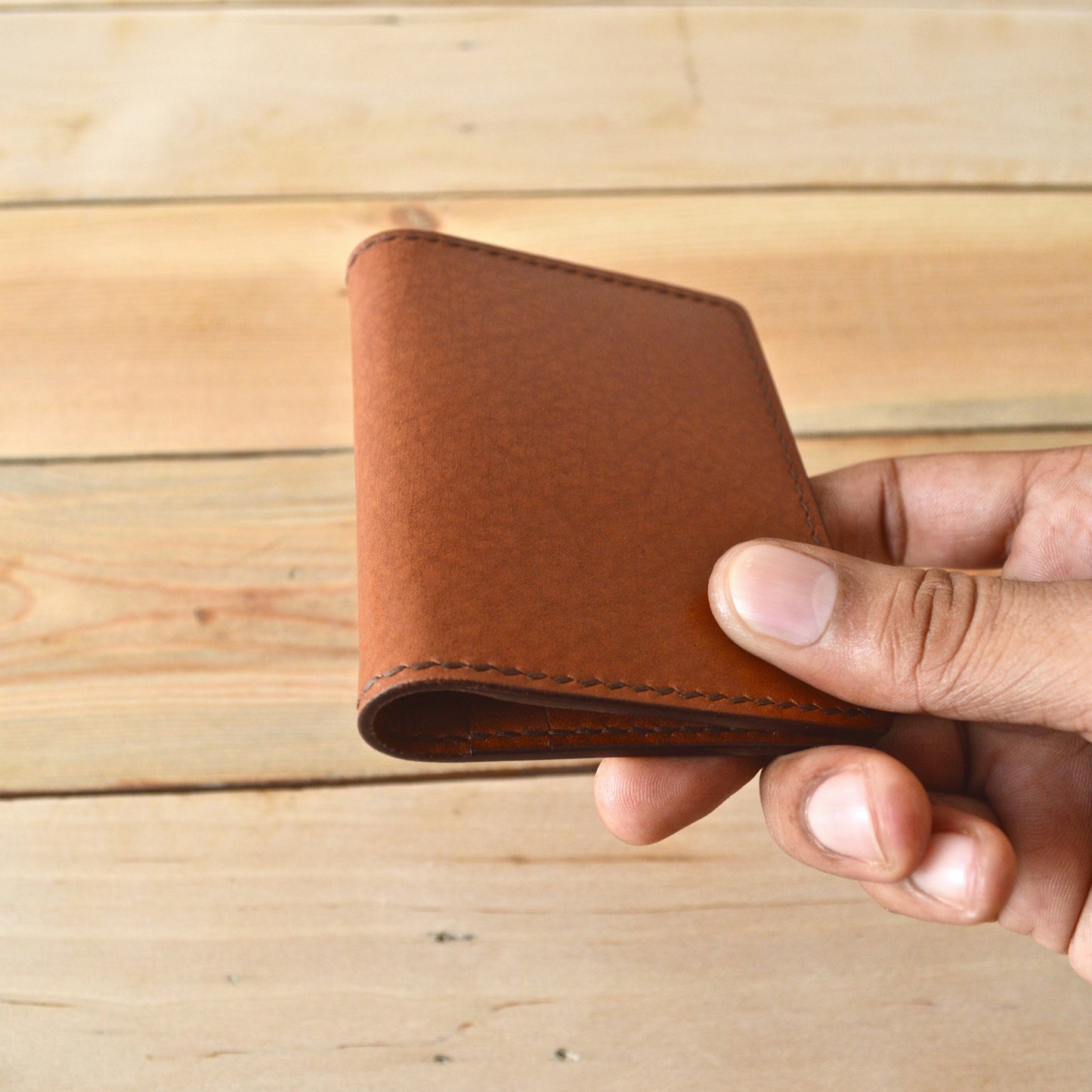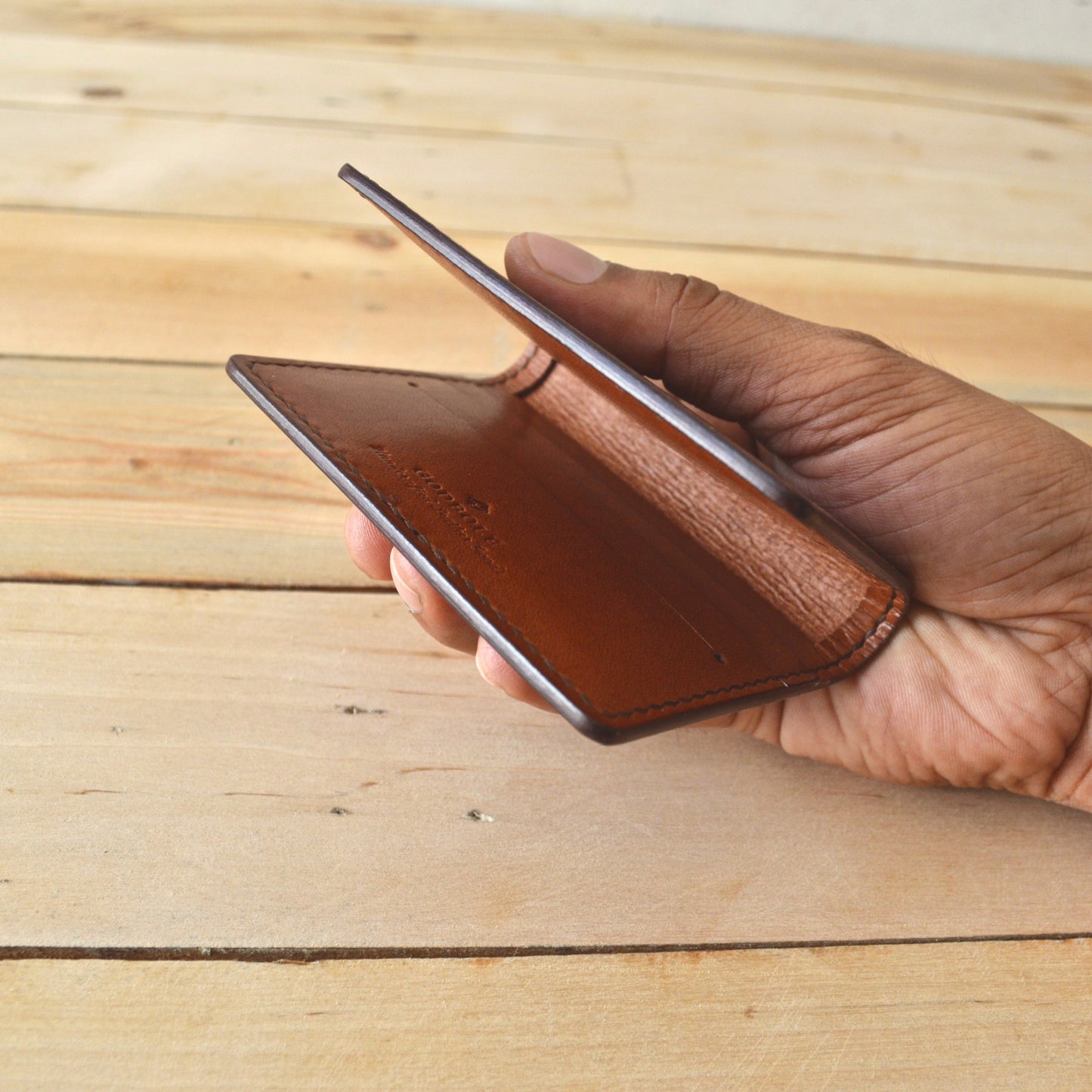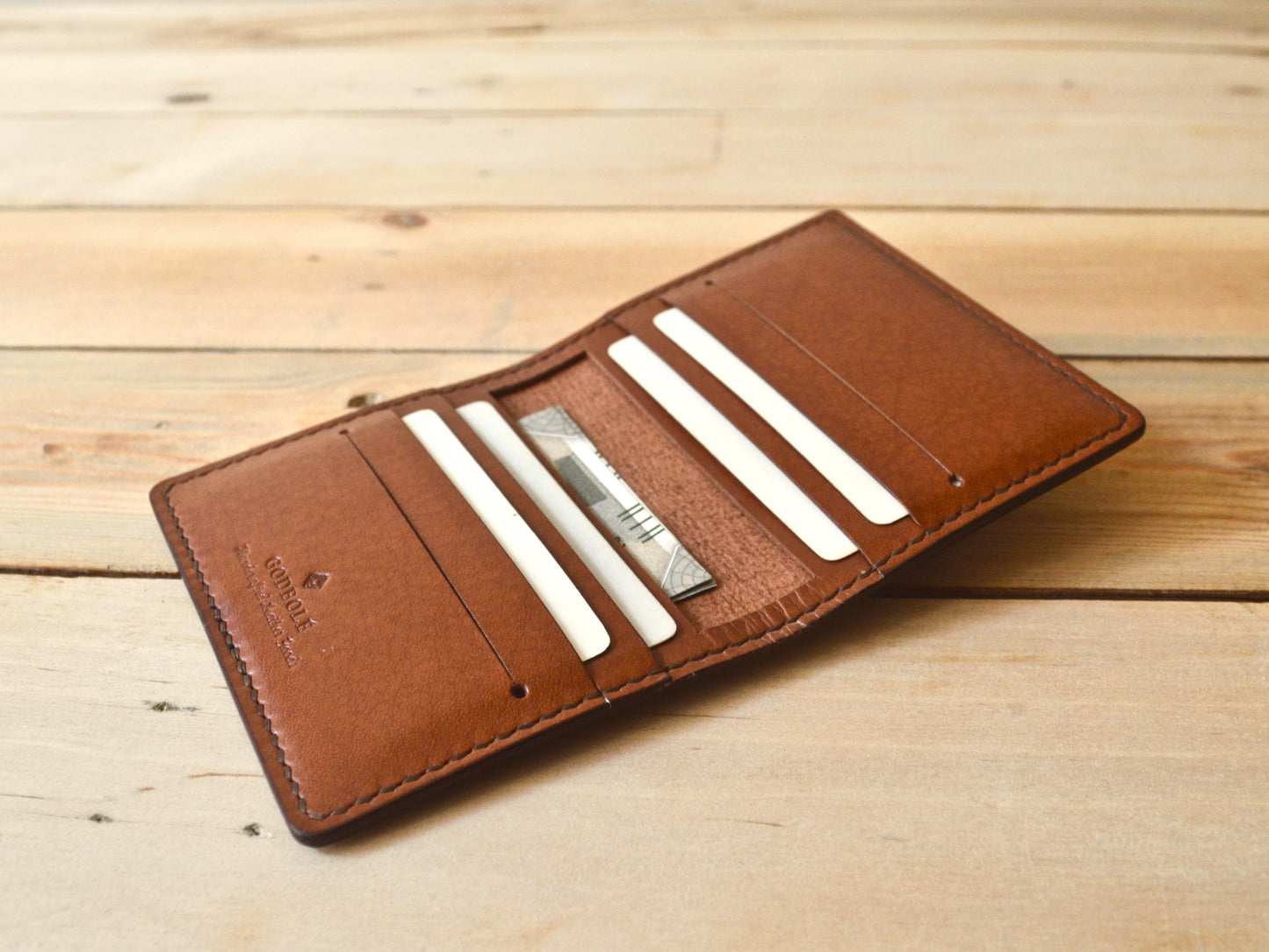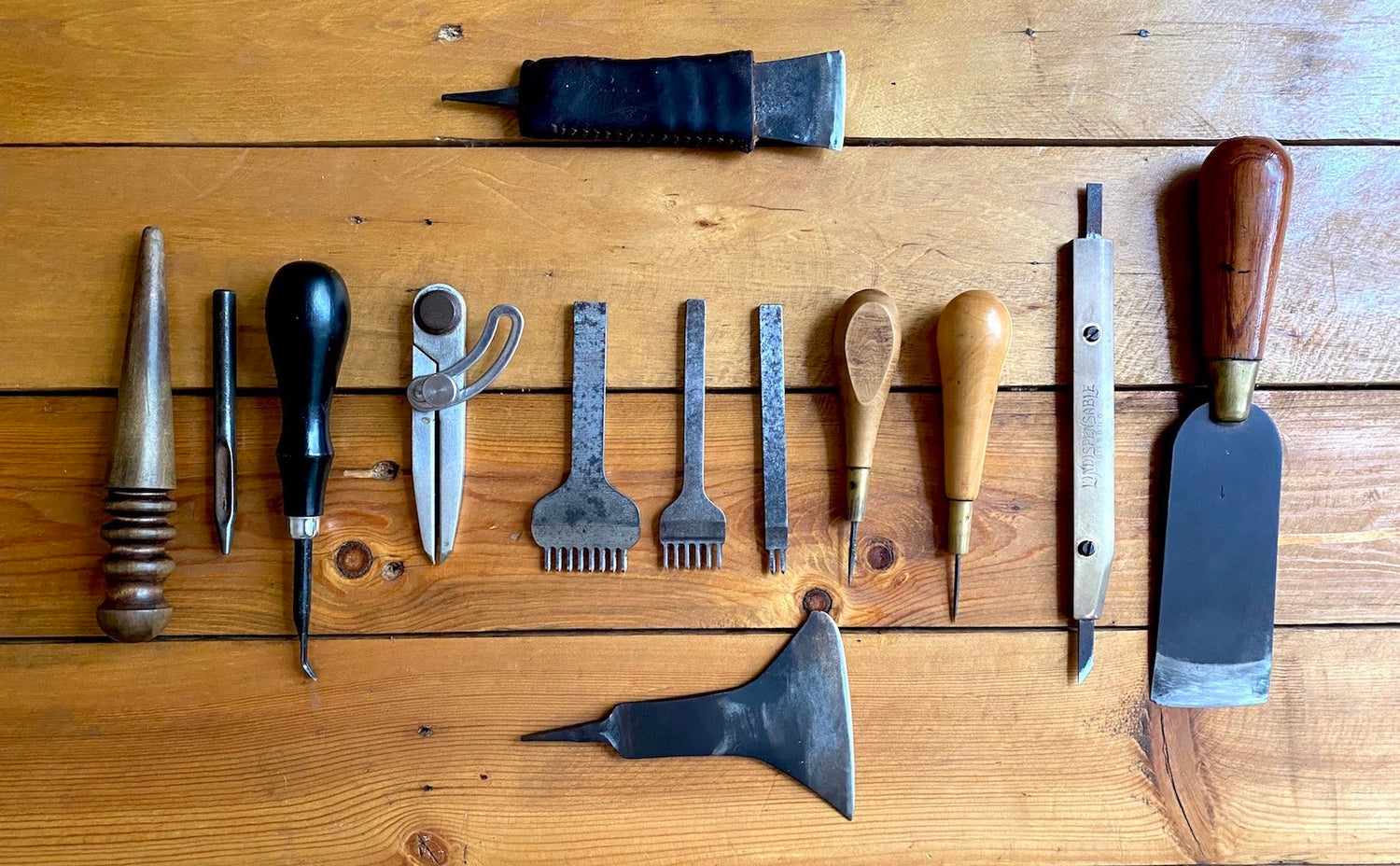 Built to Last
This leather wallet has been designed and built to last a lifetime. It has been meticulously handcrafted with 1.2 mm thick full grain leather and traditional saddlery techniques.
Examples of Monograms
What is Monogramming?

Using a brass stamp, we create an impression of your initials, name, or anything really, that holds significance for you.

To opt for monogramming, enter your text exactly as you would like in the options box above. We monogram in the Times New Roman font. For other options, send us a message and we will let you know what's possible.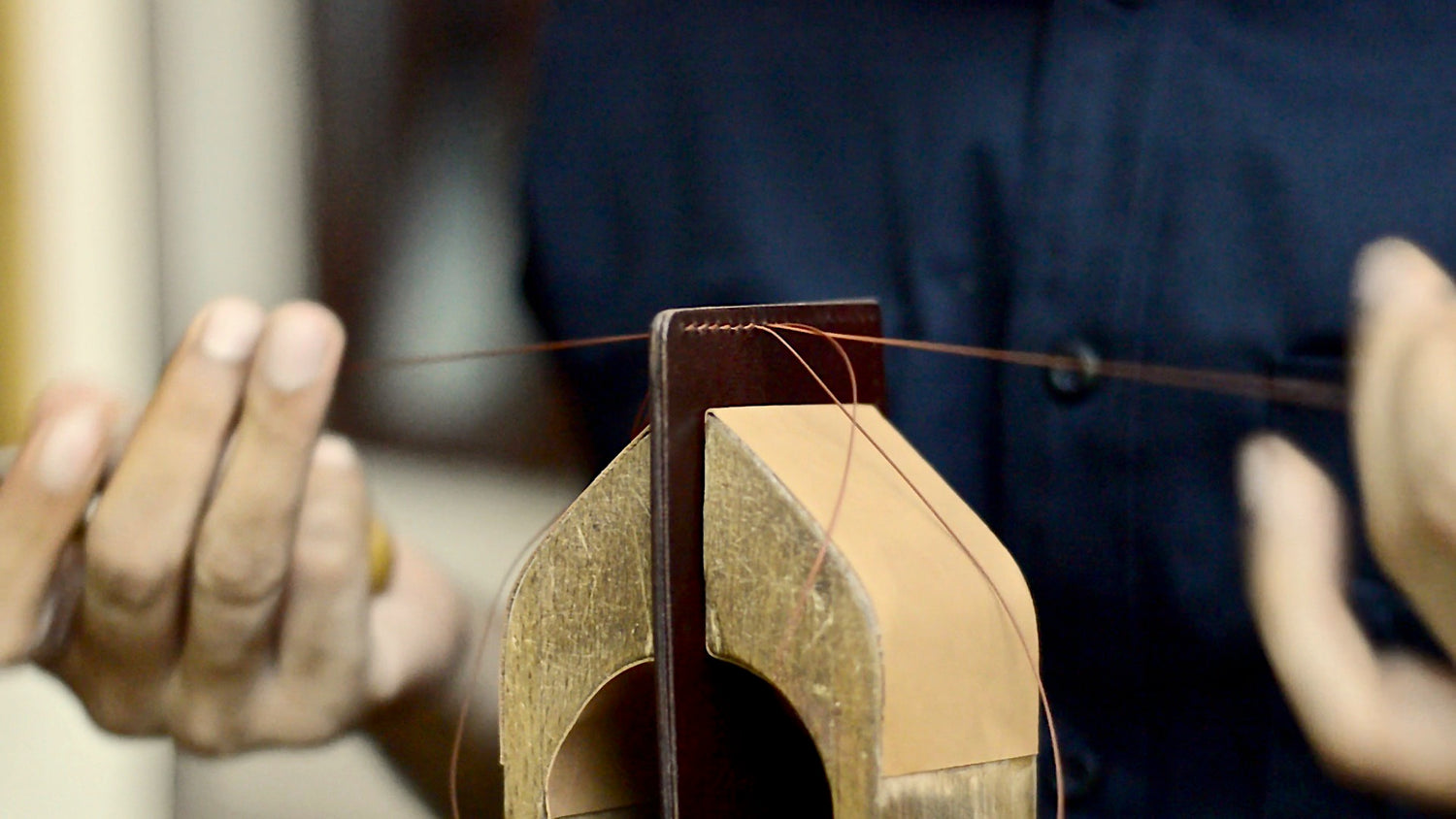 What is Saddle Stitching?
We hand stitch our wallets with a single thread and two needles - This technique is called saddle stitching. Hermés is one of the very few luxury brands that stitches their bags using the saddle stitching technique. Basically, a tiny knot is made between each stitch, making it virtually impossible for the stitches to come off or unravel. While sewing machines can stitch much more faster, they cannot compete with the saddle stitch when it comes to durability of seams.
Lovely Piece of Leather
This is my 3rd order from Godbole and the products are great to use. Gaurav was helpful enough to customize the product for my need. This is a great one to use, minimalist. Thanks Godbole for the products.
Bifold Card Wallet No. 1
You should stick to your delivery times. And you should bother replying to emails.
Impeccable
Epitome of luxury. Extremely well built. The card holder can accomodate more cash than I expected and is ideal for everyday carry. Highly recommended!
Superbly made Wallet
I don't use the normal sized wallets as I find them bulky as i am prone to stuffing them. So I prefer to use the bifold which forces me to carry only the necessary cards and cash. So was on the lookout for a bifold to replace the current ageing one from Hidesign. And while surfing for products made of full grain, came across Godbole Gear and was instantly impressed by their description and pictures online and decided to give it a try. And i must say that I am super impressed . Both with the quality of leather used and its craftsmanship. It will surely last me a few years if not for a lifetime. Its full grain leather, which for the uninitiated is the most durable layer of any hide. On the customer service side Gaurav is available for any queries one might have . From a price perspective , its a justified price for the absolute brilliance of the product. Would definitely buy more and also recommend to anyone who loves thingsthatlastalong.
Bifold Card Wallet No. 1 in Olive with initials monogrammed
This is my first custom wallet. Delighted with the fine quality and workmanship of the product. Definitely a keeper. Best wishes, Vasanth