For Your Leather Care Regimen
❖
CLEANING SOAP + CONDITIONING BALM
Introducing for the first time in India, authentic leather care products, made especially for your vegetable tanned, full grain leather goods.
This is the same regimen we have been using in our leather workshop for the last 8 years. So its tried-and-tested and you can trust its the real deal.
LEATHER CARE DEMYSTIFIED
Getting down to the basics, there are two things you need to do for your leather goods - First Clean, Then Condition.
It is as simple as that. And it's the best way to maintain your leather goods in top shape. Any good leather craftsperson will tell you the same thing.
Your leather article looking dirty / grimy? You need our Saddle Soap for cleaning. Your leather article looking dry, dehydrated, or feels rigid / stiff? You need our Leather Balm for conditioning it.
Introducing Authentic Leather Balm and Saddle Soap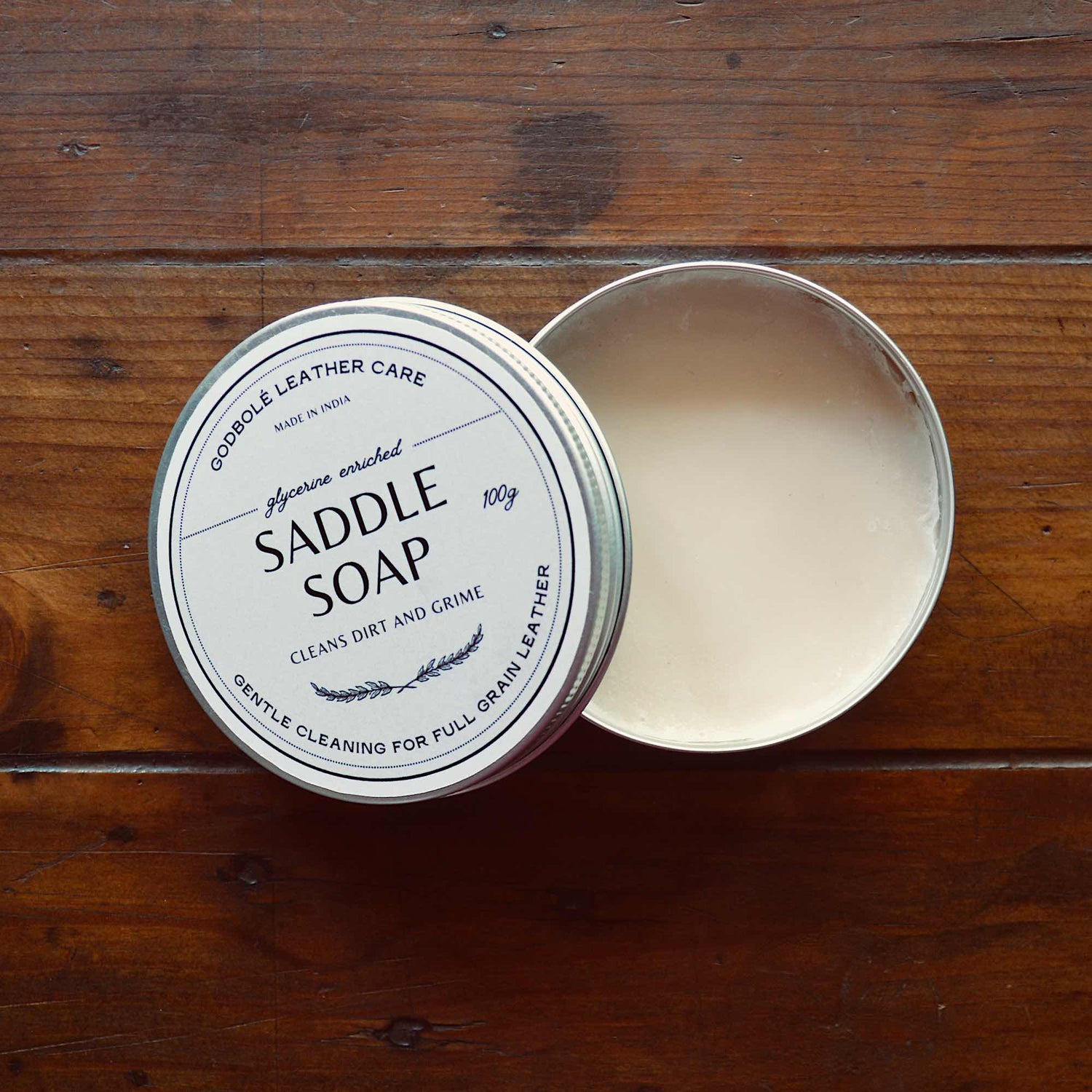 Saddle Soap Cleanser
This glycerine-enriched Saddle Soap cleans without dehydrating the leather.
It draws out all dirt, removes build-up of oily residue, and prepares the leather product for absorbing the Leather Balm.
The name 'Saddle Soap' originated from the Equestrian field, where saddles are cleaned with this soap since they are made with exclusively with vegetable tanned leather .
Shop Now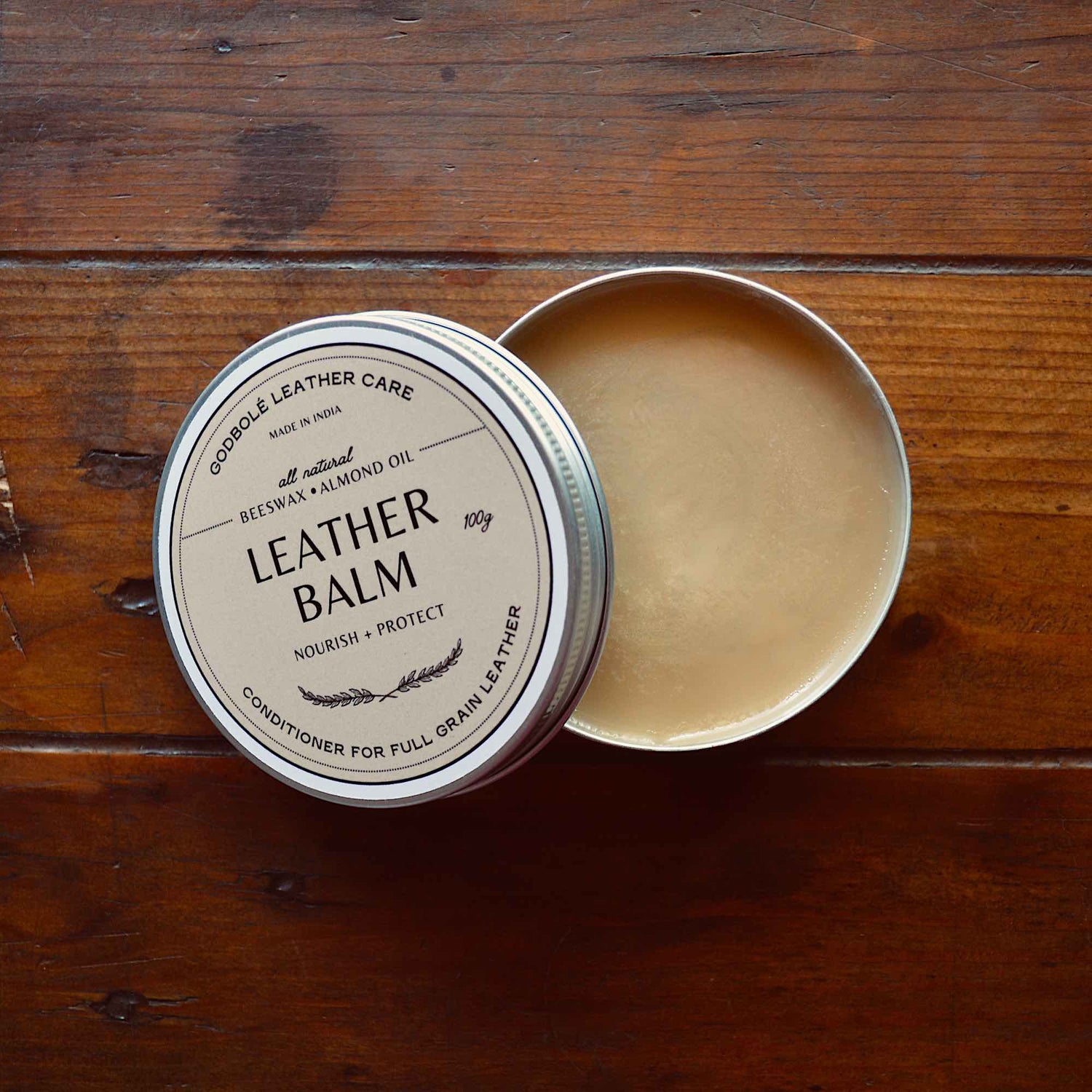 All-Natural Leather Balm
Our leather balm is made specially to nourish vegetable tanned, full grain leather.
Made with beeswax and pure almond oil, it is all-natural, non-toxic and safe for your skin.
Can be used for full grain leather bags, shoes, wallets, belts, jackets furniture - anything made with full grain leather.
Not suitable for suede leather.
Created, tried and tested in-house at our leather workshop.
Shop Now
WATCH VIDEOS
Our leather care kit will work on all kinds of real, full grain leathers, except suede leather, snuffed leather, and nubuck leather which have no grain.
HOW TO CLEAN LEATHER

Cleaning a leather article is essential from time to time, especially if it travels with you everyday. This is especially helpful if your leather article is subjected to a humid environment. Saddle Soap helps clean dirt, grime and salts from it.

WATCH VIDEO

HOW TO CONDITION LEATHER

Using Leather Balm, you can prolong the life of your leather possession by ensuring it gets the nourishment it needs. If leather dries up, it can peel and crack. Depending on the leather type, it the frequency of conditioning varies.

WATCH VIDEO
Saddle Soap - Leather Cleaner
Regular price
Sale price
Rs. 800.00
Unit price
per
Special Price!
Sold out
View full details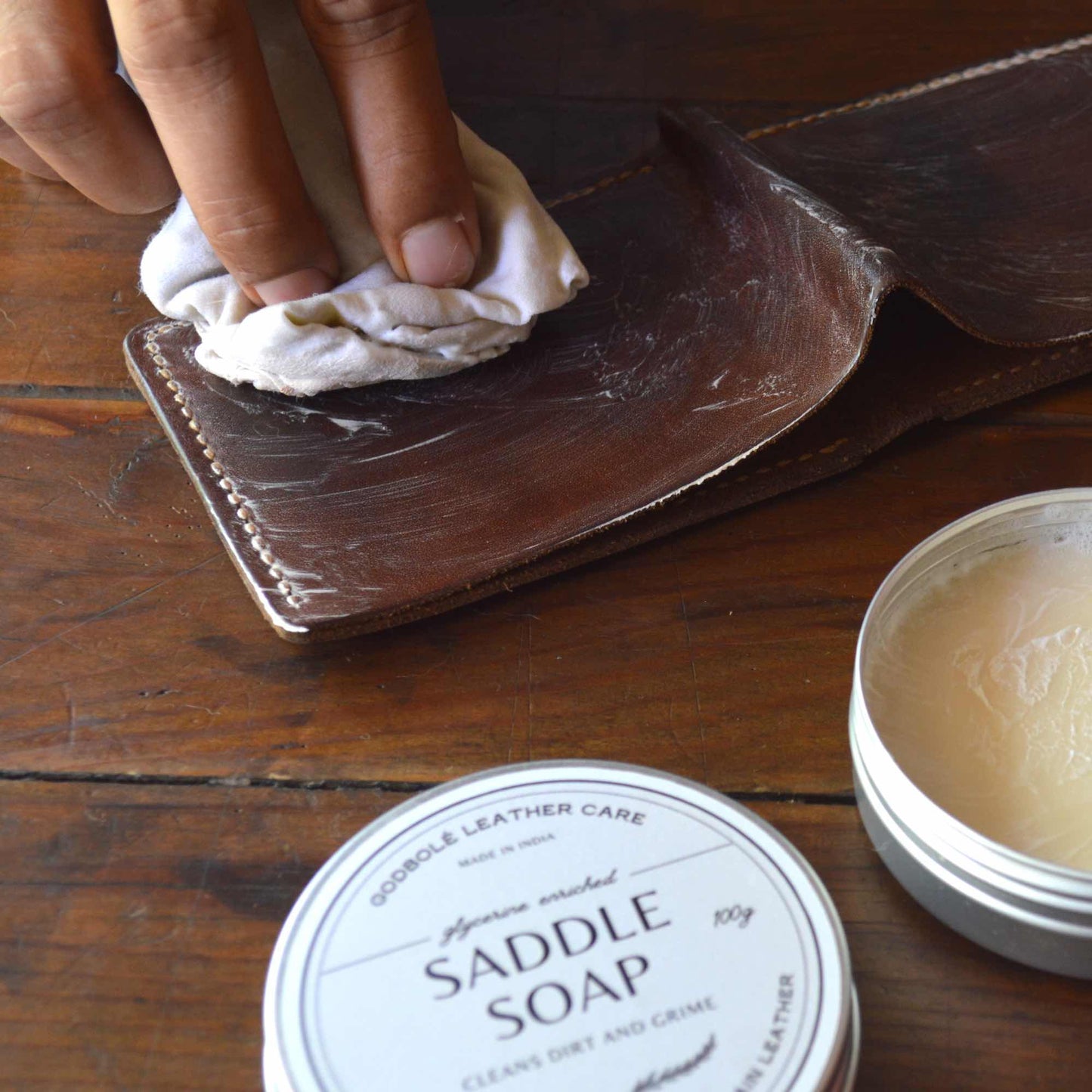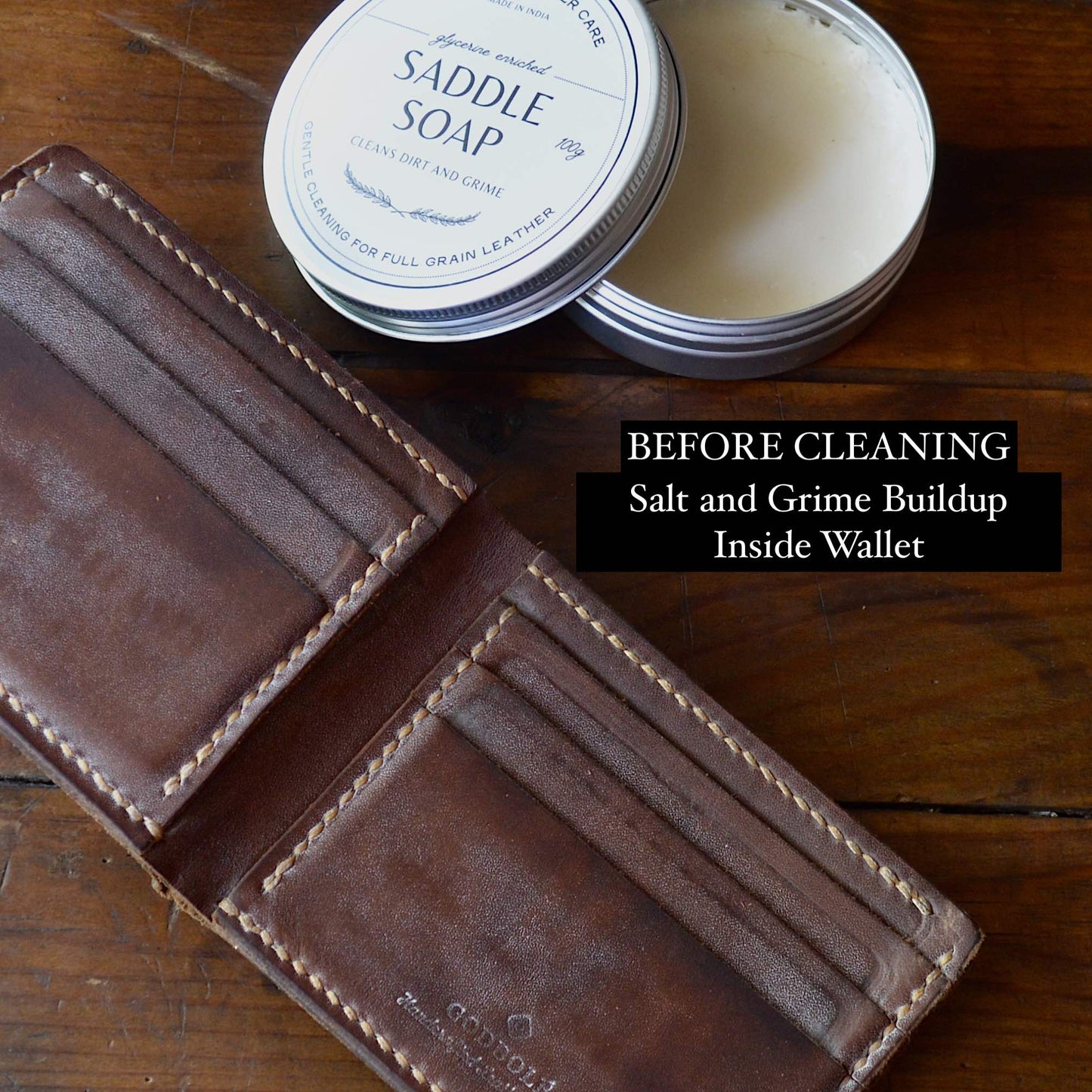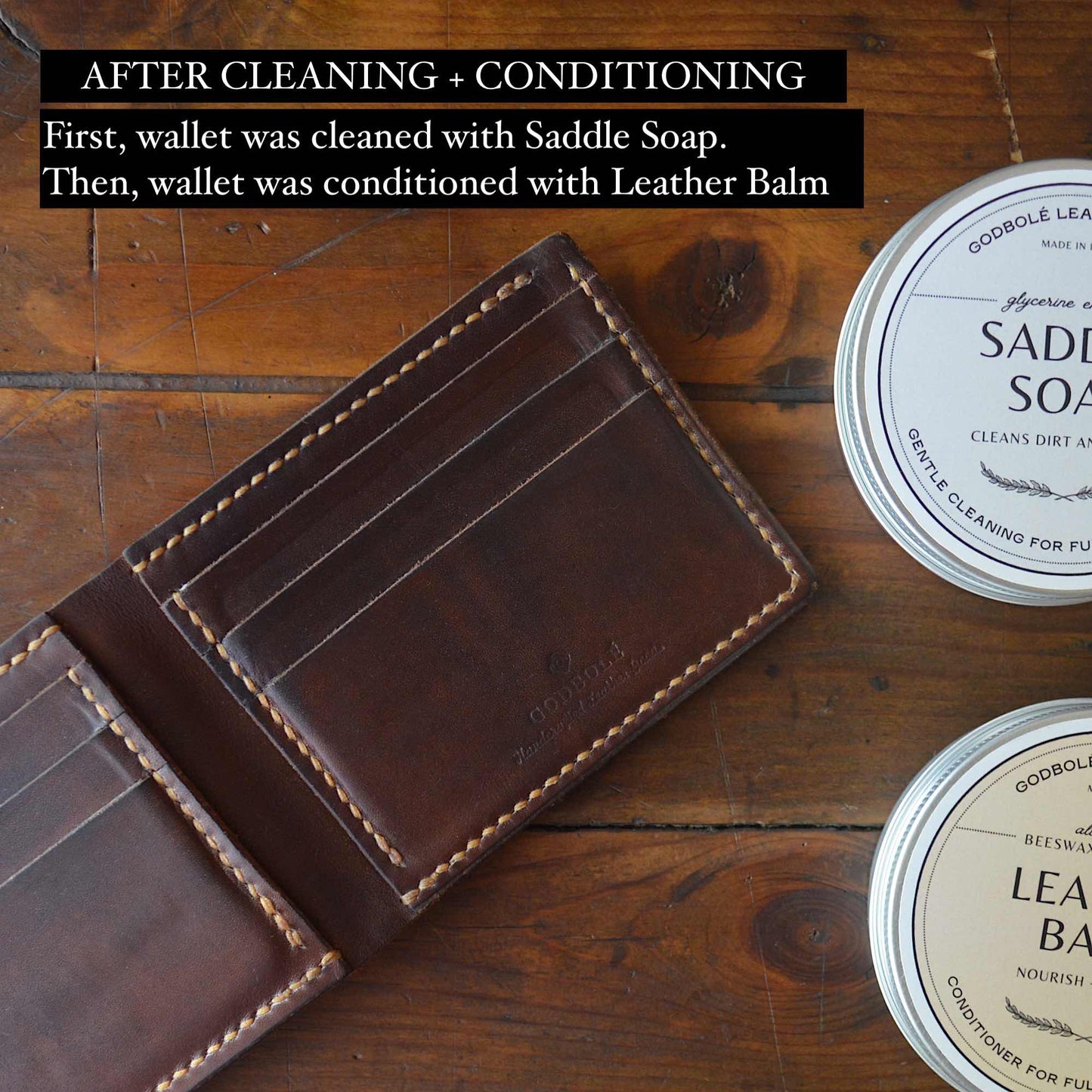 All-Natural Leather Balm
Regular price
Rs. 1,200.00
Regular price
Sale price
Rs. 1,200.00
Unit price
per
Special Price!
Sold out
View full details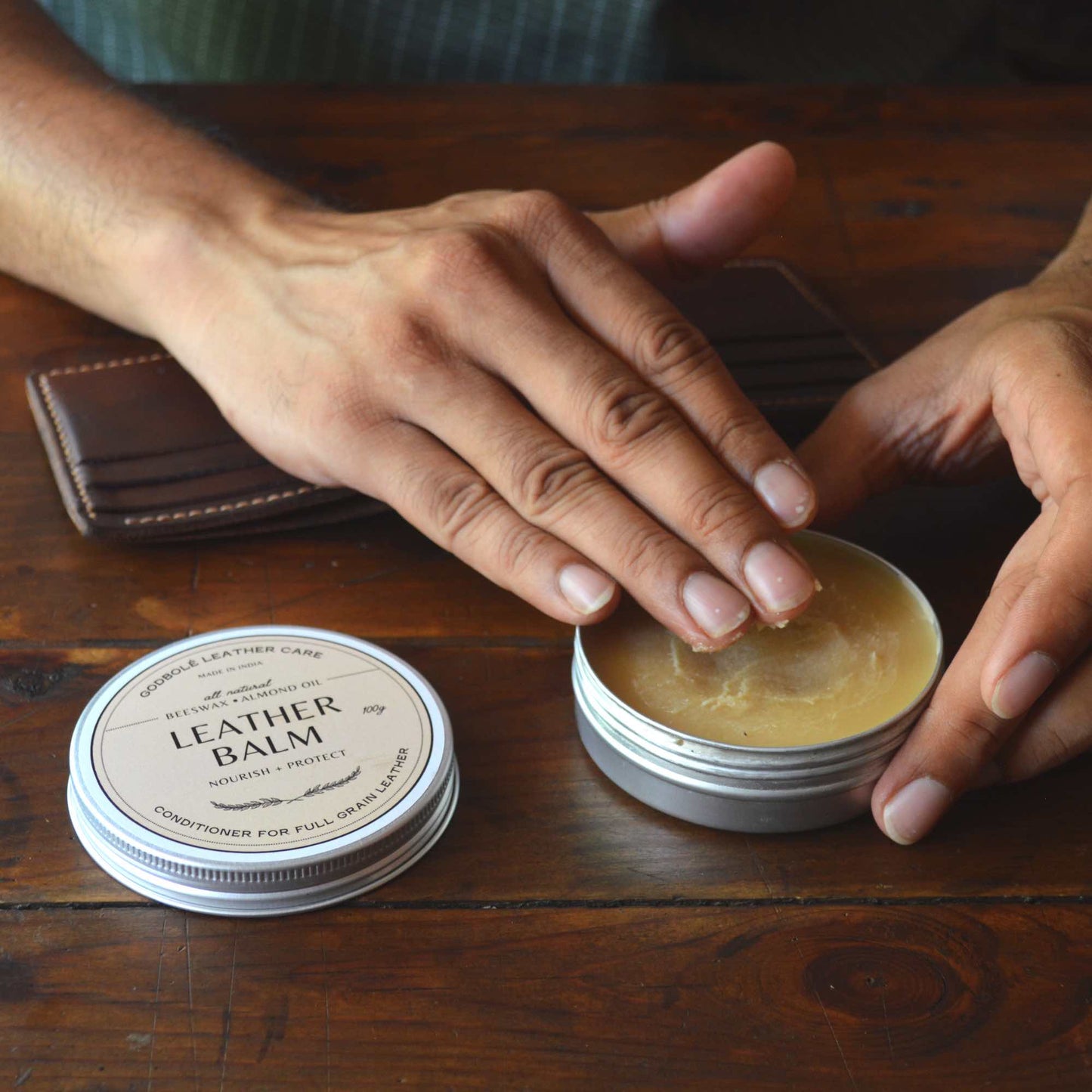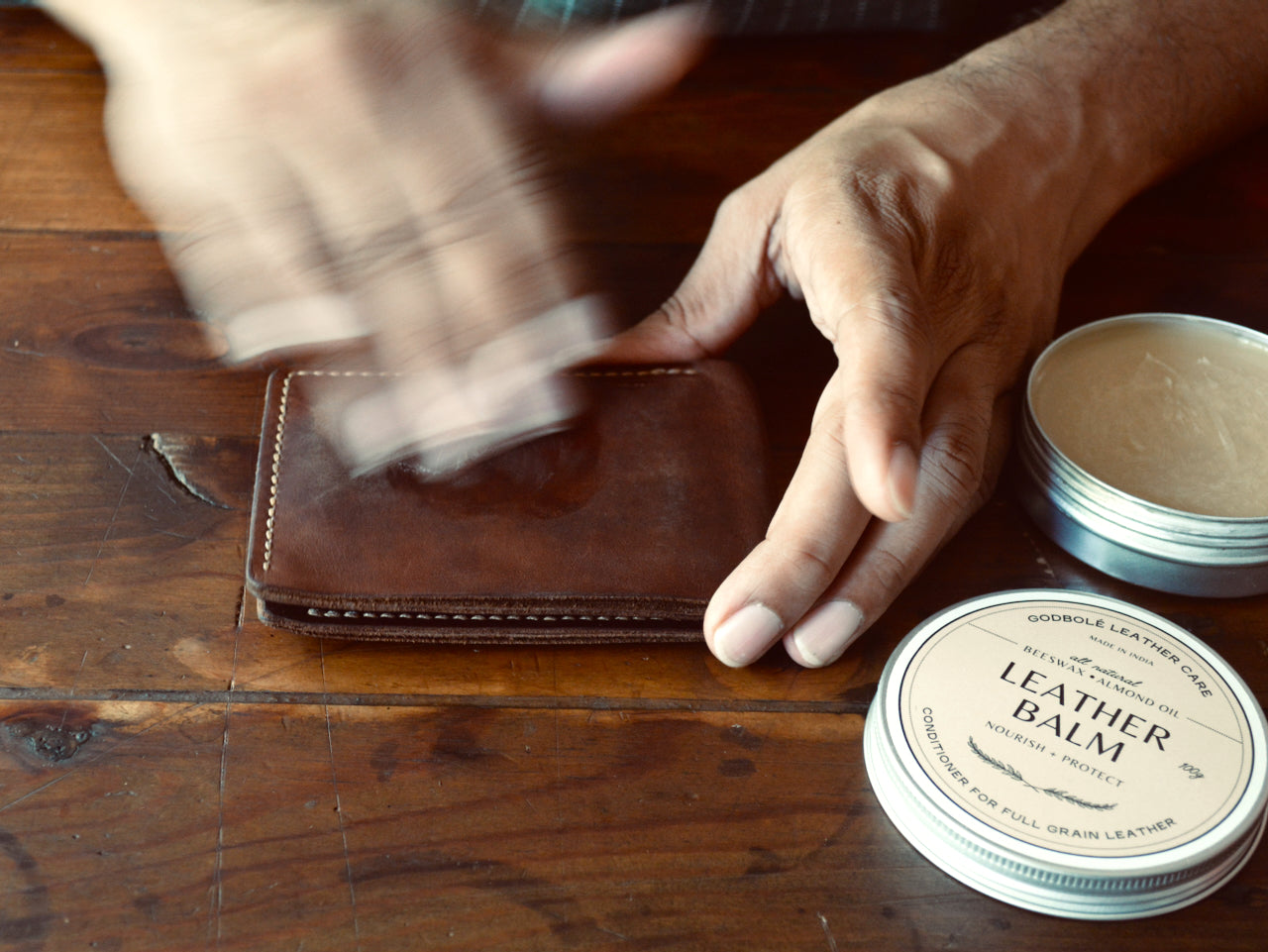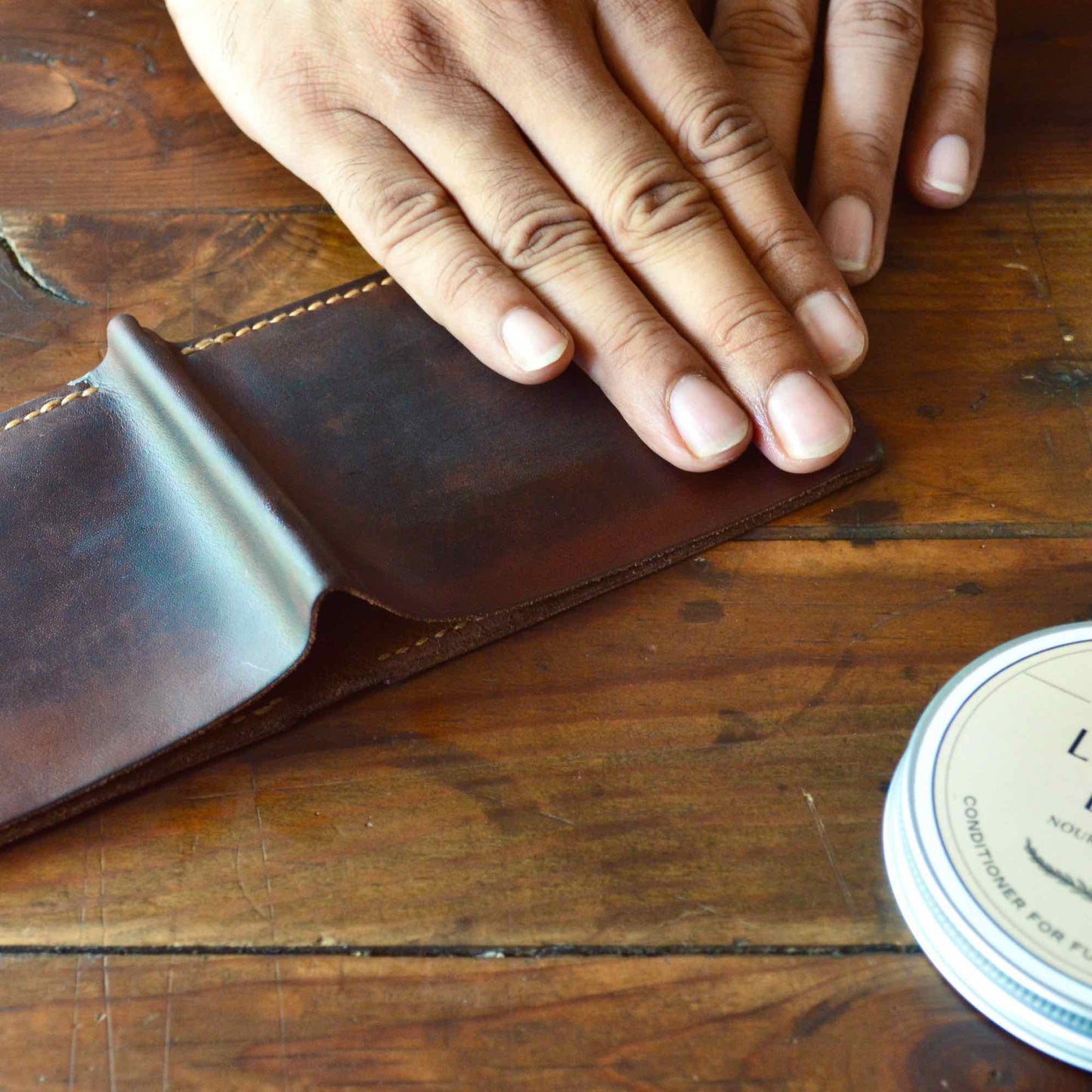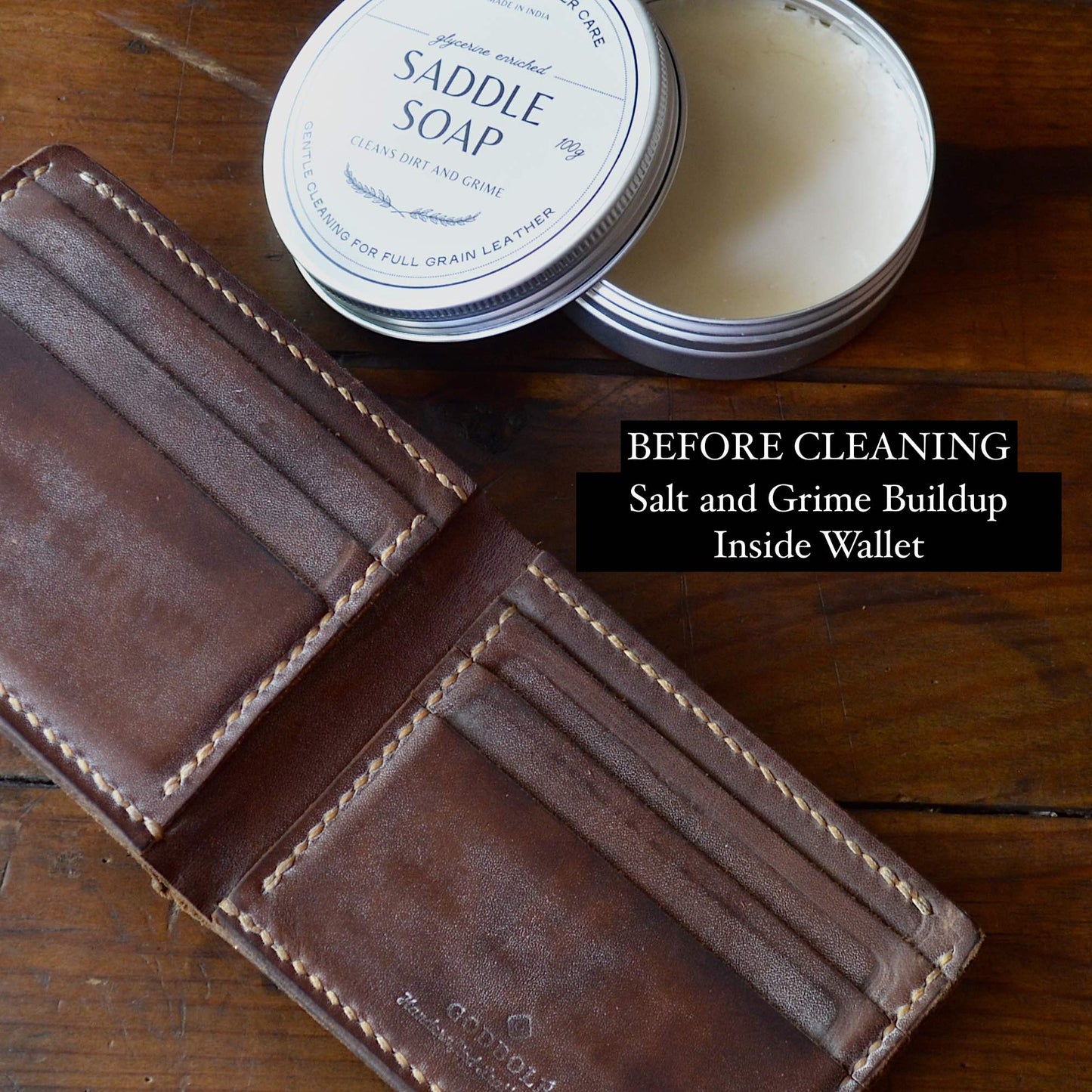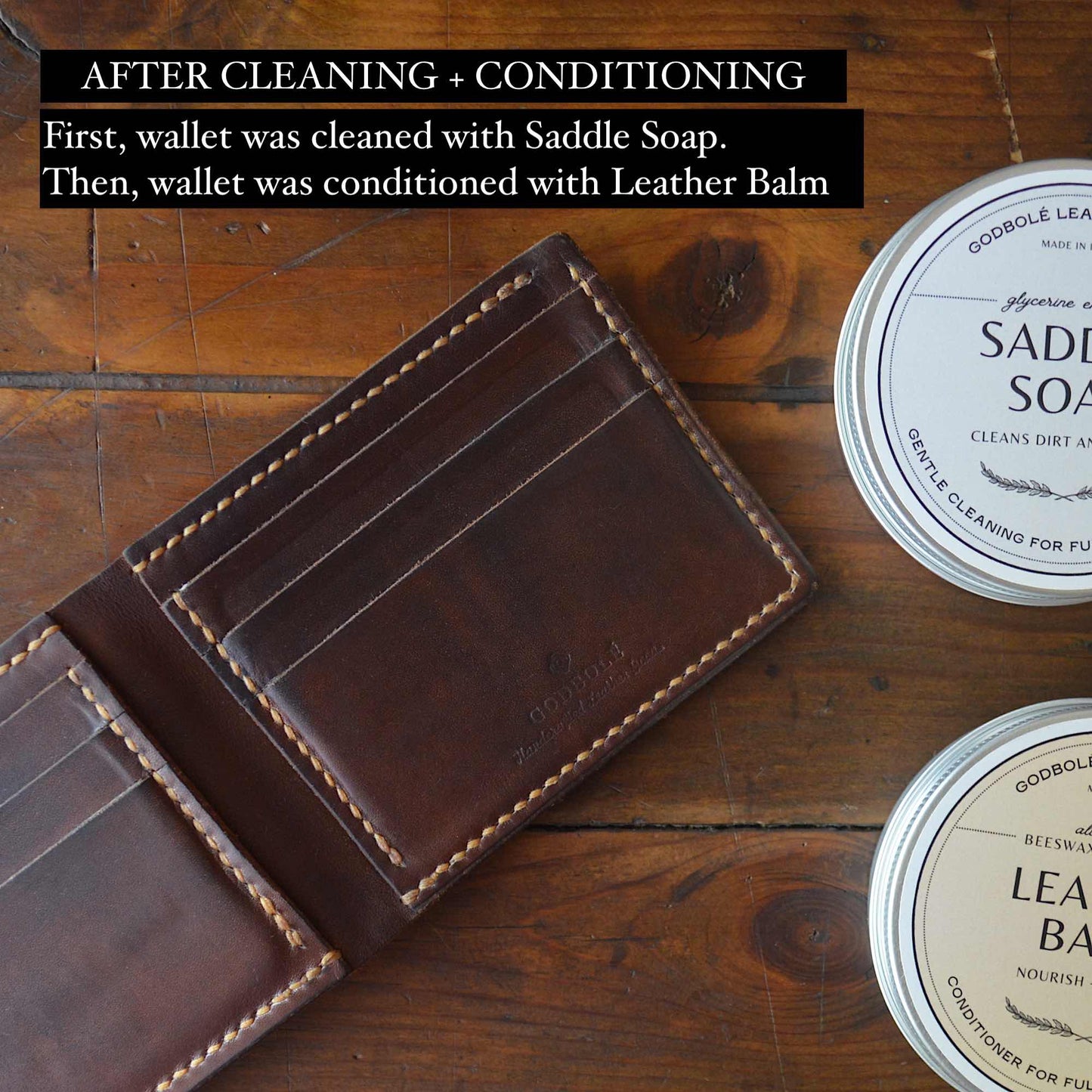 Some FAQs
Can I use this for my Bag / Jacket / Shoes / Wallet / Sofa?

The short answer is YES. The long answer is that - the product does not matter, as long as it is made with non-fuzzy leather. Meaning, the leather has a smooth surface grain and does is not a suede or nubuck leather.
Does it work only for Full Grain Leather?

We have created the formulations to work on ANY type of leather EXCEPT Suede, Nubuck or hair-on leathers. These are leathers which do not have a grain, or the grain is hidden under hair. You can use it for genuine leather, top-grain leather, crunch leather, oil pull-up leather, nappa leather, goat leather etc.

It works well for all types of tannage, chrome tanned leathers, vegetable tanned leathers, or other mineral tanned leathers.
How to I apply it?

Use a soft cotton cloth, or an applicator brush for the Saddle Soap. For the Leather Balm, use a soft cloth or just your hand.

Detailed Video and text instructions can be found on the product page at these links for -
How do I know this is the right product for my leather article?

Search for "leather care" and you will find many resources and products out there. There are lotions, liquids, sprays and cremes. But what exactly do you use for your expensive vegetable tanned leather goods? Frankly, it can get quite confusing, and there are hardly any good options.

❖

Over the years, many customers have reached out to us for recommendations on reliable leather care products. So, we created the same tried-and-tested Cleaner (Saddle Soap) and Conditioner (Leather Balm) we use in our leatherworking studio that makes it easy to take care of your prized leather possessions.

❖

If you are not sure, reach out to us with questions about your specific leather article, at contact@godbolegear.com / We will help you out with the right technique and product selection.