Regular price
Rs. 2,500.00
Regular price
Sale price
Rs. 2,500.00
Unit price
per
On Sale
Sold out
Reveal Preferential Price

Members get preferential pricing on purchase of 2+ luggage tags.

Use code MDX8XK at checkout to get 15% off 2 or more. Eligibility - Members only
Current Delivery Timeframes

Transit time: 2-7 days, depending on your location.

Free Shipping: Tracking Information will be sent to your email when shipped. Orders ship from Mumbai.

International Shipping currently on hold
The last luggage tag you will ever need. This tag is handmade with full grain leather, is equipped with 2 name cards, and features a fail safe saddle-stitched leather cord and a hand cut name / ID window. 
Designed with Longevity as the primary design element:
- Features a hand stitched adjustable strap for luggage handles of varying sizes
-  Hardware - Nickel finish stainless steel buckle
- Available in two colors - Mahogany and Chestnut
- Size of name card in ID window equals a standard business card
- Hand cut name window with no plastic covering to eliminate the problem of yellowing or disintegrating over time
- Monogramming available on reverse
- If you would like to use your own cord/strap to secure the tag to your luggage, you can choose the "No Strap" option 
WHAT SETS IT APART
Completely handmade with carefully selected full grain leather. Hand stitched using the saddle stitching technique and edges are burnished beautifully.
Making Process

Crafted meticulously with hand tools only, and the fail-safe saddle-stitching technique. It takes 4-5 hours to craft each luggage tag.

Unlike mass produced products, each piece is made from start to finish by a single craftsperson. This instills a sense of pride and shows through in the quality of the creation.
Care information

Nourish with a leather care conditioner or creme. Never use harsh chemicals or detergents. Do not leave out in high heat environments (over 45C) for prolonged periods of time.
Detailed Info on Materials Used

This product has been made from select hides from the best grade of leather.

Leather

Type: Full Grain, Vegetable Tanned

Feel: Firm and supple

Patina: Becomes glossier and smoother over time. High patina potential

Leather Thickness: 1.2 mm

Flesh (back) side: Smooth. Finished with gum tragacanth

Animal: Buffalo Calf

Source: India

Thread

Type: Braided Waxed Polyester 0.6 mm, Rated Strength 20 kg

Source: Julius Koch, Germany.

Sealants

Gum tragacanth, Beeswax. Source: India
View full details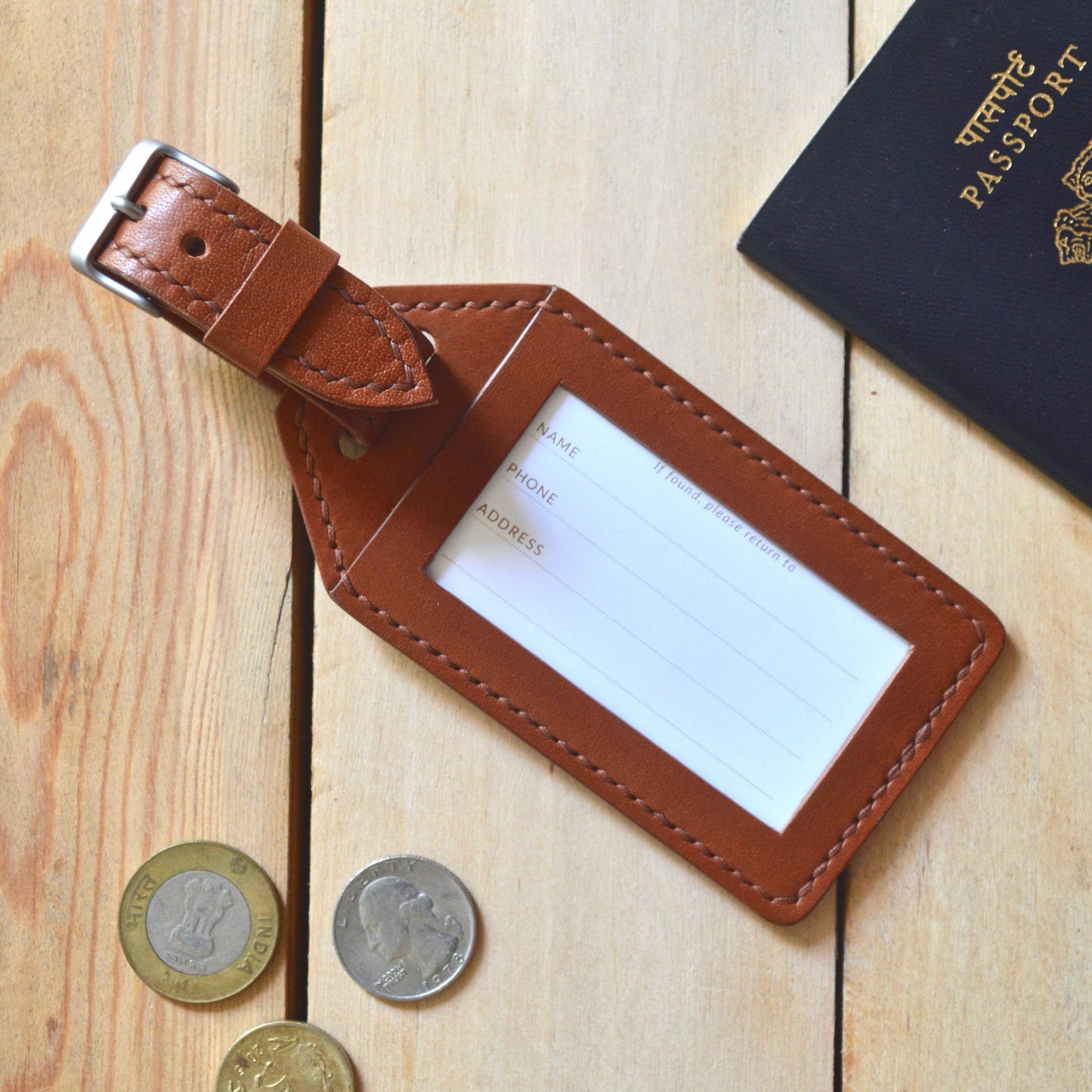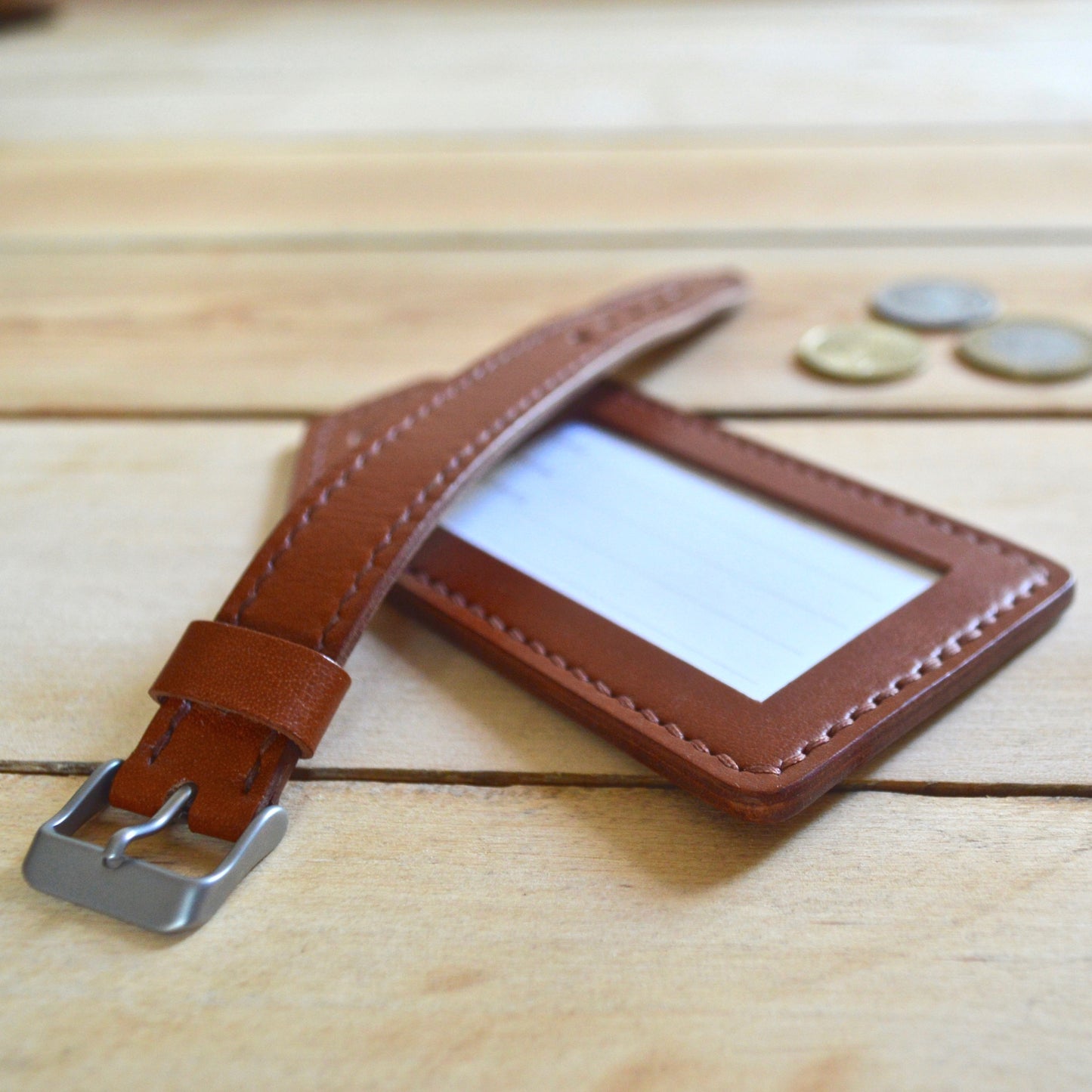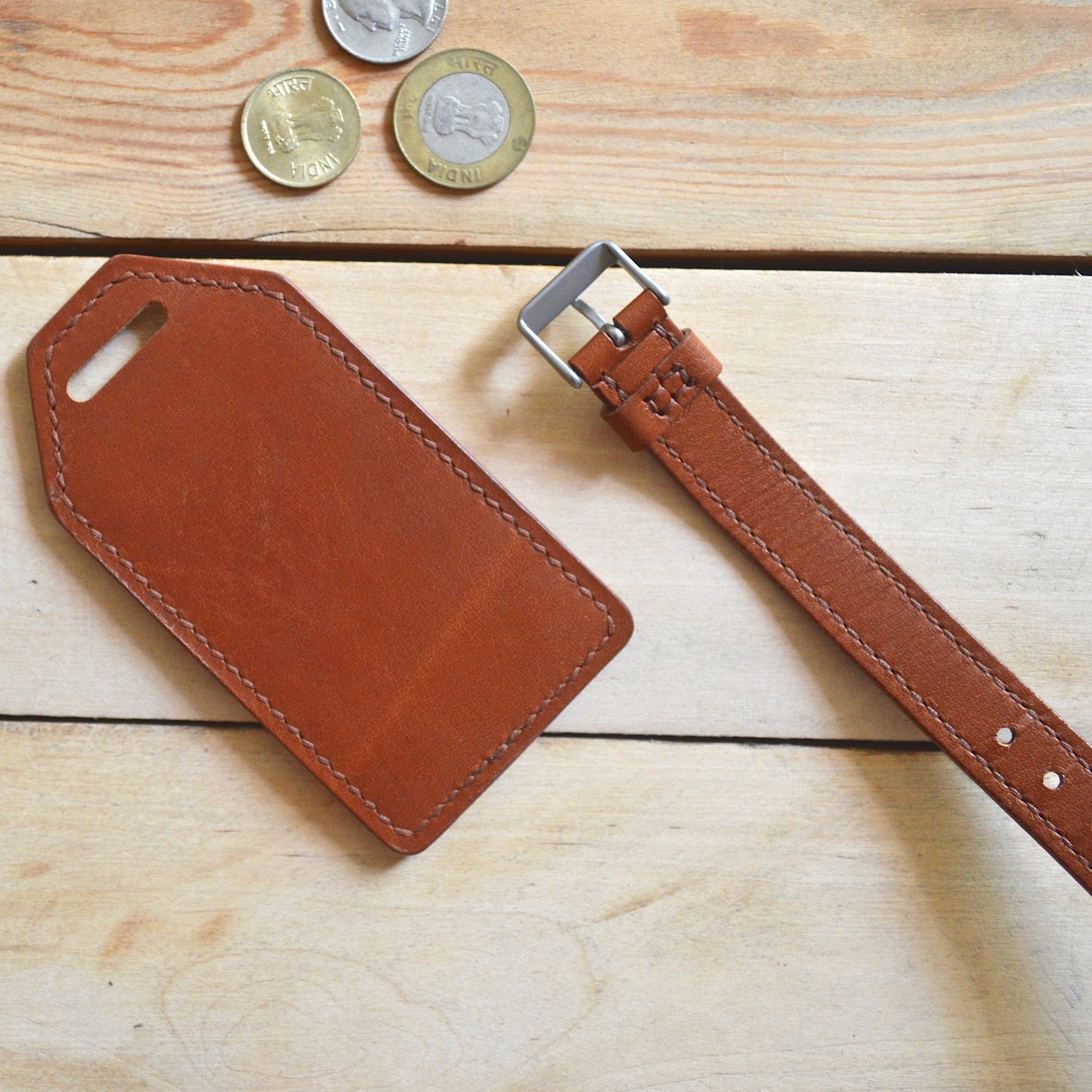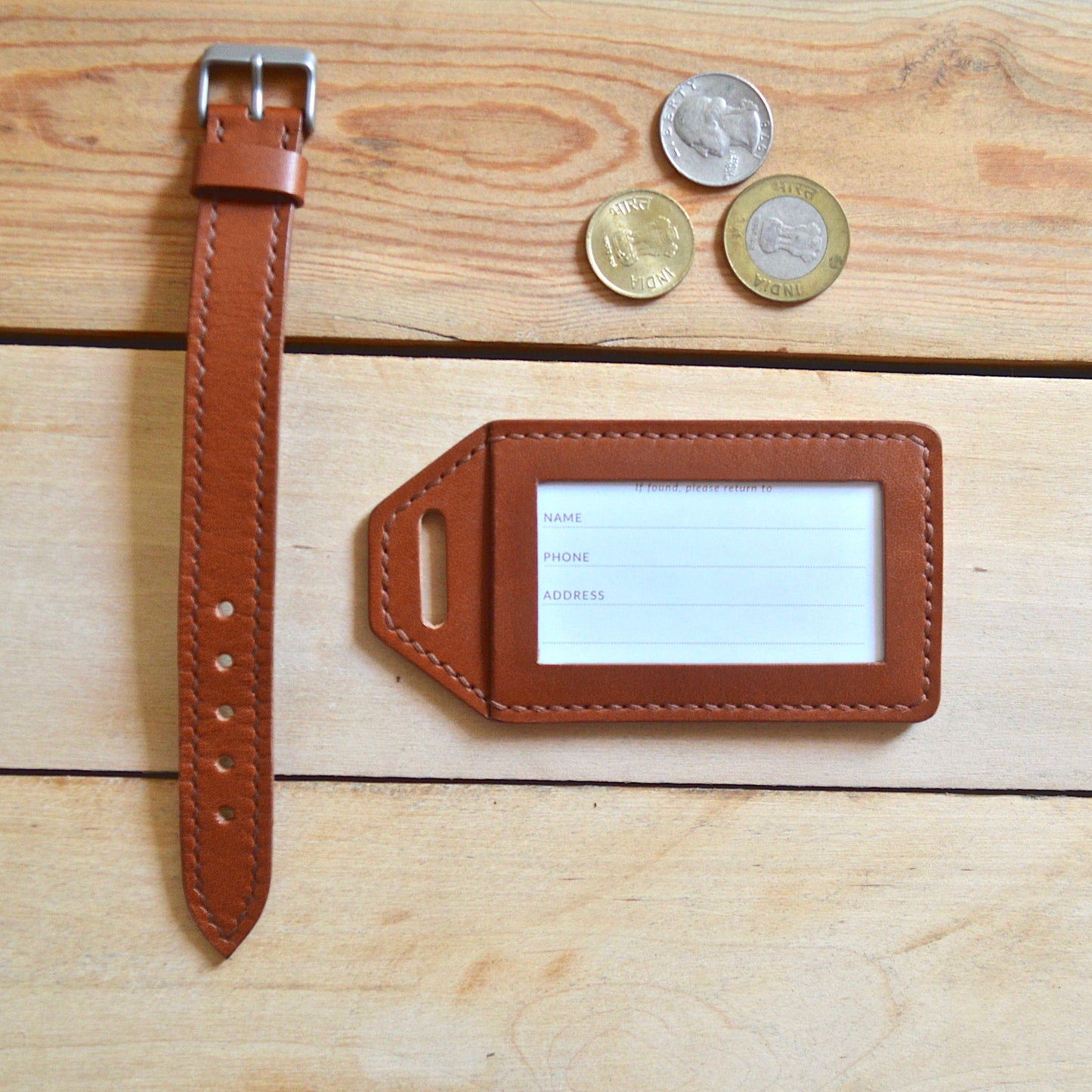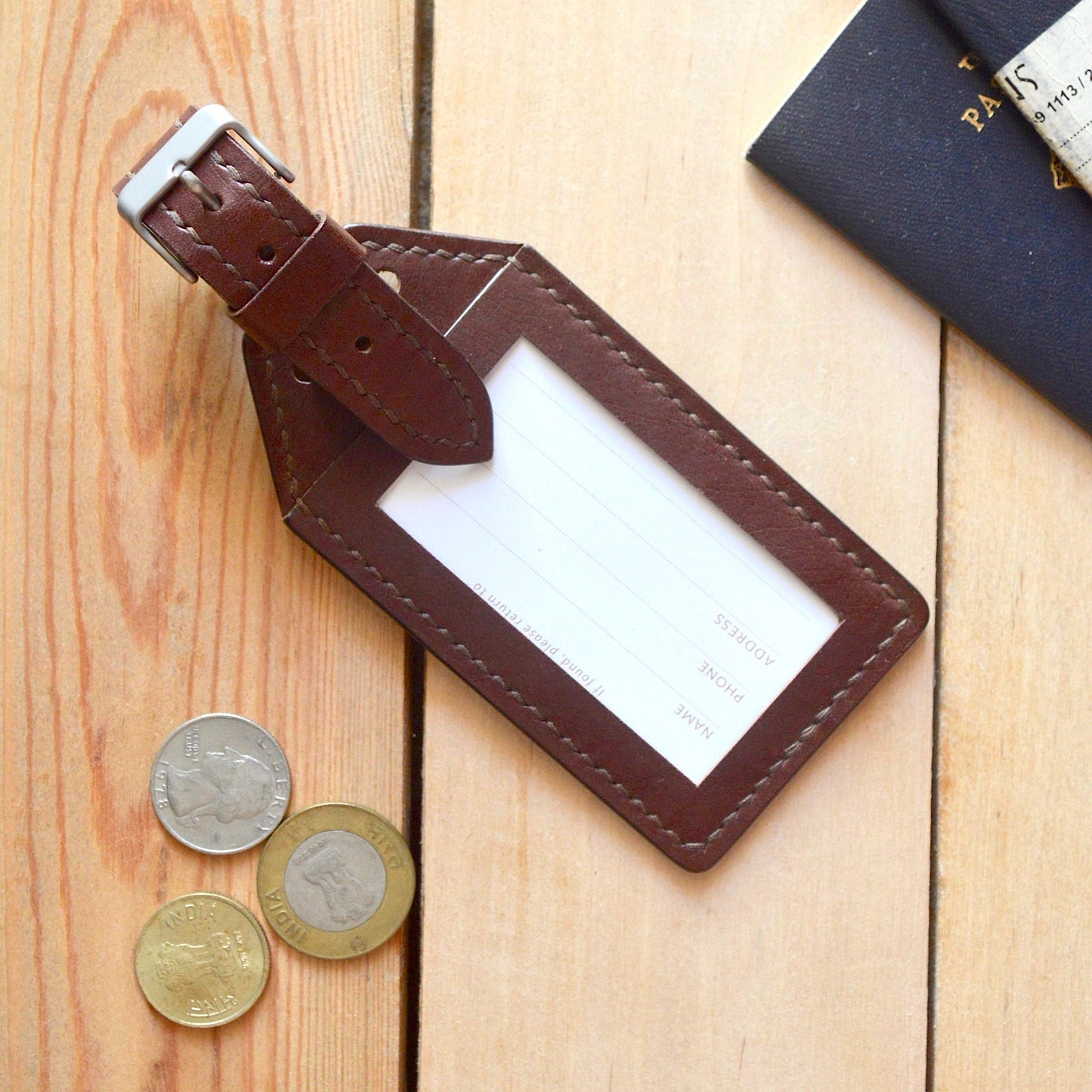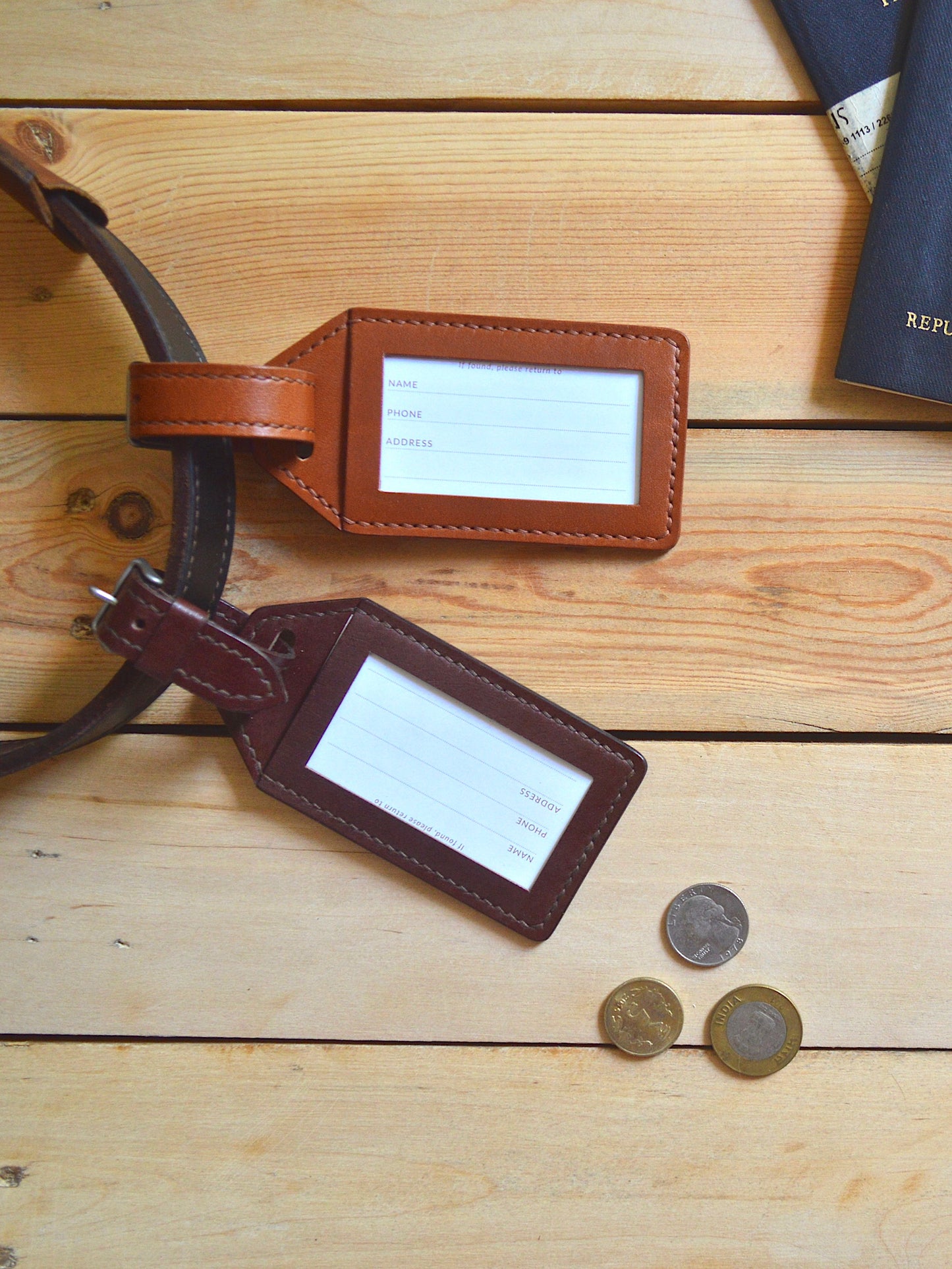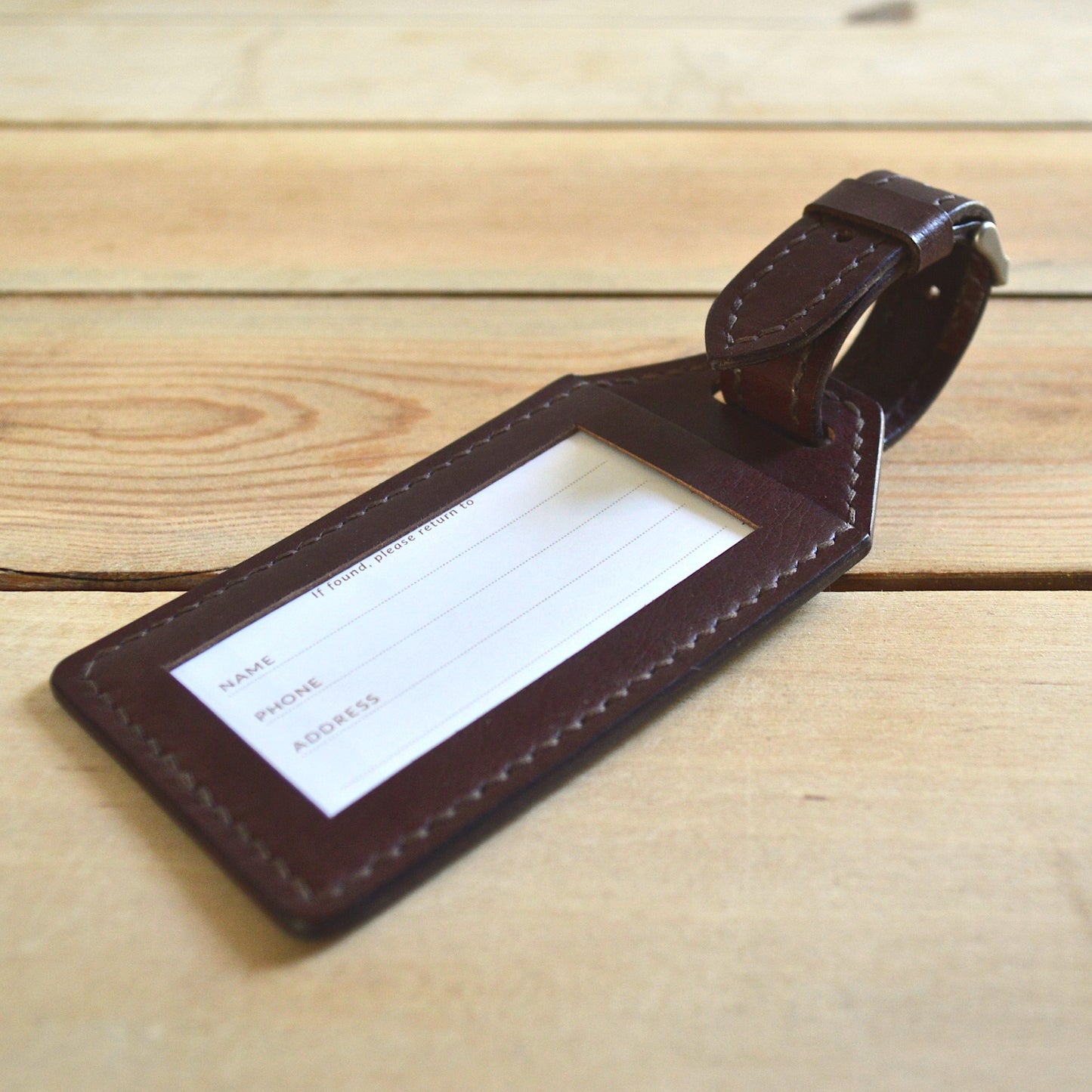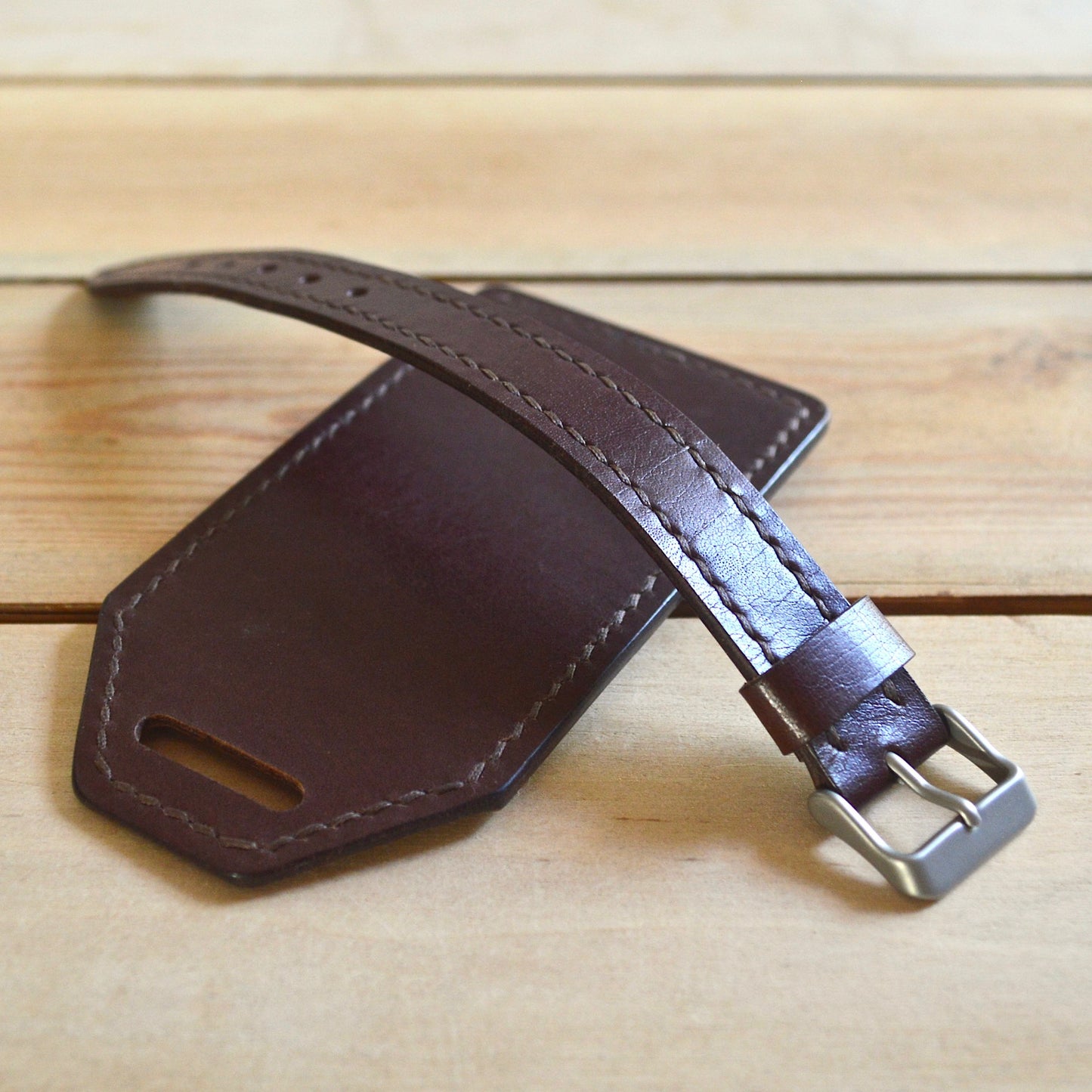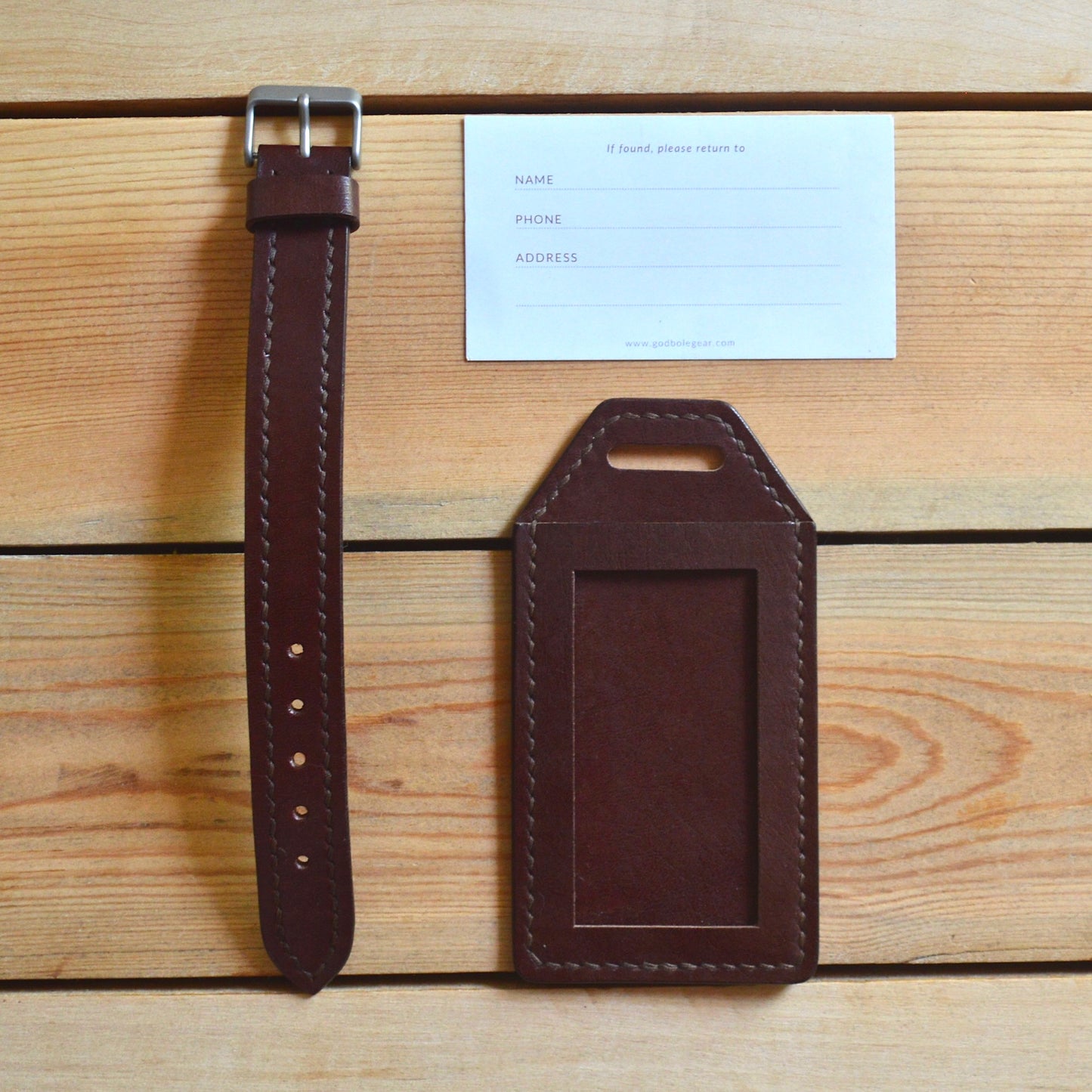 What is Full Grain Leather?
Full grain leather means the top most part of the grain has not been sanded off. This makes the leather strong and resilient. It takes whatever life throws at it and ages beautifully with a unique patina over time - giving each wallet a unique character.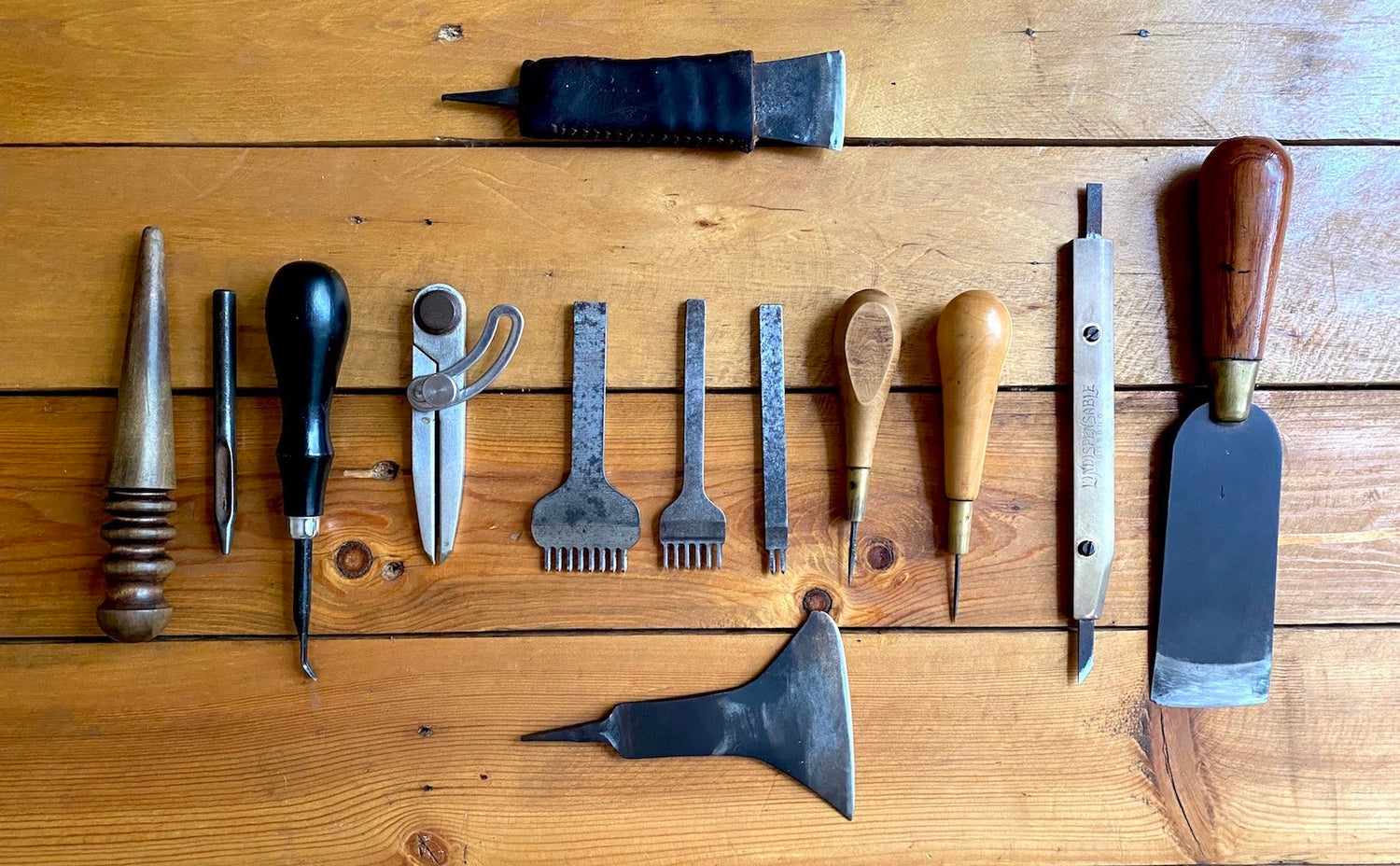 Built to Last
This product has been designed and built to last a lifetime. It has been meticulously hand sttiched with 1.2 mm thick full grain leather and traditional saddlery techniques.
Why Hand Stitching?
We use a time-honored hand stitching technique called the saddle-stitch. This technique uses a single thread and two needles. A tiny knot is made between each stich, making it virtually impossible for the stitches to come off or unravel. Sewing machines cannot compete with the saddle stitch when it comes to durability of seams.