Reserve Your Lifetime Belt
Limited Edition, Limited Run. Made with one of the best full grain, vegetable tanned leathers known to this world - Wickett & Craig.
We have been working on women's belts since a couple of weeks now. We are so excited to finally share the sign up page with you. Available only on pre-order basis.
Get Access to Your Lifetime Belts Here
How does pre-ordering work?
We will run the Lifetime Belts campaign for one month. At the end of one month, based on the number of pre-orders, we will be procuring the required quantity of vegetable-tanned full grain leather from our tannery partner in America - the oldest running tannery that is making vegetable tanned leather. Once the leather arrives, the lifetime belts will be handmade in our workshop near Mumbai, and finally shipped out. So, yes there will be around 3 months time to get your hands on the belt after you place an order.
There will be options for colors, buckles and designs - all shared in upcoming emails! 
The pricing structure will be as follows -
Each belt will be priced at INR 8500. Get an extra 5% off with the following discounts if you sign up and submit your email . Codes can be shared with friends and family - 
1 Belt @ 10% + 5% off
2 Belts @15% + 5% off
3 Belts @20% + 5% off
4 Belts @25% + 5% off
Interested? Sign Up Now
Submit your email by midnight today and we will email you a members-only discount code
Contact form
The Design Philosophy
We set out to create a rugged belt with a classic old world charm, with no compromises to it's function or longevity. A belt that's elegantly simple in it's design, superior in it's function, uses classic, time-tested materials and is made using sound engineering principles. And therefore is virtually fail safe.
Why do I need a Lifetime Belt?
Well, you don't really need a lifetime belt, or any belt, really. A sturdy rope will hold up your pants just fine. But jokes aside, there is a different kind of joy, a comfort that a trusty belt provides. A go-to belt which fits you like a glove, weathers through it all and holds your pants up through thick and thin, over decades.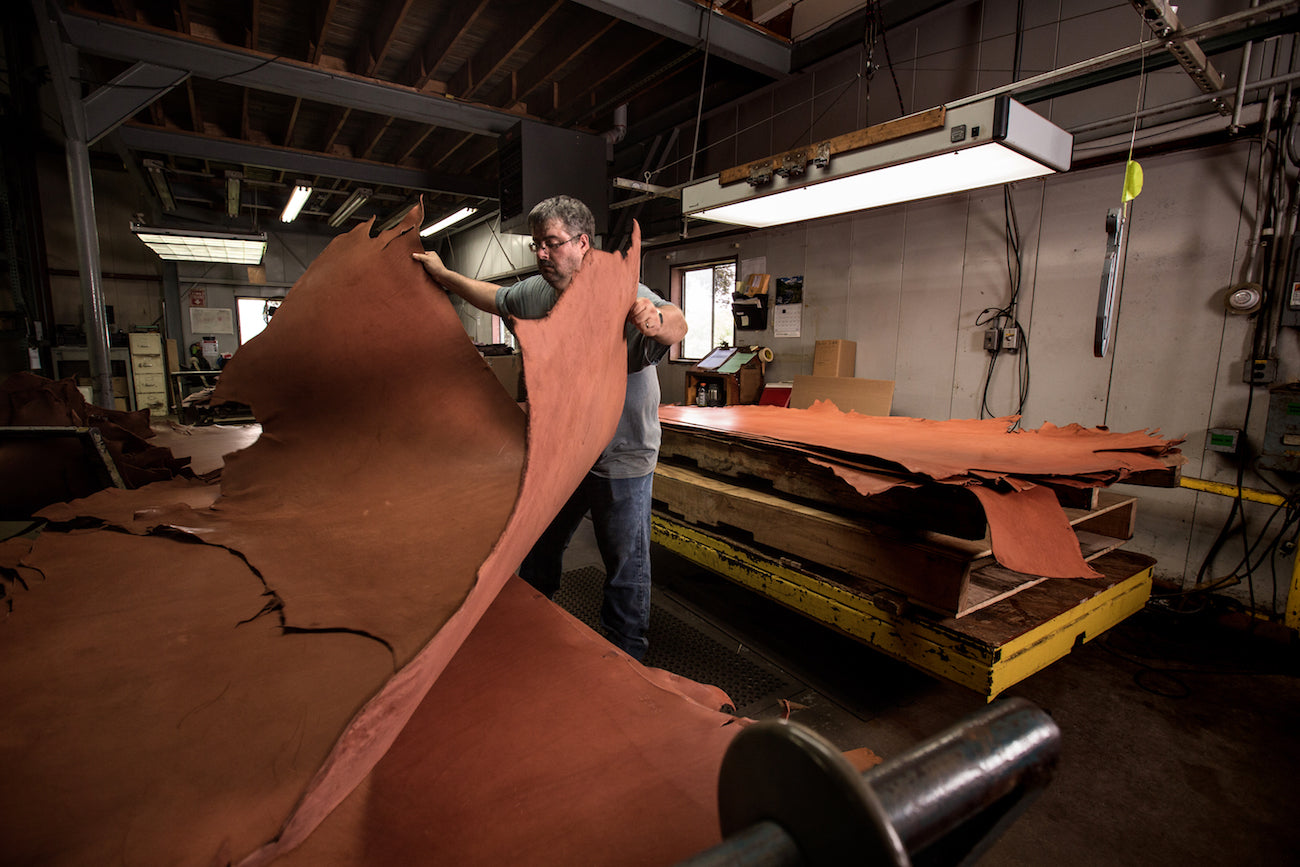 Let's talk about the Leather
The leather comes from the oldest continuously functioning tannery in America. Slowly vegetable tanned with tree bark over a period of nearly six weeks, the master tanners at Wickett and Craig are extremely skilled in the fine art of vegetable tanning. We will be procuring 1-3 types of leather depending on the volume of orders received. These are Harness, Bridle and Skirting leather.
Picture Courtesy: From the Wickett & Craig tannery in Pennsylvania, USA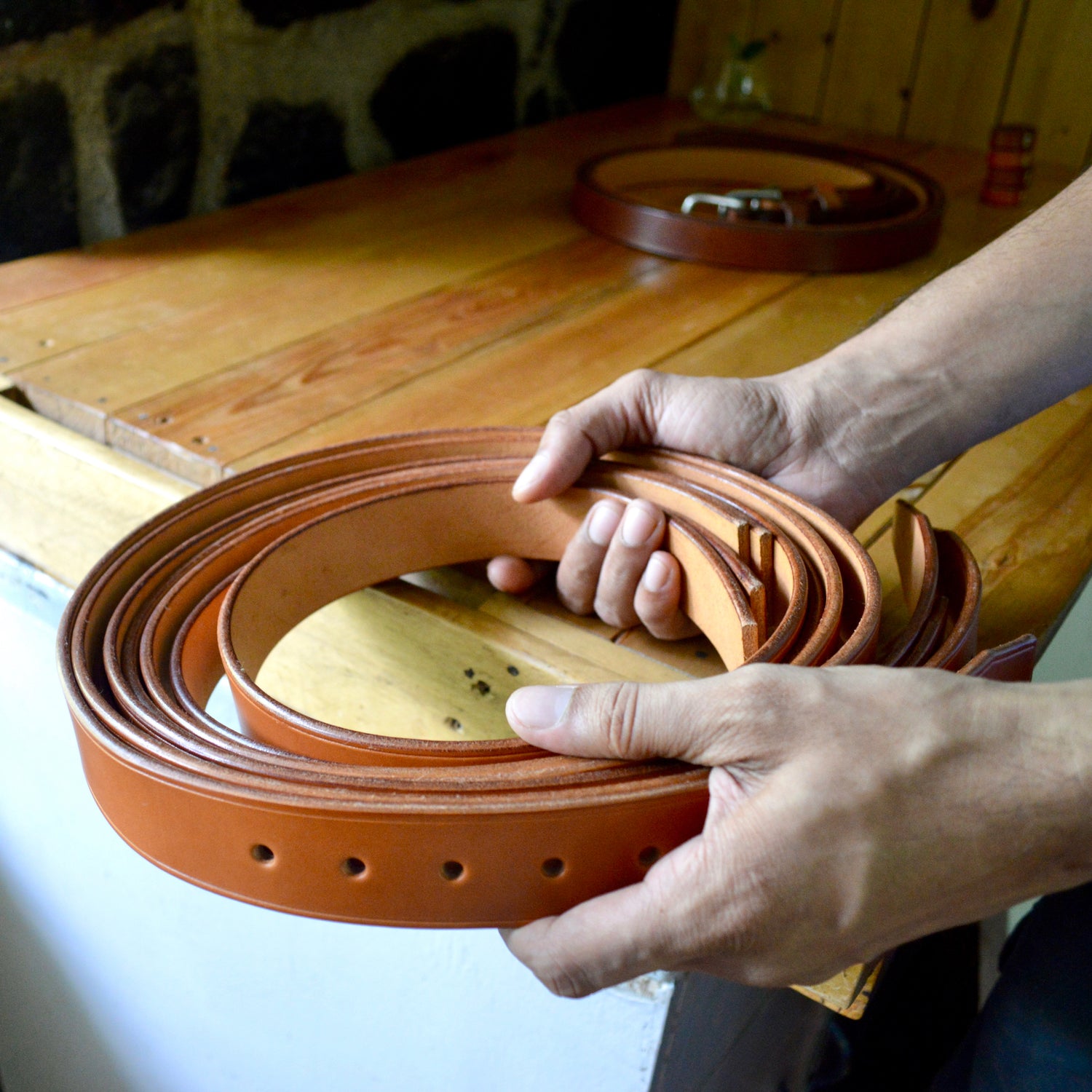 A Must-Have Belt
Some things in life bring you joy the more time you spend with them. These lifetime belts which we will make with Wickett and Craig leather are one of those. The leather, slowly vegetable-tanned in Pennsylvania, is a work of art. A simple object, made exceedingly well and built to last.
Picture shows belts in the London Tan color, ready to be set with buckles.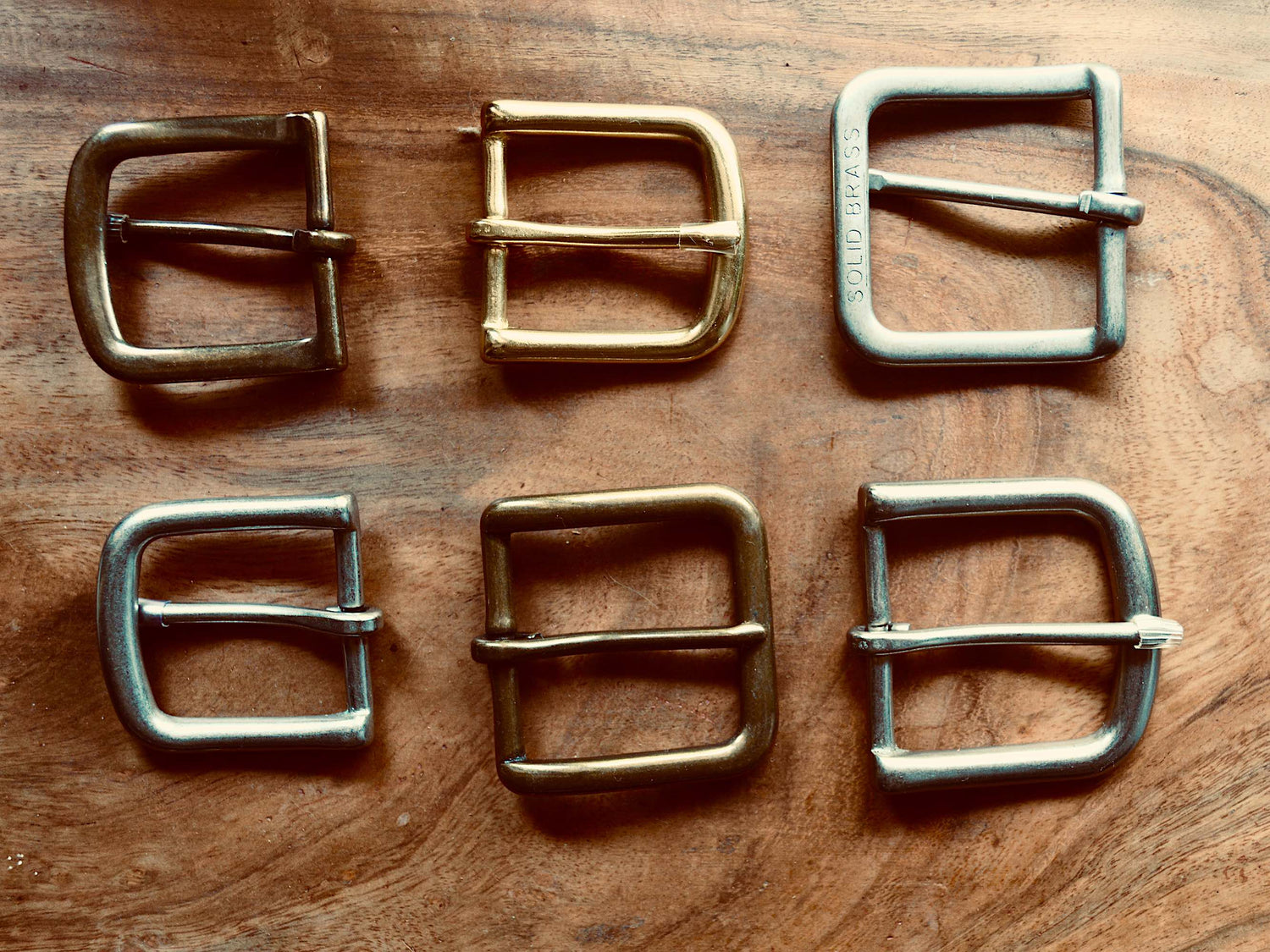 Solid Brass Hardware
Brass is a material that goes beautifully with leather and offers toughness and richness. It gets a wonderful patina over the years, just like real leather. We have selected solid brass as our material of choice for buckles, rivets and screws that will be used to put the belt together.
How do I buy a belt?
To reserve your lifetime belt, you have to express interest by sharing your email address. We will be opening up pre-orders for the lifetime belt soon. All details will be shared over email. The belt preorder event will run over 30 days, during which we must receive your payment to reserve your belt(s).
Sign Up to Participate
Customization Options
These belts will be a limited edition production. Each belt will be number stamped to indicate that it is one among the limited belts that we will be making. Let's go over your options.
In addition to belt colors and leather types, you will be able to choose from available buckle options, monogramming, design options (e.g. type of belt tip). Each belt will be numbered.
Personalized and Numbered
Colors

We will be offering three colors - Mahogany, Buck Brown and Russet. It may be possible to offer more colors depending on the response to our campaign.

Buckle Options

All buckles will be made with solid brass. We will be providing 2 different design options and 4 finish options. Choose a finish that you prefer - Matte Silver, Naked Brass, Polished Silver.

Belt Design

We know that small details matter to you. So, we have opened up the options to you to select details like belt tip design, buckle attachment style and number of holes.